January 15, 2012
— Russia's Phobos-Grunt probe, once destined to touch down on one of Mars' moons, made a far less impressive landing on Sunday (Jan. 15), breaking into pieces and falling into the Pacific Ocean.

"Fragments have crashed down in the Pacific Ocean," a Russian Defense Ministry official told RIA Novosti.

According to Alexei Zolotukhin, a spokesman for Russia's aerospace defense forces, the 14.5-ton robotic spacecraft fell around 11:45 a.m. CST (1745 GMT) over an empty stretch of the south Pacific ocean, about 775 miles (1,250 kilometers) west of the island of Wellington off the coast of Chile.

Roscosmos, Russia's federal space agency, said prior to the fall that 20 to 30 chunks of Phobos-Grunt, weighing a total of no more than 440 pounds (200 kilograms), had the potential of reaching Earth's surface.

That debris was likely to include the probe's sample return capsule. Designed to survive reentry through the Earth's atmosphere, the capsule would have delivered scientists the first samples from a moon circling another planet had the mission succeeded.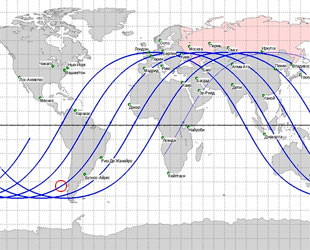 Map showing Phobos-Grunt's final orbits' ground track; red circle indicates the approximate debris zone as reported.
(Roscosmos)
The third large spacecraft to make an uncontrolled plunge to Earth in less than half a year, Phobos-Grunt differed in that it was only in space for 65 days rather than spending decades in orbit.

Missed Mars mission

Launched Nov. 8, 2011 on top of a Zenit-2SB rocket from the Baikonur Cosmodrome in Kazakhstan, Phobos-Grunt reached Earth orbit but failed to fire its propulsion module that would put it on a trajectory towards Mars.

The probe was stranded circling Earth but had deployed its power-providing solar arrays, giving engineers time to try to regain control. Observations of Phobos-Grunt from the grond however, suggested that a fuel tank that would have been jettisoned after the trajectory burns was still in place, blocking a communications antenna.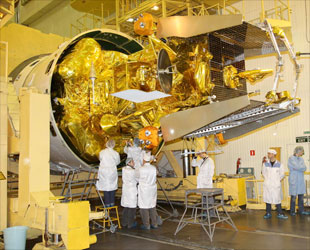 Russia's Phobos-Grunt spacecraft, as seen being readied for its November 2011 launch on a Zenit rocket to Mars.
(Roscosmos)
By the time the European Space Agency (ESA) reported it had made fleeting contact with the spacecraft, the window to reach Mars had expired.

Had Phobos-Grunt flown as planned, it would've reached the Red Planet in September 2012 and landed on one of its two moons, Phobos, early in 2013. Before landing, the $170-million craft would have used its 20 instruments to study Mars, Phobos and Deimos — the latter the other of Mars' small rocky moons.

Phobos-Grunt would have also deployed China's first Mars orbiter, Yinghuo 1.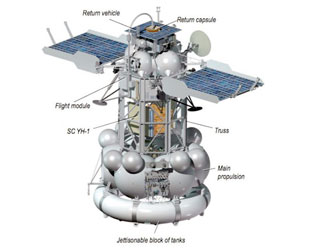 Artist's drawing of Russia's Phobos-Grunt probe.
(Roscosmos)
Arriving on Phobos in February 2013, Phobos-Grunt would have gotten to work collecting dirt — "grunt" in Russian — using a small robotic arm and claw. Gathering about 200 grams (0.44 pounds) of the moon's material, it would have fired off its return capsule to deliver the samples back to Earth in August 2014.

Tagging along with the capsule for the round trip was a small canister of microbiological specimens. The Living Interplanetary Flight Experiment (LIFE) by the Pasadena, California-based Planetary Society would have tested if 10 distinct organisms could survive such a long journey in interplanetary space.

Repeating, reentering history

Russia's previous attempt at sending a probe to Mars met a similar end.

Built by NPO Lavochkin, the same Russian company that built Phobos-Grunt, and launched 15 years ago, the Mars 96 spacecraft suffered an engine failure leading to it also plunging back into Earth's atmosphere.

Mars 96 broke apart, raining debris over the Chile-Bolivia border in the Andes Mountains, including 200 grams (0.44 pounds) of plutonium. None of the spacecraft's debris was recovered.

According to the Associated Press, Phobos-Ground also carried a tiny quantity of the radioactive metal Cobalt-57 in one of its instruments, but Russian officials said it posed no threat of contamination.

Phobos-Grunt's plunge into the ocean followed the reentry of Germany's 1.7-ton ROSAT X-ray telescope on Oct. 22, 2011 and the fall of NASA's Upper Atmosphere Research Satellite, or UARS, a month earlier on Sept. 23.

ROSAT, which had been in space for 21 years, dropped debris into the Bay of Bengal. UARS' fragments splashed down in the Pacific Ocean after 20 years in orbit.

Phobos-Grunt was Russia's 16th Mars mission to end in failure out of 20 attempts. NASA's record by comparison, stands at five failures in 18 missions.