September 27, 2011
— Three days after saying we might never know when and where a six-ton spacecraft hit Earth, NASA pinpointed on Tuesday the exact time and location where its Upper Atmosphere Research Satellite (UARS) re-entered the atmosphere and dropped its debris.

As NASA earlier postulated, UARS splashed down in the Pacific Ocean, but its debris – up to 26 pieces weighing a total of 1,100 pounds (500 kg) – fell much farther away from North America than the space agency projected on Saturday. According to the Joint Space Operations Center at Vandenberg Air Force Base, Calif., the satellite entered the atmosphere at 14.1 degrees south latitude and 189.8 degrees east longitude at 11:01 p.m. CDT (0401 GMT) on Sept. 23.

"This location is over a broad, remote ocean area in the Southern Hemisphere, far from any major land mass," NASA wrote on its website Tuesday. "The debris field is located between 300 miles and 800 miles downrange, or generally northeast of the re-entry point."

NASA's previous best guess where UARS reentered had it falling in the Northern Hemisphere, with debris dropping off the coast of Washington and southwest Canada. The lack of any credible eyewitness reports from that region led the space agency to believe an ocean splashdown was likely.

Now knowing where UARS re-entered and hit the water, it is almost certain no one witnessed the satellite's demise.

"NASA is not aware of any possible debris sightings from this geographic area," the space agency wrote.

With UARS's final fate now known, NASA said its update released Tuesday would be its last concerning the satellite after more than 20 years tracking the spacecraft in orbit.

UARS was launched Sept. 12, 1991, aboard space shuttle mission STS-48 and deployed on Sept. 15, 1991. It was the first multi-instrumented satellite to observe numerous chemical components of the atmosphere. UARS also provided key data on the amount of light that comes from the sun at ultraviolet and visible wavelengths.

UARS ceased its scientific operations in 2005 after its last instrument battery shorted out. NASA used the remaining fuel aboard the spacecraft to place UARS in a lower orbit, accelerating its fall to Earth. Still, it took another six years for the school bus-size satellite to re-enter.

UARS was the largest United States spacecraft to re-enter uncontrolled in the 30 years since the Pegasus 2 satellite and Skylab space station fell, both in 1979. According to NASA, man-made objects of UARS's size return to Earth once per year on average. Mid-size spacecraft and rocket bodies fall more often, at an approximate rate of once per month.

The next such object – or at least the next that's attracting public attention – is ROSAT, the ROentgen SATellite, a defunct X-ray astronomical observatory. The satellite was designed and operated by Germany, and was launched by the U.S. on June 1, 1990. It was decommissioned on Feb. 12, 1999.

Smaller than UARS, the 2.4-ton ROSAT is expected to fall by November. DLR, the German space agency, says up to 30 pieces of debris with a total mass of up to 1.6 tons (3,200 lbs) might reach the surface of the Earth.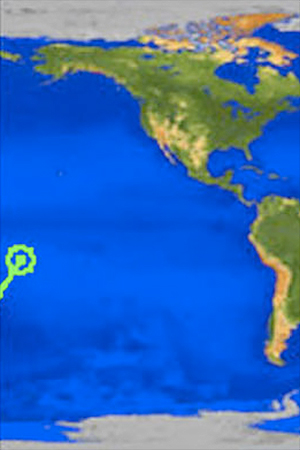 A green circle (far left) marks where over the Pacific Ocean the Upper Atmosphere Research Satellite re-entered. (NASA)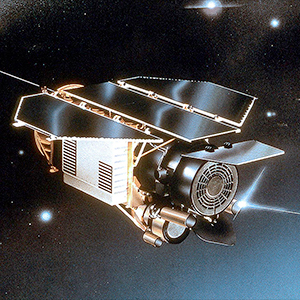 Artist's impression of the ROSAT satellite in space. (DLR)