- collectSPACE Museum -


Artifacts
space flown and ground hardware

Autographs
who's who in space: first 25 years

Books
galleys, advanced reading copies

Medallions
flown and minted with flown metal

Philatelics
first day programs, flown stamps



| | | | | |
| --- | --- | --- | --- | --- |
| | ← Previous | • | Next → | |

Like this design? Click here and vote for #15 in collectSPACE's poll.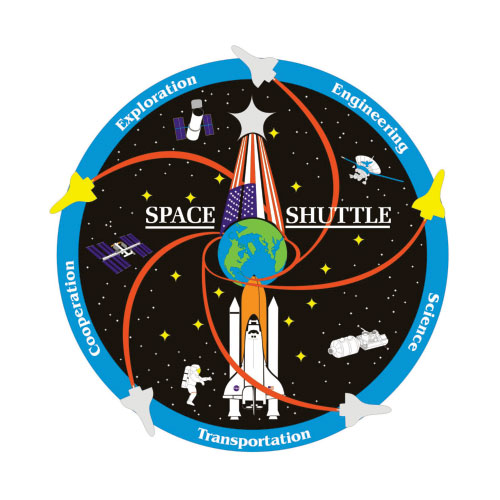 Artist-supplied caption:

This patch commemorates the legacy and achievements of the people who have contributed to the Space Shuttle Program. The Space Shuttle Vehicle is shown here with the Orbiter, Space Shuttle Main Engines, External Tank, and Reusable Solid Rocket Boosters. Launching from Kennedy Space Center, silhouettes of the five Orbiters: Columbia, Challenger, Discovery, Atlantis, and Endeavour radiate outward from the Earth to the edges of the patch. The protruding Orbiters suggest the role of the Shuttle and its missions in pushing the boundaries of Exploration, Engineering, Science, Transportation, and Cooperation which are written on the border of the patch. These objectives are manifested in the images of the Hubble telescope, a satellite, the SpaceLab, an astronaut in a space suite, and the International Space Station. An eagle is portrayed on the satellite to recognize the joint venture of some missions between the Shuttle Program and the Department of Defense. The two gold orbiters represent Challenger lost during STS-51-L and Columbia lost during STS-107; while the fourteen gold stars honor the memory of the 14 astronauts aboard those missions. There are 134 white stars in the patch background, one for each of the Shuttle missions. The three vertical stripes comprised of the American flag leading to the silver star signify America's commitment to the continuation of future human endeavors in Space.
| | | | | |
| --- | --- | --- | --- | --- |
| | ← Previous | • | Next → | |
Back to:
Space Shuttle Commemorative Patch Fans' Choice Poll

© 1999-2010 collectSPACE.com All rights reserved.
Questions? E-mail contact@collectspace.com