- collectSPACE Museum -


Artifacts
space flown and ground hardware

Autographs
who's who in space: first 25 years

Books
galleys, advanced reading copies

Medallions
flown and minted with flown metal

Philatelics
first day programs, flown stamps



| | | | | |
| --- | --- | --- | --- | --- |
| | ← Previous | • | Next → | |

Like this design? Click here and vote for #10 in collectSPACE's poll.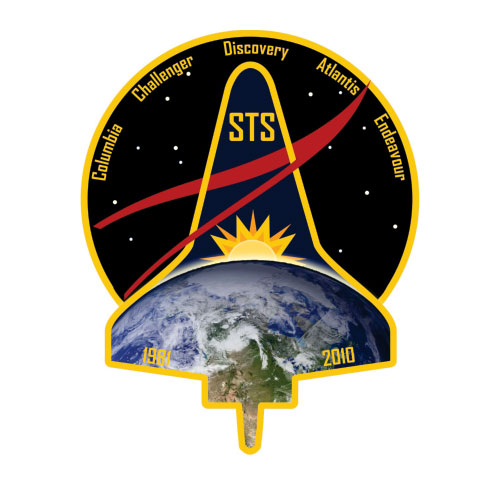 Artist-supplied caption:

The widely recognized silhouette of the Space Shuttle is shown with the sun setting over the earth. The setting sun represents the end of the shuttle era, which will lead to the rise of a new vehicle and usher in a new era of exploration. The earth below symbolizes the thousands of people all over the world that have contributed to the success of the space shuttle over the years and represents the knowledge gained about the earth through observation from the shuttle throughout its many missions. The letters STS stand for Space Transportation System and represents the unique ability of the space shuttle to transport large payloads to and from low earth orbit. The years 1981 and 2010 are shown to represent the 29 years of the space shuttle's life. The names of the five orbital vehicles are listed in the order in which they were built. The red chevron, in the alternate shape of the constellation Andromeda, is a wing representing aeronautics. This echoes the red chevron in the NASA meatball logo and represents the space shuttle's innovation and achievement in aeronautics. Finally, the black background of space with 14 stars represents the fallen crews of the Challenger and Columbia vehicles. The stars are outside of the shuttle silhouette to signify they will continue to be remembered and honored throughout the future of space exploration.
| | | | | |
| --- | --- | --- | --- | --- |
| | ← Previous | • | Next → | |
Back to:
Space Shuttle Commemorative Patch Fans' Choice Poll

© 1999-2010 collectSPACE.com All rights reserved.
Questions? E-mail contact@collectspace.com