- collectSPACE Museum -


Artifacts
space flown and ground hardware

Autographs
who's who in space: first 25 years

Books
galleys, advanced reading copies

Medallions
flown and minted with flown metal

Philatelics
first day programs, flown stamps



| | | | | |
| --- | --- | --- | --- | --- |
| | ← Previous | • | Next → | |

Like this design? Click here and vote for #9 in collectSPACE's poll.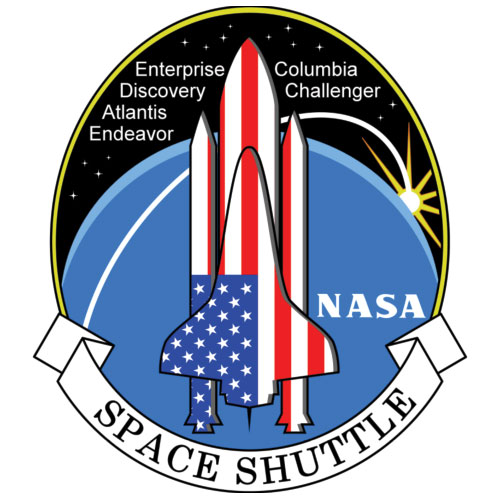 Artist-supplied caption:

The Space Shuttle stack, comprised of the Orbiter, External Tank, and Solid Rocket Boosters, occupies the center of the patch in launch configuration. The United States flag overlays the stack to represent the contribution of the Space Shuttle to America's space program. The trajectory around the Earth depicts the orbital phase of the Shuttle's mission, while the thin layer of atmosphere symbolizes the ascent and entry phases. The 25 stars on the orbiter wing denote its Mach 25 reentry velocity. The top of the patch features the designations of the six named vehicles, which are further represented by the six rays emanating from the sun. The names Challenger and Columbia are set apart to memorialize the loss of those vehicles, as fourteen stars surround the Earth to honor the crewmembers of those missions.
| | | | | |
| --- | --- | --- | --- | --- |
| | ← Previous | • | Next → | |
Back to:
Space Shuttle Commemorative Patch Fans' Choice Poll

© 1999-2010 collectSPACE.com All rights reserved.
Questions? E-mail contact@collectspace.com