- collectSPACE Museum -


Artifacts
space flown and ground hardware

Autographs
who's who in space: first 25 years

Books
galleys, advanced reading copies

Medallions
flown and minted with flown metal

Philatelics
first day programs, flown stamps



| | | | | |
| --- | --- | --- | --- | --- |
| | ← Previous | • | Next → | |

Like this design? Click here and vote for #2 in collectSPACE's poll.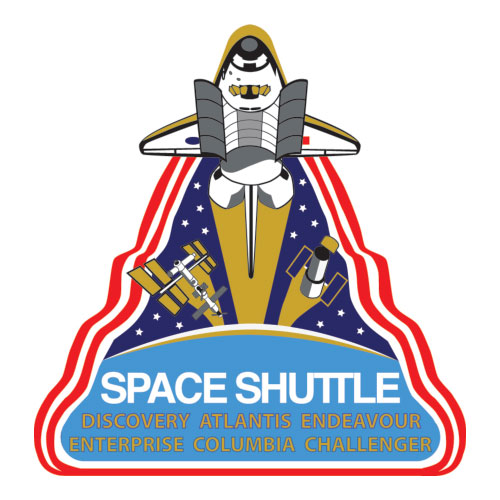 Artist-supplied caption:

The shape and colors of the space shuttle commemorative emblem are derived from the original Space Shuttle Program emblem, reflecting nearly thirty years of excellence in human spaceflight operations. The emblem depicts the space shuttle orbiter soaring over Earth with an empty payload bay, symbolizing the completion of the Space Shuttle Program. The legacy of the space shuttle lives on through spaceflight programs that exist directly because of the shuttle's unique capabilities. The International Space Station and the Hubble Space Telescope represent all past and future exploration and science accomplishments made possible by the Space Shuttle Program. Fourteen stars acknowledge the sacrifice of the fallen astronauts of the 51-L and STS-107 missions. The "Space Shuttle" text is identical to the original Space Shuttle Program emblem, and the names of the orbiter vehicles acknowledge this remarkable fleet of spacecraft. The emblem is draped in red and white stripes to acknowledge the commitment and resolve of the United States to accomplish the impossible despite many adversities.
| | | | | |
| --- | --- | --- | --- | --- |
| | ← Previous | • | Next → | |
Back to:
Space Shuttle Commemorative Patch Fans' Choice Poll

© 1999-2010 collectSPACE.com All rights reserved.
Questions? E-mail contact@collectspace.com