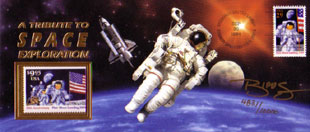 The U.S. Postal Service flew 500,000 commemorative stamps on STS-68/Endeavour in recognition of the 25th anniversary of the Apollo 11 Moon Landing. The stamp flown was a $9.95 Express Mail created by the father and son team of Paul and Chris Calle.

Upon their return to Earth, the stamps were affixed to individually numbered insert cards that also served as certificates of authenticity. The cards were then placed in cachets featuring artwork by Keith Birdsong. Each cachet was canceled with a 29¢ stamp designed by the Calles.

A limited edition of 10,000 envelopes were signed by Birdsong and numbered separately. Presented in gold stamped portfolio cases, they were sold by the US Postal Service for $69. Unsigned envelopes sold for $25 each.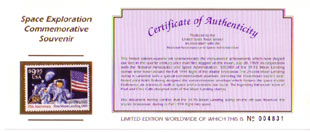 back to Philatelics

© 2018 collectSPACE.com All rights reserved.
Questions? E-mail contact@collectspace.com