Resources
selected space history documents

Websites
related space history websites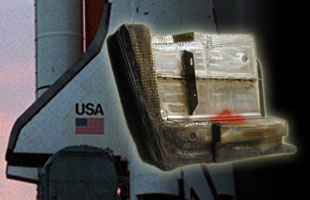 The Space Shuttle's wing is an aerodynamic lifting surface that provides conventional lift and control for the orbiter. Each wing is approximately 60 feet long at the fuselage intersection and has a maximum thickness of 5 feet.

The wings' forward spars provide the attachment for the thermal protection system's reusable reinforced carbon- carbon (RCC) leading edge structure. RCC protects areas where temperatures exceed 2,300° F during reentry.

Since carbon is a good thermal conductor, the adjacent aluminum and the metallic attachments must be protected from exceeding temperature limits by internal insulation. Inconel 718 and A-286 fittings are bolted to flanges on the RCC components and are attached to the aluminum wing spars. Inconel-covered cerachrome insulation protects the metallic attach fittings and spar from the heat radiated from the inside surface of the RCC wing panels.

This segment of flown Inconel-covered cerachrome insulation was marked "Unserviceable (Condemned)" and was disposed of as scrap.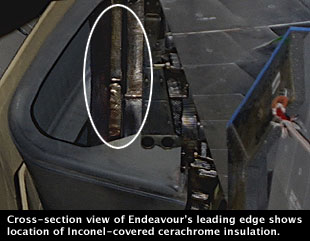 © 1999-2012 collectSPACE.com All rights reserved.
Questions? E-mail contact@collectspace.com



-->