Resources
selected space history documents

Websites
related space history websites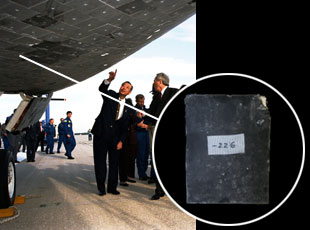 To protect the Space Shuttle from high surface heat during re-entry into the Earth's atmosphere, Lockheed Missles & Space Company (now Lockheed Martin) developed a unique insulation designed to survive at least 100 space flights.

The tiles are made from a block of basic silica material, which, in its soft uncoated state, sheds heat so quickly it can be held in a bare hand while still red hot. A low-temperature version of the insulation (coated white) is for areas of the shuttle that reach 600° to 1200° F, and a high-temperature type (coated black) is for the underside and parts that may reach 2300&deg F. Nearly 31,000 tiles of insulation, each a different shape, size and thickness, cover each Shuttle orbiter.

This tile was removed from the Space Shuttle Columbia after the STS-87 mission.

© 1999-2012 collectSPACE.com All rights reserved.
Questions? E-mail contact@collectspace.com



-->