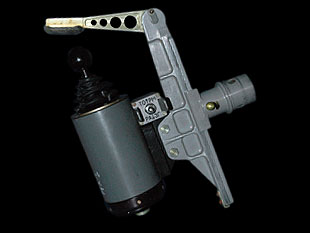 Translational Hand Controller (KRUD)


Mission:
Soyuz TM-32
Crew:
Talgat Musabayev (u)
Yuri Baturin (u)
Dennis Tito (u)
Viktor Afanasiyev (d)
Claudie Haigneré (d)
Konstantin Kozeyev (d)
Launch:
April 28, 2001
Landing:
October 31, 2001
Duration:
185 days, 21 hours
Comment:
Dennis Tito was the first Spaceflight Participant
(or "space tourist") to fly to the ISS.
This Translational Hand Controller Commutator, or KRUD, was installed on the left side of the Soyuz TM-32 reentry module crew compartment.

It was used to move the craft up, down, forward, back, left and right through the use of both its joystick and switch. Together with the KRUO — or Rotational Hand Controller Commutator — the Soyuz could be piloted to a docking with the International Space Station and through its reentry into the atmosphere.

© 2020 collectSPACE.com All rights reserved.
Questions? E-mail contact@collectspace.com