Robert Pearlman
Editor

Posts: 42988
From: Houston, TX
Registered: Nov 1999

posted 10-10-2007 09:03 PM




---
The crew of STS-120 capped off three days of exercises and training at NASA's Kennedy Space Center in Florida by boarding space shuttle Discovery for a simulated countdown Wednesday morning.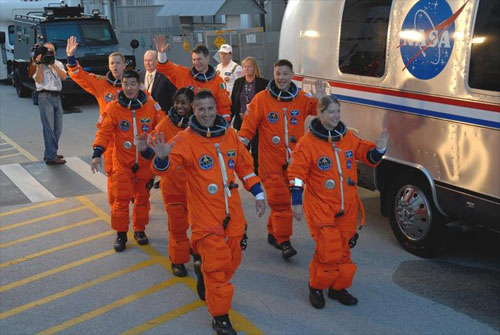 As part of the terminal countdown demonstration test, the astronauts suited up in the Operations and Checkout Building and boarded the AstroVan for the ride to Pad 39A, just as they will on launch day.
Well, almost... the crew donned name tags today bearing their nicknames rather than their formal names as they wore when they arrived in Florida for the test (or as they will presumably wear for the for launch).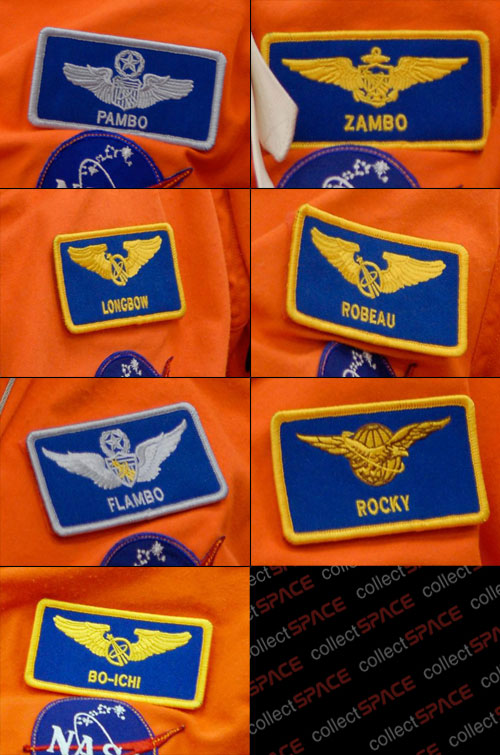 From top left: Commander Pamela "Pambo" Melroy, Pilot George "Zambo" Zamka, Mission Specialist-1 (MS-1) Scott "Longbow" Parazynski, MS-2 Stephanie "Robeau" Wilson, MS-3 Douglas "Flambo" Wheelock, MS-4 Paolo "Rocky" Nespoli, and ISS 16 Flight Engineer Daniel "Bo-Ichi" Tani.
Robert Pearlman
Editor

Posts: 42988
From: Houston, TX
Registered: Nov 1999

posted 10-11-2007 09:56 AM




---
From Florida Today, the crew hams it up during practice:
A collection of kidders who employ hilarity to handle stress, Discovery's astronauts wound up a practice countdown Wednesday with a bit of playfulness.

Led by veteran astronaut Pam Melroy, crew members are pilot George Zamka and mission specialists Scott Parazynski, Stephanie Wilson, Douglas Wheelock, Dan Tani and Paolo Nespoli of the European Space Agency.

All wore bright orange partial-pressure spacesuits and boarded Discovery for the dress rehearsal for their planned Oct. 23 launch.

A close look showed that Melroy, who will be only the second woman to command a shuttle mission, was wearing a name tag that read "Pambo." The nickname was given to her by former astronaut Brian Duffy. The rest of the crew followed suit.