advertisements

Gemini 6A Pilot's Personal Preference Kit (PPK) Manifest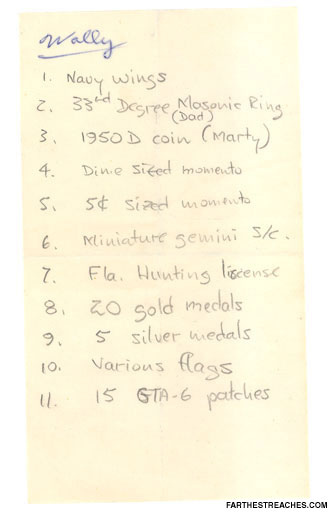 The above handwritten document lists the contents of the Gemini 6A pilot's Personal Preference Kit (PPK). Walter "Wally" Schirra prepared this inventory and submitted it to fellow Mercury "original" and chief of the Astronaut Office Donald "Deke" Slayton, who then wrote Schirra's surname at its top.

The contents are listed as:
Navy wings

33rd Degree Masonic Ring (Dad)

1950D coin (Marty)

Dime sized momento

5¢ sized momento

Miniature gemini S/C [spacecraft]

Fla. Hunting license

20 gold medals

5 silver medals

Various flags

15 GTA-6 patches
These items would have been packed and flown inside an approximate 6 by 7-inch gray nylon bag with a draw-string closure.

The original manifest, as pictured above, was offered for sale in May 2006 through the site Farthest Reaches.

© 2023 collectSPACE.com All rights reserved.