June 25, 2023
— The next time that Kelly Haston, Ross Brockwell, Nathan Jones and Anca Selariu will see blue sky, a year will have gone by on Earth.

Not that the four "analog astronauts" are leaving the planet, but for the next 12 months they will live inside a mock Mars base located at NASA's Johnson Space Center in Houston, Texas, where they will be remotely observed and studied by scientists. As the first of three planned Crew Health and Performance Exploration Analog, or CHAPEA, crews, Haston, Brockwell, Jones and Selariu will help inform the space agency how to better design and plan for future human missions on the real Martian surface.

Mission 1 gets underway tonight (June 25) as the four volunteers enter the 1,700-square-foot (158-square-meter) habitat, known as "Mars Dune Alpha," at 7:30 p.m. EDT (2330 GMT). They will not leave the 3D-printed structure — other than to conduct the occasional Mars-walk within an adjoining 1,200-square-foot (111-square-meter), enclosed Mars "sandbox" — until Sunday, July 7, 2024.

"To me, this is really exciting because one of the things that's different than some of our previous analogs at NASA is people will be in isolation as a crew for 378 days," Suzanne Bell, lead for NASA's Behavioral Health and Performance Laboratory at Johnson Space Center, said in an interview with collectSPACE. "We also do analogs in something called HERA, the Human Exploration Research Analog, and our missions there have been 45 days. And then we collect data at other analogs, too, with varying lengths, but this will be three, over one yearlong missions, which is a really great extended isolation."


The crew was selected to be "astronaut-like," according to Bell, with a requirement that they have a degree in one of the STEM (science, technology, engineering and mathematics) fields, as well as professional experience in their chosen field, piloting experience or military training. They also had to pass the same physical and psychological testing as astronaut candidates to ensure they were fit for the program.

Haston, a research scientist studying human disease, is the mission's commander. Brockwell, a structural engineer, is the crew's flight engineer. Jones is the medical officer, pulling on his experience an emergency medicine physician, and Selariu, a microbiologist in the U.S. Navy, is science officer.

Selariu was originally selected to be a back-up crew member, but replaced Alyssa Shannon, an advanced practice nurse, prior to the mission starting. NASA did not provide an explanation for the change.

Haston, Brockwell, Jones and Selariu will not only have to survive living together for more than a year, but also adjust to some of the same changes that a crew on Mars would face.

"What CHAPEA is really about is Mars-realistic conditions in terms of resource restrictions, so isolation confined with the living space being one of them," said Bell. "But we're also restricting the crew to a spaceflight food system. time delayed communications, mission-relevant timelines, contingency situations and other resource restrictions."

A mission control and safety console will be staffed at all times, but messages from Mars Dune Alpha will take 22 minutes to be received, the same time it would take for a call from Mars to reach Earth. And the crew will be eating freeze-dried, thermostablized and shelf-stable foods, but as they are not simulating Martian gravity (38 percent of the surface gravity on Earth), they will be saved from using a special toilet.

The crew will also remain on Earth-time, counting days (24 hours) rather than sols (approximately 24 hours, 39 minutes, 35 seconds).

"My understanding of the research we've looked at so far with the Mars sol is that expected impacts would be heavily on Mission Control," Bell said, "while our focus for this particular analog is the impact on the crew and their human health and performance."

Otherwise, the CHAPEA crew will live for the next year as though they were really on Mars, taking part in the same kinds of activities that astronauts on the red planet would do. They will be instructed by Mission Control to perform science investigations, perform maintenance work on the habitat and maintain their fresh food crops.

They may also encounter periodic, unexpected problems to see how they react. What those additional "stressors" might be, Bell is not saying.

"If I told you that it wouldn't be a surprise," she told collectSPACE. "A lot of our focus is simply with resource restrictions. So if people don't get to choose what's on their menu, how does that affect their health? Those are the types of things we're focused on for this series of missions. That will be a great baseline for us to then continue to explore all of these different possibilities of ours."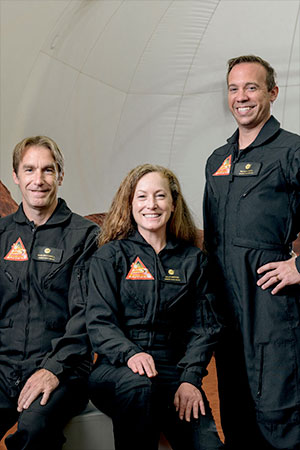 NASA's Crew Health and Performance Exploration Analog Mission 1 (CHAPEA Mission 1) crew are ready to spend more than a year "on" Mars. From left to right: Ross Brockwell, flight engineer; Kelly Haston, commander; and Nathan Jones, medical officer. (Science officer Anca Selariu is not pictured.) (NASA)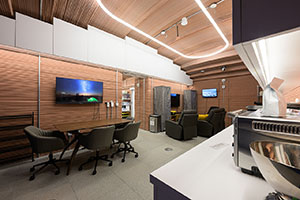 Inside Mars Dune Alpha, a 3D-printed mock Mars base at NASA's Johnson Space Center in Houston, Texas. (NASA)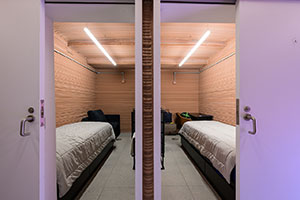 CHAPEA crew quarters in Mars Dune Alpha; each analog astronaut has his or her own room within the 3D-printed base. (NASA)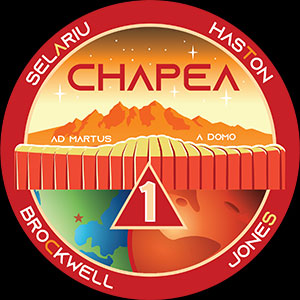 NASA's Crew Health and Performance Exploration Analog Mission 1 (CHAPEA Mission 1) patch. (NASA)