Dec. 29, 2015
— Fifty years after Barbie was first dressed like an astronaut, a different plastic toy girl has claimed the title of "first doll in space."

"Stargazer Lottie," a doll made by Irish toy company Arklu in collaboration with the European Space Agency (ESA), is now on board the International Space Station. The seven-inch-tall (18 cm) figure arrived at the outpost on Dec. 9, three days after launching with the supplies packed aboard an Orbital ATK Cygnus spacecraft.

"We are proud to announce that Lottie is now the first doll in space!" Arklu stated on its Facebook page. "Watch [her] adventure unfold!"

Inspired by a real six-year-old girl's passion for astronomy and space exploration, Stargazer Lottie forgoes the silver spacesuit that Mattel's Barbie first wore in 1965 in favor of a blue velvet bomber jacket, cerise-colored dungarees and sturdy brown boots — just how a young girl might dress to go look up at the night sky.


The doll also includes a telescope and tripod (to her scale) and solar system collector cards, as well as an information sheet about notable women in the field of astronomy.

"I got to choose what she came with and what went on her box," said Abigail Baker, the young girl from Canada who inspired the "Stargazer" special edition of the Lottie doll.

Baker's mother, Zoe, reached out to Arklu to share her and her daughter's delight with the Lottie doll line, which led to a discussion about Abigail's own interest in space.

In turn, Arklu contacted Karen Masters, an astronomer at the University of Portsmouth in England, and the European Space Agency (ESA), to help with designing and releasing the doll, which was first introduced into stores in March.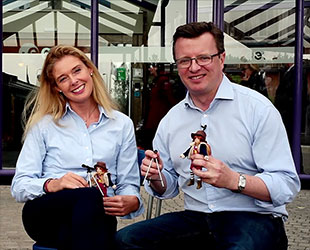 Arklu cofounders Lucie Follett and Ian Harkin with Stargazer Lottie dolls at the European Space Agency (ESA).
(Arklu)
"We contacted the European Space Agency and together we want to promote science subjects to girls," Ian Harkin, Arklu's co-founder and managing director, told Newstalk, a radio station in Ireland.

It was through the company's collaboration with ESA that Arklu was able to arrange for its Lottie doll to be launched to space, joining British astronaut Tim Peake in orbit for his six month mission on the station.

"Space travel is all about pushing boundaries and trying to get the next generation interested in science subjects, so we thought [sending the doll to space] was the perfect fit," Harkin said.

Peake, who arrived aboard the space station on Dec. 15, has not yet shared a photo of the Stargazer Lottie in space with him, though Arklu have posted simulated images and proxy messages from the doll about her first days aboard the outpost.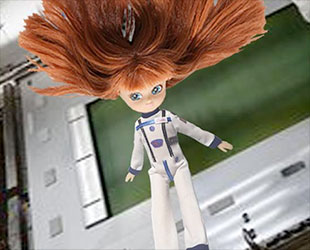 Simulated view of Arklu's Lottie doll on the space station.
(Arklu)
"I've arrived at the space station with Tim Peake," tweeted Lottie. "Can't believe I'm the first doll in space."

Astronauts have carried numerous toys over the past five and a half decades, and some of them could be described as dolls. The first person in space, Soviet cosmonaut Yuri Gagarin, carried a small toy (doll) with him to watch it float when he entered orbit in April 1961, beginning a tradition of "zero-g indicator" toys that continues to this day.

After his historic flight, Gagarin was gifted in Japan with an eight-inch-tall (20 cm) Geisha doll that three decades later flew into space as Japanese journalist Toyohiro Akiyama's zero-g indicator (the flown figurine is now on display at the Science Museum in London).

In 1995, NASA's STS-63 crew on space shuttle Discovery flew the very first teddy bear in space, a stuffed doll named "Magellan T. Bear," that is now in the Smithsonian. Another stuffed toy, this one of ESA's own mascot, Paxi, visited the International Space Station in 2013.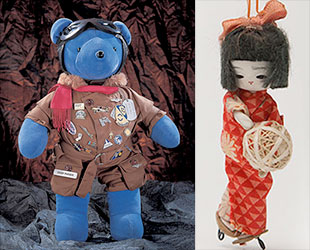 "Magellan T. Bear," the first teddy bear in space, and a Geisha doll flown in space in 1990.
(Smithsonian/Science Museum London)
NASA astronaut Karen Nyberg even hand stitched a doll, a stuffed toy dinosaur, out of fabric scraps she found on the space station to bring home to her son on Earth.

But, for the most part, none of these "dolls" fit the definition of a toy girl, like Mattel's Barbie and Arklu's Lottie.

"There's been loads of space-related Barbie dolls over the years, but I can find no evidence any of them have actually flown into space," astronomer Karen Masters wrote on her blog on Sunday (Dec. 27). "So I think Lottie might actually be safe with her claim to be the first doll in space."

For more information about the "Stargazer Lottie" doll, see toymaker Arklu's website.