December 21, 2011
— Three new crew members are now on their way to the International Space Station, having left Wednesday morning (Dec. 21) on a mission that will see the outpost restored to its full astronaut complement and, should all proceed as planned, receive the first deliveries from two new U.S. commercial cargo craft.
The three spacemen, who hailed from Russia, the United States and the Netherlands, are also the last crew to have their mission patch inspired by contest-winning children's artwork.
Launched on board Russia's Soyuz TMA-03M spacecraft, cosmonaut Oleg Kononenko, NASA astronaut Don Pettit, and André Kuipers of the European Space Agency (ESA) lifted off at 7:16 a.m. CST (1316 GMT) from the Baikonur Cosmodrome in Kazakhstan. They are scheduled to dock with the station in two days time at 9:22 a.m. CST (1516 GMT) on Friday, Dec. 23.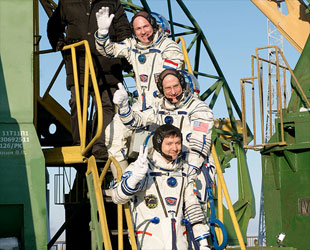 Soyuz TMA-03M crewmates André Kuipers, Don Pettit and Oleg Kononenko wave farewell from the base of their rocket. (NASA)
The three on TMA-03M will join the space station's 30th expedition crew, which has been living and working on the ISS since Nov. 15. Together with commander and NASA astronaut Daniel Burbank and Roscosmos flight engineers Anton Shkaplerov and Anatoli Ivanishin, they'll return the ISS to a full, six-person crew after delays were caused by the loss of a Russian unmanned resupply craft in August.
The TMA-03M crew will stay on the station through May 2012, transitioning in March to be the first three members of the Expedition 31 crew. Throughout their five and a half month stay, they will oversee the arrival of as many as five cargo craft, including two Russian, one European, and — if their independent schedules and in-flight trials hold — the first two U.S. commercial cargo craft to launch.
Hand in hand (in hand)
Among the special guests who were invited to watch the crew launch from Baikonur, was an 11-year-old Russian girl who made a small but highly-visible contribution to the mission.
Alena Gerasimova, from Petrozavodsk in western Russia, was the 14th and final student whose artwork was chosen by a Soyuz crew to contribute to the design of their official mission emblem. The contest
started three years ago
as part of the federal space agency's celebration leading up to this year's 50th anniversary of Yuri Gagarin becoming the first person in space.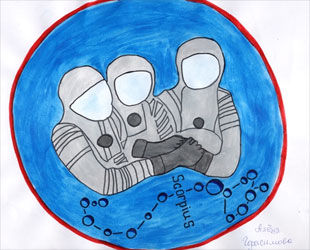 Eleven-year-old Alena Gerasimova's winning entry that inspired the Soyuz TMA-03M crew's mission emblem. (Roscosmos)
Gerasimova's ink drawing depicted the three spacesuited crewmates joining hands above the celestial constellation Scorpius. The largest star in that constellation, Antares, was chosen as the crew's call sign by Kononenko, whose 8-year-old twins both have names starting with the letter 'A'.
Dutch artist Luc van den Abeelen adapted Gerasimova's design into a finished insignia, which the crew wore on the right shoulder of their Sokol spacesuits during the launch.
As her prize, Gerasimova was invited to Baikonur to meet the crew and see them — with her emblem — launch to space. It was this aspect of the contest that Kononenko said he felt had the most positive impact.
"I think such programs are really, really great for children and if they start learning something about space through designing the patch, it's a really great experience," said Kononenko in a pre-flight interview with collectSPACE. "I say that because the winners, they not only go to Moscow but they also go to the Baikonur Cosmodrome and they see us and they see how we are preparing for our flight, putting on our spacesuits, how we are being seated into the Soyuz and how we launch into space. So I think these experiences will probably help them define what they are going to do in the future."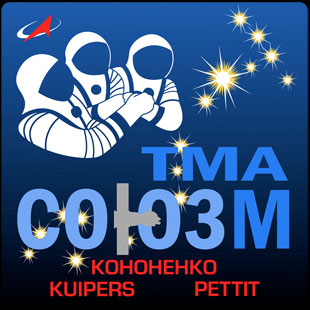 Soyuz TMA-03M crew insignia. (Roscosmos)
He said he was sorry to see the contest come to its end.
The contest, which saw hundreds of students enter from around the world, marked the first time Russia had invited children to contribute to the patch design process. The competition came to an end as a result of the Cosmonaut Training Center taking over responsibility for managing the crew patches.
Here be Dragon (and Cygnus)
The patches were among the few personal touches that the crew had with them on board the Soyuz due to weight and storage space limitations. Most of their supplies, both personal and professional, have and will come to the ISS by way of unmanned cargo vehicles.
As currently scheduled, two Russian Progress ships will arrive during their stay, as will the third of the European Space Agency's Automated Transfer Vehicles, or ATVs.
And as the first complete ISS crew to fly after the end of NASA's space shuttle program, the Expedition 30/31 crew members are slated to be the first to receive deliveries by way of U.S. commercial cargo vehicles.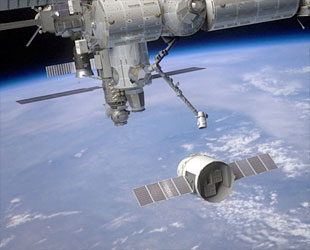 Artist depiction of SpaceX's Dragon cargo spacecraft arriving at the International Space Station (ISS) to be berthed. (SpaceX)
In early February, Space Exploration Technologies Corp., or SpaceX, will launch their first Dragon capsule to head to the station. After lifting off, the unmanned spacecraft will need to pass a series of approach and maneuvering tests before being given the go ahead to move into reach of the station's robotic arm, where it will be grappled and berthed with the outpost.
A similar test-than-berth flight profile is planned for Orbital Sciences' Cygnus capsule, slated to launch in late April for an early May arrival at the space station.
Dragon will stay at the station for just under two weeks, whereas Cygnus will be berthed for just over a week. Five days after Cygnus departs, Konenenko, Pettit and Kuipers will board Soyuz TMA-03M for their own return to Earth.