December 19, 2017
— A new crowd-funded documentary will look at the crowd behind the Apollo moon landings.

"When We Were Apollo," which reached its funding goal of $20,000 on Kickstarter, aims to address "what was it like to go to the moon — for the rest of Apollo's workforce?"

"I am a huge fan of the movies that have been made about the Apollo program that tell the stories of the astronauts, the missions, and the great leaders who inspired to make us think it was possible," says writer and director Zachary Weil with Contact Light Films, in a video that accompanies the "When We Were Apollo" crowdfunding campaign. "But I also wondered what putting a human on the moon was like for the rest of Apollo's workforce."

Approximately 400,000 Americans from more than 20,000 companies, universities and government agencies aided to the goal of landing astronauts on the moon and returning them safely to Earth within the confines of a decade.

"This film shares their story," says Weil.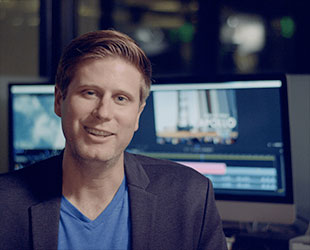 "When We Were Apollo" director Zachary Weil.
(Contact Light Films)
Set to coincide with the 50th anniversary of the first moon landing in 2019, "When We Were Apollo" will look at the legacy of the moonshot through the lives and experiences of some of those 400,000 workers who were unheard from until now, including NASA structural engineer Larry Junker.

"It was a tremendous effort," recalls Junker in an interview filmed for "We We Were Apollo," describing his role in the construction of NASA's Vertical Assembly Building used to stack the Saturn V rocket for launch. "There were so many people working on this, NASA thought 'let's designate the last beam that's supposed to go in place and have people sign their names on it.'"

"I did that, and thousands of other people did it, too. But I wasn't smart enough to put my signature on the lower part of the beam — because the upper part was going to be covered in concrete!" says Junker with a chuckle.

In addition to talking with Junker, NASA engineer Al Koller and IBM contractor Martha LeMasters, among other Apollo veterans for the documentary, the team behind "When We Were Apollo" is also seeking stories and photos from other program alumni through the film's website.

"What's magical about the story of Apollo is that hundreds of thousands of people across our country heard this call to action and said, 'Yeah, let's go for it,'" explains Weil. "It is in the spirit of saying yes to a challenge as ambitious as Apollo that makes humanity great and it is a quality I never want us to forget."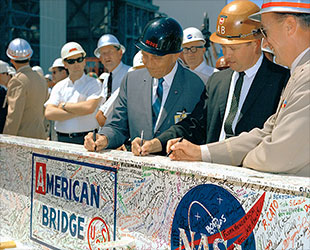 Workers sign the final beam of NASA's Vertical Assembly Building used to stack the Saturn V rocket.
(NASA/Contact Light Films)
The filmmakers plan to donate all of the footage and the materials collected to the Salmon Library at the University of Alabama in Huntsville to ensure the archive is preserved and remains accessible for generations to come.

"This project was a natural fit for our space collections," said Reagan Grimsley, head of special collections at UAH, in a statement. "We are glad to be able to assist the 'When We Were Apollo' team as they conduct research."

"Our hope is that the production team will uncover untold stories that others can later use for research," he said.

With their funding goal achieved and more than a week left in their campaign, the filmmakers have announced stretch goals to extend the production, allowing for more research and interviews, including a possible visit to Australia to talk to the Apollo alumni from the Honeysuckle Creek Tracking Station, which received and relayed the first images from the surface of the moon during the 1969 Apollo 11 mission.

For backing the production of "When We Were Apollo," the filmmakers are offering supporters with pre-release access to the feature-length film, t-shirts, decals and a copy of the documentary's companion book. Other perks include being listed in the film credits and for the highest pledges, invites to the premiere and a dinner with Apollo alumni featured on screen.

"Apollo was our space program, and we want you to feel the same way about this film," Weil says.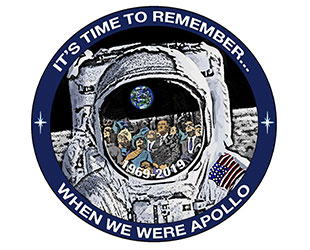 "When We Were Apollo" mission patch decal.
(Contact Light Films)
The "When We Were Apollo" Kickstarter campaign comes to an end on Thursday, Dec. 28.

Ultimately says Weil, "We We Were Apollo" is just as much about looking at our past as it is about our future.

"The spirit of Apollo — that belief that we can do the big things regardless of what stands in our way — is still with us and we want to make sure it continues on as we chart a course forward," Weil says. "It is our deepest hope through this film and beyond, that we'll always endeavor to do the big things, especially when times are hard, because they push to become the best version of ourselves."

For more details or to pledge, see "When We Were Apollo" on Kickstarter or the film's website.