December 18, 2009
— Two astronauts who were off the planet during separate American tragedies over the past decade, a record-setting female spacewalker who helped save the Hubble Telescope and the first African-American to fly in space will be inducted into the U.S. Astronaut Hall of Fame in June.

The ninth class of space shuttle astronauts to be added to the Hall's Mercury, Gemini and Apollo ranks since 2001, the 2010 inductees will increase the Florida-facility's total number of honorees to 77. An induction ceremony planned for June 5, 2010 at the Kennedy Space Center will reunite many of the astronauts to celebrate the enshrinement of Guy Bluford, Ken Bowersox, Frank Culbertson and Kathy Thornton.

The four astronauts were chosen by a committee of more than 80 retired NASA officials, historians, journalists and all the members of the Hall of Fame, as overseen by the Astronaut Scholarship Foundation (ASF). To be eligible for consideration this year, the astronauts needed to have made their first flight in 1992 or earlier; have been retired from flight status as a NASA commander, pilot or mission specialist for at least five years; be a U.S. citizen; and have orbited the Earth at least once.

According to the Foundation, which will host a gala dinner honoring the 2010 class the evening prior to the induction, candidates were selected not only for their contributions to the space program during their active astronaut careers but also after their retirement.

Blazing a trail into the night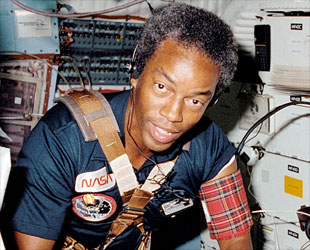 Guion "Guy" Bluford exercises onboard STS-8.
(NASA)
Guion "Guy" Bluford became the first African-American in space when he joined the crew of the first space shuttle mission to launch and land at night.

"We had to, as a crew, figure out the techniques that were required to launch the thing at night and as well as land the thing at night," Dr. Bluford told collectSPACE in 2002 on the anniversary of his 1983 STS-8 mission, which was dedicated to deploying a multipurpose India-built satellite and conducting medical measurements to understand the effects of space flight on the human body.

Bluford's first flight and the three that followed also blazed the path forward into space for African-Americans.

"I feel very proud of being a trailblazer with reference to space flight, particularly for African-Americans," he said. "I recognize I was one of several African-Americans that came into the program, and I think we have all made significant contributions to the program."

Bluford's other missions included the first of the German-directed Spacelab science flights (STS-61A in 1985) and two Department of Defense-dedicated missions (STS-39 in 1991 and STS-53 in 1992).

After retiring from NASA in 1993, Bluford took posts in the aerospace sector, and for the past 16 years, has served on several industry boards. Currently, he serves as the president of Aerospace Technology Group, an engineering consulting organization in Ohio, and is associated with the Coalition for Space Exploration.

The long journey home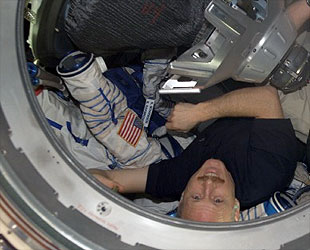 Ken Bowersox looks up from inside Soyuz TMA-1.
(NASA)
Ken Bowersox was one of two Americans to be the first to return from space aboard a Russian Soyuz spacecraft but that he and Don Pettit set that record was not by design but rather the result of tragedy.

Less than three months into what had been planned as a four month command of the International Space Station's (ISS) sixth expedition, Bowersox and his two crewmates learned from Mission Control that space shuttle Columbia, flying the separate, science-dedicated STS-107 mission, had been lost during reentry into Earth's atmosphere.

"My first reaction was pure shock, I was numb and it was hard to believe that what we were experiencing was really happening," said Bowersox from orbit, just a week or so after the Feb. 1, 2003 loss.

The resulting accident investigation and the time needed to return the shuttle to flight meant that Bowersox and his crew's planned March return aboard space shuttle Atlantis would no longer be possible and the next Soyuz wouldn't arrive until May.

"We actually volunteered to stay longer," said Bowersox from aboard the station. "We've told our management that if they need us to stay a year, that's fine, they've got blanket approval for that. If they want us to go longer than a year, please just give us a couple of month's notice."

Ultimately, Bowersox, Pettit and their Russian cosmonaut colleague Nikolai Budarin came home on Soyuz TMA-1 in May 2003, after a rougher than expected ballistic reentry.

Bowersox was not a stranger to long stays in space -- his first flight, STS-50 in 1992, was the first extended duration orbiter mission -- though Expedition 6 was the longest of his five flights at 161 days. In addition to flying the first and second missions of the United States Microgravity Laboratory (the latter, STS-73 in 1995), he also visited the Hubble Space Telescope twice to repair and upgrade its instruments (STS-61 in 1993; STS-82 in 1997).

Leaving the space agency in 2006, Bowersox is today the vice president of astronaut safety and mission assurance for SpaceX, the rocket company led by PayPal co-founder Elon Musk.

A bad day on the ground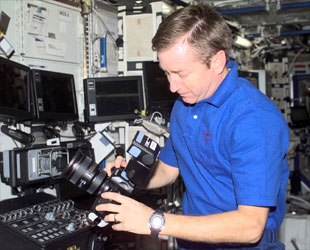 Frank Culbertson works with a camera aboard the ISS.
(NASA)
Frank Culbertson, like Bowersox, was in command of the International Space Station when tragedy struck below.

"I zipped around the station until I found a window that would give me a view of [New York City] and grabbed the nearest camera," recounted Culbertson in a letter he sent to the ground just a day after the Sept. 11, 2001 terrorist attacks on the United States. The only American in space at the time, he was commanding a crew that included two Russians, Culbertson struggled with being alone.

"Other than the emotional impact of our country being attacked and thousands of our citizens and maybe some friends being killed, the most overwhelming feeling being where I am is one of isolation," he wrote. "It's difficult to describe how it feels to be the only American completely off the planet at a time such as this. The feeling that I should be there with all of you, dealing with this, helping in some way, is overwhelming."

"Many things will never be the same again after Sept. 11, 2001. Not just for the thousands and thousands of people directly affected by these horrendous acts of terrorism, but probably for all of us. We will find ourselves feeling differently about dozens of things, including probably space exploration, unfortunately."

Culbertson remained in space for three more months before coming home ("Life goes on, even in space. We're here to stay..."), ending his spaceflight career on his third mission. He earlier flew on STS-38, a Department of Defense classified mission in 1990 and then commanded STS-51, which due to a faulty fuel sensor, experienced an on-pad abort at just T-3 seconds to launch. The mission ultimately launched a month later in Sept. 1993 to deploy an advanced communications satellite and a free-flying astronomical platform.

Retiring in 2002 to join Science Applications International Corporation (SAIC), Culbertson was named in 2008 as the senior vice president and deputy general manager of the advanced programs group at Orbital Sciences, where he is responsible for human spaceflight programs.

Hubble heroine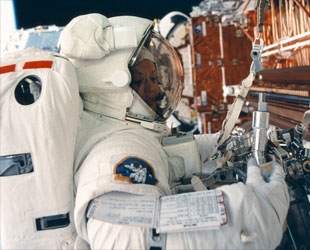 Kathy Thornton during the second STS-61 spacewalk.
(NASA)
Kathy Thornton, who until 2007 held the world record for the longest spacewalk performed by a woman, flew her third space flight with Ken Bowersox to service the Hubble Space Telescope.

Launching on STS-61, Thornton was paired with astronaut Tom Akers to repair the flawed observatory during two of the mission's five spacewalks, including the installation of COSTAR, or the Corrective Optics Space Telescope Axial Replacement, which served as contact lenses to refocus light bouncing off Hubble's primary mirror.

Thornton also jettisoned one of the telescope's damaged solar arrays.

"It looks like a bird," she commented, as the large array began to flap as the result of the shuttle's thrusters being fired.

In addition to her work on Hubble, Thornton flew on three other shuttle missions, including STS-33, a 1989 defense flight; STS-73, also with Bowersox; and the 1992 maiden flight of orbiter Endeavour, during which she served as the spacewalk coordinator, or IVA officer, for the only three-person EVA in history. She then made a spacewalk of her own, demonstrating "how not to build a space station."

Leaving NASA in 1996 to join the faculty of the University of Virginia's School of Engineering, Thornton continued to serve the nation's space program through an advisory role on boards and commissions, including the Stafford-Covey Return to Flight Task Group, and the National Research Council Aeronautics and Space Engineering Board. She also co-authored an elementary science textbook series in partnership with NASA.