Dec. 17, 2016
— The life of John Glenn, the first American to orbit Earth, was celebrated at a public memorial service Saturday (Dec. 17), at Ohio State University in Columbus.

Glenn, who died on Dec. 8 at age 95, was remembered by his family, his friends and by colleagues from his careers as a Marine Corps pilot, original NASA astronaut, four term U.S. Senator and adjunct professor at the college bearing his name. The ceremony followed a Marine-led procession from the statehouse, where he was only the ninth person to lay in repose in Ohio's history.


"There are those here today who have known Sen. Glenn for 60, 70 or even 90 years, but most of us knew him long before actually met him," said Michael Drake, president of Ohio State University, home to the John Glenn College of Public Affairs since 2006. "We knew [Glenn] though news reports and flickering images of events that were among the most spectacular that we have ever witnessed."

A record-setting test pilot and veteran of two wars, Glenn was selected to be among NASA's first seven astronauts in April 1959 and launched into orbit on board the Mercury spacecraft Friendship 7 on Feb. 20, 1962. He returned to space 36 years later aboard the shuttle Discovery, setting the record for the oldest person to fly in space.

"Our nation was proud of the achievement, and proud of our brave and dashing hero," stated Drake. "But more than that, we cared about him personally. We prayed for him personally, for his family, his happiness and for his safety. The mission captured our minds, but John Glenn won our hearts."

"'He came out of the heart of the country, and he stole America's heart,'" said Vice President Joe Biden, repeating the words that Secretary of State John Kerry told to him to describe Glenn. "He gave what I think is probably the best description of John Glenn I've ever heard, and I knew John for 40 years."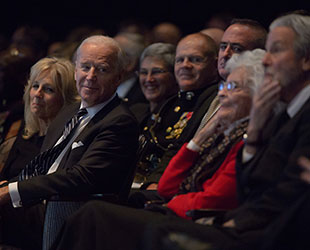 Vice President Joe Biden smiles and looks at Annie Glenn, widow of former astronaut and Senator John Glenn, as Glenn's son David recounts humorous stories about his father.
(NASA/Bill Ingalls)
"I think John defined what it meant to be America, what it meant to be an American [and] what we were about, just by how he acted," said Biden. "[He had] always a belief in tomorrow."

"When the Marines play 'Taps' on the bugle at Arlington [National Cemetery] for our friend, we can look deep into the heavens and know with certitude that John believed it was right, that future generations of Americans will look deep within the heavens and understand how to explore, how to serve, how to love."

"They will come to understand that if we are looking for a message to send about our time here on Earth or what it means to be an American, it is the life of John Glenn, and that is not hyperbole," Biden said. "God bless you, John."

Amid psalms and prayers, choir performances and video clips featuring Glenn describing his own life's experiences, those who knew him well recalled his legacy.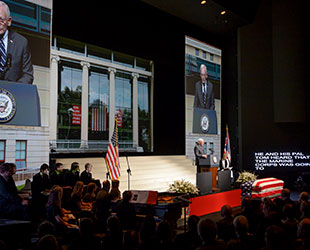 Director of the Smithsonian National Air and Space Museum Gen. J.R. "Jack" Dailey speaks during the memorial service celebrating the life of former astronaut John Glenn.
(NASA/Bill Ingalls)
"He invited us up to his level, where we discovered what an American could do," said retired Marine Corps General Jack Dailey, director of the Smithsonian's National Air and Space Museum in Washington, D.C. "He once said that he had been a Marine 23 years and it just wasn't enough. We had John for 95 great years and it still wasn't enough."

"Colonel John Glenn has made his last takeoff and he'll be missed, but never forgotten," Dailey said.

"It's fitting that this day we also mark the 113th anniversary of the Wright brothers' first powered flight," stated NASA Administrator Charles Bolden, a former space shuttle-era astronaut. "Just as John advanced the frontiers of aviation, so too we will follow his legacy to us — to travel farther in space."

"John made us look up, not only to the sky thinking that we might actually be able to see him up there, but toward the higher purpose that we, as a country, are always striving to achieve," said Bolden.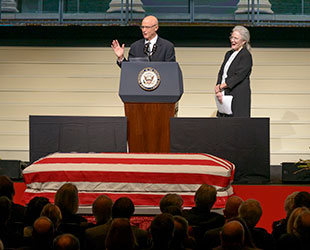 Son of the late John Glenn, David Glenn, speaks about his father, as his sister Lyn looks on at the service.
(NASA/Bill Ingalls)
The two-hour ceremony concluded with remembrances by Glenn's son and daughter, David and Carolyn ("Lyn"), as their mother and Glenn's wife of 73 years, Annie, looked on from the auditorium's front row.

"We really were not ready to say goodbye to him yet," said David Glenn. "His mind was sharp as a tack but his body was failing him and this had to be."

"Folks from around the world [and] from all walks of life remember and honor you, dad," said Lyn Glenn. "You lived many lives in one life — with honesty, grace, belief in our country and the honor of public service."

"I am proud and so grateful to say you're just my dad," she concluded. "Thank you dad, I love you. Godspeed, dad."