December 16, 2020
— The first international crew member to fly aboard a NASA mission to the moon will come from Canada.

The Canadian Space Agency (CSA) on Wednesday (Dec. 16) announced an agreement with NASA to collaborate on the United States' Artemis moon program, including launching a Canadian astronaut on the first mission to fly with a crew.

"This is a significant moment in Canada's space history," Navdeep Bains, Canada's minister of innovation, science and industry, said in a statement. "All eyes will look to the sky as one of our astronauts becomes the first Canadian to travel around the moon."

The agreement, which Bains referred to as the "Canada–U.S. Gateway Treaty," provides for a CSA astronaut to be part of NASA's Artemis II mission, slated to launch in 2023. The agreement positions Canada to become only the second country in history to have an astronaut travel into deep space and fly around the moon.

"When I think of Artemis II, this mission is similar to the Apollo 8 mission in 1968," said Jeremy Hansen, one of Canada's four active astronauts, referring to the first mission to fly humans into lunar orbit. "As they came around the backside of the moon and [took] that famous photo of the entire globe hanging in the blackness of space, we saw our entire planet for the first time — its beauty, its fragility — and we were reminded that we are in all this together."

"This is what excites me about this," Hansen said. "This time, when we return to the moon, our eyes are fixed back on our planet and the challenges that face us right here on Earth."

As currently planned, the Artemis II mission will launch four astronauts on a 10-day mission to fly by the moon and test NASA's Orion spacecraft in deep space. The flight will build off the data collected from the uncrewed Artemis I mission in 2021 and prepare for the Artemis III mission, which will land the first woman and the next American on the moon as soon as 2024.

"It is worth pointing out here that [Artemis II] will be the farthest and fasted that any humans in the history of our species have ever gone and so it is a very big deal to do just that," said CSA astronaut Joshua Kutryk. "I think it is going to be going Mach 32 when it gets back to Earth, which is just scientific speak for really, really, really fast."

The Canadian who will fly on Artemis II will be selected and named at a later time, as the mission draws nearer to launch.

"Canada is fortunate to have a strong corps of highly-trained professional astronauts, any one of whom would be an excellent choice," said Lisa Campbell, president of the Canadian Space Agency. "These decisions are made with all sorts of specific considerations."

In addition to Hansen and Kutryk, CSA's active astronaut corps includes David Saint-Jacques, who logged 204 days on the international Space Station in 2019, and Jenni Sidey-Gibbons, who like Hansen and Kutryk, is still waiting her first mission assignment.

The new agreement extends beyond Artemis II to NASA's Gateway, a human-tended outpost to be deployed in lunar orbit beginning in 2024 to enable missions to land at different sites across the moon. Under the Canada–U.S. Gateway Treaty, CSA will be responsible for overseeing and operating all of the external robotics needed to operate the multi-module platform, including Canadarm3, a new robotic arm that builds off the legacy of the space shuttle-era Canadarm and Canadarm2, which is still in use at the International Space Station.

"The Gateway will not have a crew living and working on board continuously. Instead, our state-of-the-art smart robotics system, Canadarm3, will use artificial intelligence to maintain operations in space when humans are not present," said Bains. "The Gateway treaty confirms our contribution to Canadarm3 and ensures that all robotic operations will be controlled on the ground right here in Canada for the first time."

The agreement also includes a Canadian flying to the Gateway as part of a future Artemis mission's crew.

"Canada will have an opportunity to contribute scientifically to these missions," said Sidey-Gibbons. "We don't know what science experiments exactly we will be doing yet, but we do have a lot of interest from Canadian researchers and Canadian planetary scientists, so we're looking at everything from mapping the lunar surface to Earth observation — looking back at our own planet — and we're interested in a lot of medical applications. Gateway will be able to facilitate all of that research."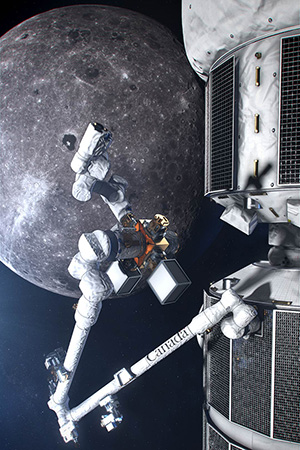 Artist's concept of the Canadian Space Agency's Canadarm3 robot arm mounted outside NASA's Gateway in orbit around the moon. Under a new agreement, Canada will be responsible for all external robotic activity in support of the platform. (Canadian Space Agency)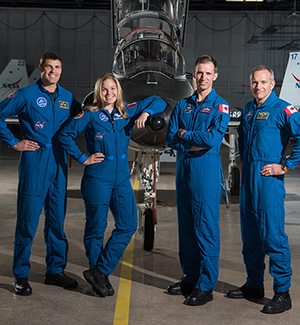 The Canadian Space Agency's active astronauts, from left: Jeremy Hansen, Jenni Sidey-Gibbons, Joshua Kutryk and David Saint-Jacques. At least two of the four will be selected to fly to the moon on NASA's Artemis missions. (NASA/CSA)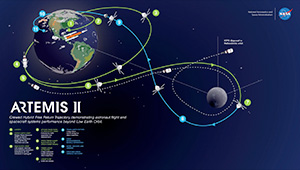 NASA graphic showing the notional plan for the Artemis II mission, the first to return humans to lunar orbit, launching in 2023. (NASA)