December 14, 2017
— A Kansas space museum is giving new meaning to the "spirit of Apollo" with the offer of a new boutique wine.

The Cosmosphere in Hutchinson, Kansas, a museum and education center dedicated to sharing the history of space exploration, has partnered with Holman Cellars, a family-run micro-winery in Napa Valley, to introduce Moonwalker wine. The 2015 Cabernet Sauvignon is available in labeled bottles with engraved, digitized or authentic autographs of Apollo astronauts who explored the moon almost 50 years ago.

"Wine commemorating three of the living astronauts who walked on the moon is available just in time for holiday gift giving to your favorite Apollo-era enthusiast!" the museum announced on Thursday (Dec. 14).

The limited edition Moonwalker wine has the signature of approval of Alan Bean, Charlie Duke and Harrison Schmitt, the fourth, tenth and twelfth humans to step foot onto the moon. Bean flew on Apollo 12 in November 1969, Duke on Apollo 16 in April 1972 and Schmitt landed on Apollo 17 in December 1972. All three were their Apollo mission's lunar module pilot.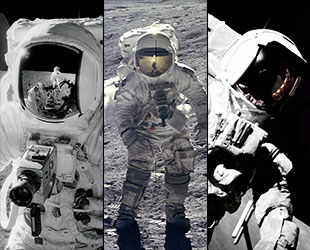 Moonwalkers Alan Bean (Apollo 12), Charles Duke (Apollo 16) and Harrison Schmitt (Apollo 17) have leant their signature of approval to the Cosmosphere's Moonwalker boutique wine.
(NASA)
Moonwalker is bottled from a exclusive barrel of Cabernet Sauvignon donated by Holman Cellars for the benefit of the Cosmosphere. A portion of the proceeds from the sale goes to support the Cosmosphere's international science education center and space museum.

"The sale of the wine directly benefits the Cosmosphere — proceeds support our operation and our ability to provide outstanding programs and exhibits," Jim Remar, president and incoming CEO of the Cosmosphere, said in a recent interview with collectSPACE. "Fifty percent of the proceeds [from the wine's sale] will be funneled to the Cosmosphere Foundation to support our programs in perpetuity."

Limited to one per buyer, 750 milliliter and 1.5 liter bottles of Moonwalker with a label hand-signed by Bean and Duke are available for $320 and $450 each, respectively. Same sized bottles with digitally-reproduced signatures of Bean, Duke and Schmitt are available for $120 and $240 each.

Larger bottles of Moonwalker, in 3, 6 and 9 liters, engraved with all three Apollo astronaut autographs, retail for $530, $1,010 and $1,490 each while the limited supply lasts. The larger bottles are also limited to one per buyer.

The bottles are available for pick up from the winery or can be ordered online and shipped within the United States.

Holman Cellars specifically chose the Cabernet Sauvignon for Moonwalker "to last the test of time," said Remar.

"High acid and lean, Moonwalker wine boasts with red and black currants adorned with white pepper and a spicy long finish," he described.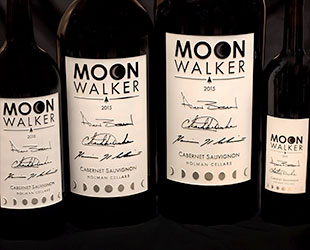 Moonwalker wine comes in several size bottles, from 750 milliliter to 9 liters, with labels that feature hand-signed, digital or engraved autographs from Apollo astronauts.
(Holman Cellars)
Though other boutique wines have adopted space themed labels in the past, the Cosmosphere saw Moonwalker as a chance to do something unique to toast the Apollo moon missions as they begins marking 50 year anniversaries.

"The Cosmosphere wanted to do something to celebrate the moonwalkers and we thought this would be a fantastic way to honor these men, while doing something that has never been done before," said Remar.

In addition to curating and exhibiting hundreds of artifacts from the past 60 years of worldwide space exploration, the Cosmosphere has been responsible for the restoration and conservation of the "Liberty Bell 7" Mercury spacecraft, the Apollo 13 command module "Odyssey," and the Saturn V F-1 rocket engine parts raised off the ocean floor by Bezos Expeditions. The Cosmosphere is currently working on the restoration of the original consoles from NASA's Apollo-era mission control.

To read more about the Cosmosphere, see cosmo.org. For more about Moonwalker wine, see Holman Cellars.