December 13, 2000
— Thirty-one years after leading the recovery of Apollo 11 and 12, the USS Hornet once again hoisted an Apollo command module onto it's deck.

The carrier-turned-museum now anchored at a California pier accepted delivery of the capsule, along with one of the the four original Mobile Quarantine Facilities two days ago on December 11.

On loan from the National Air and Space Museum, the command module, known as BP1102A, was used by all Apollo crews for water egress training. Months before a launch, NASA's motor vessel Retriever, with astronauts and BP1102A on-board, would set sail into the Gulf of Mexico and give the crew a chance to practice the entire recovery process.

With the exception of its fiberglass shell, the BP1102A was identical in construction to a flight-capable module.

The BP1102A was also the only training craft modified such that Skylab crews could practice their emergency rescue operations. If there had been a serious problem with Skylab, five astronauts, instead of the usual three would have had to cram into the command module and return home together. BP1102A was used to train for this possible contigency splashdown event.

The Mobile Quarantine Facility (MQF) is only the second to be placed on display (the first is located at the U.S. Space & Rocket Center in Huntsville, Alabama). Before that can happen though, it will be restored by the Hornet staff to its condition when it was used to house the third moon landing crew, Apollo 14's Alan Shepard, Stu Roosa and Edgar Mitchell in February 1971.

A highly modified Airstream trailer, the MQF was used to biologically isolate, or quarantine, returning astronauts of the Apollo 11, Apollo 12 and Apollo 14 missions for up to 21 days after their splashdown. Intended to prevent the remote possibility of a lunar pathogen — moon germs — from contaminating the Earth, the crew, their equipment and the lunar samples they retrieved were locked inside.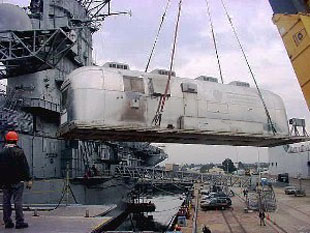 A Mobile Quarantine Facility used by the Apollo 14 crew is hoisted onto the USS Hornet for display.
(USS Hornet Museum)
The MQF will become the centerpiece of the USS Hornet Museum's exhibit of Apollo recovery activities.

Aircraft Carrier Hornet Foundation CEO Gerald Lutz said of the arrival, "Obtaining this rare quarantine van clearly establishes the Hornet as the nation's premier manned spacecraft recovery museum — and more Apollo-related artifacts will be obtained within the next few months."

A National Historic Landmark, the USS Hornet is the only aircraft carrier museum on the West Coast. The museum is moored at Pier 3 in Alameda Point, where the Alameda Naval Air Station was formerly located.