Dec. 11, 2014
— A commercial "lunar logistics" company working to send robotic landers to the moon is inviting the public to 'mail' their keepsakes and personal mementos on one-way trips to the lunar surface.

Astrobotic Technology on Thursday (Dec. 11) announced the launch of its new "MoonMail" program, which offers to send heirloom rings, family photos, locks of hair and other small personal items on the company's first private moon mission set to launch in the next few years.

With prices based on the item's size, MoonMail rates start at $460 for a half-inch wide by 0.125-inch tall (1.27 by 0.3 centimeter) capsule and increase to $25,800 for a one by two-inch (2.54 by 5.08 cm) payload.

"You can think of the pricing for it to be very similar to 'it fits, it ships' at the post office," John Thornton, Astrobotic CEO, told collectSPACE.com in a call with reporters. "It is essentially a flat-rate box."

Each box, or capsule, fits into Astrobotic's "Moon Pod," a 12-inch-wide (30.5cm) torpedo-shape pressurized canister permanently mounted on the company's four-legged Griffin lander. Hundreds to several thousand capsules can fit in each Moon Pod, depending on the various size containers chosen by MoonMail customers.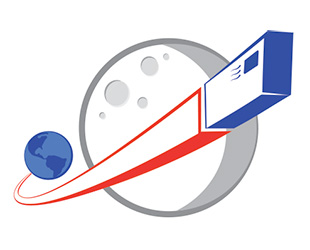 Astrobotic Technology Inc.'s MoonMail program logo.
(Astrobotic)
The first Griffin is slated to launch on a SpaceX Falcon 9 rocket and land at Lacus Mortis, or the "Lake of Death," a plain of basaltic lava flows in the northeastern part of the moon as viewed from Earth.

"There is a unique feature there called a 'skylight,'" stated Thornton, adding that only about 300 of these sinkhole-like entrances into subsurface caves have been discovered on the moon. "What's very unique about the skylight at Lacus Mortis is that its walls have collapsed creating a ramp into the cave."

"Caves on the surface of the moon could be our natural shelter," Thornton explained. "So our first mission goes to one of these caves where we hopefully think someday we could settle on the moon. We think it's a fantastic location to place MoonMail, which ultimately will be a time capsule of our generation for future moon explorers."

In addition to MoonMail, the first Griffin lander is also set to carry human remains as part of an arrangement with the space burial company Celestis and a smaller time capsule as part of a commercial deal with the Japanese soft drink company Pocari Sweat. The mission will also collect data for NASA and compete for the Google Lunar X PRIZE, a $30 million robotic race to land and explore the moon.

MoonMail reservations, which began Thursday, are placed online through the Astrobotic website. Five to eight weeks after purchasing a capsule of the desired width and height, customers will receive a prepaid postage container to ship their mementos to Astrobotic, as well a mission certificate and a map showing where their item is targeted to land on the moon.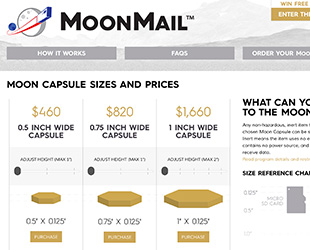 Astrobotic's new MoonMail website offers customers a choice of capsule sizes for flying mementos to the moon.
(Astrobotic)
The MoonMail Kit also includes quarterly updates leading up to the launch, updates during the mission, and images of the Moon Pod once it had landed on the moon.

"How many people can say they have sent something to the moon? Or that part of them or part of their story is on the surface of the moon?" Thornton stated. "We think that people will want to be a part of this and thousands around the world will be excited by it."

To that end, Astrobotic is holding a contest to give away a 1 by 0.125 inch (2.54 by 0.3 cm) capsule to launch with the first shipment of MoonMail. The entrant suggesting the most creative, interesting, and poignant idea for what they would send to the moon will win. Run through Astrobotic's website, the contest is open until Dec. 22, with the winner being named the next day.

For more information, to enter the contest or to purchase a MoonMail reservation, see the Astrobotic website.