December 3, 2020
— A new set of mission patches hints at how space history will change in the second season of "For All Mankind."

Icon Heroes, a pop culture collectibles company, has begun selling embroidered patches styled after the designs that will be seen in the next installment of "For All Mankind." The alternate history series is set to return to the Apple TV+ streaming service with the first of ten new episodes on Feb. 19, 2021.

"As a bonus, each collectible tin is personally autographed from series creator and writer Ronald D. Moore!" Icon Heroes announced Thursday (Dec. 3). The officially licensed patches are limited to 100 sets for $100 each.

Update: With the limited edition signed sets sold out, Icon Heroes has announced an open edition set of the same 19 patches, packaged in a poly bag (and without Ronald D. Moore's autograph) for $100, shipping in the first quarter of 2021.

"For All Mankind" explores what might have happened to the U.S. space program had it been a Soviet cosmonaut, rather than American astronauts, who was first to walk on the moon. Season two picks up in 1983, a decade after the events of the first season, at the height of the Cold War.

"Ronald Reagan is president and the greater ambitions of science and space exploration are at threat of being squandered as the U.S. and Soviets go head to head to control sites rich in resources on the moon," Apple TV+ described in its official synopsis. "The Department of Defense has moved into Mission Control, and the militarization of NASA becomes central to several characters' stories: some fight it, some use it as an opportunity to advance their own interests, and some find themselves at the height of a conflict that may lead to nuclear war."

A teaser trailer released in July revealed that NASA's space shuttle, which in real life launched for the first time in 1981, still exists in the "For All Mankind" alternate timeline. The same is reflected in the patch designs now offered by Icon Heroes.

Five of the 3.5-inch (9 cm) emblems depict the winged orbiters, including one that resembles NASA's triangular space shuttle program patch. The insignia also show that at least three of the vehicles in the series were named as they were in reality: Columbia, Discovery and Atlantis.

Other patches illustrate how history will play out differently in "For All Mankind." Two of the designs include Skylab, the United States' first space station, which fell out of orbit and dropped debris over Australia two years before the space shuttle began flying. One of the second season patches, however, shows Atlantis docked to the orbital workshop, an event that NASA, in real life, had considered as a way to save Skylab, until it was clear that the space shuttle would not be ready in time.

A patch similar to the real Apollo-Soyuz Test Project insignia is included in the set, suggesting that the joint U.S.-Russian mission is canon to "For All Mankind," but so is a badge for the "United States Moon Marines," a military detachment that never existed (although the real U.S. Space Force has yet to decide what to call its enlisted members).

The majority of the "For All Mankind" Season 2 patches represent the Jamestown moon base, a multi-module lunar outpost that was introduced in the first season.

Many of the designs also have crew members' names, including some that should be familiar to fans of "For All Mankind" and space history. Two of the Jamestown badges, for example, have the name "Stevens" embroidered along their borders. That could be a reference to fictional astronaut Gordo Stevens, played by Michael Dorman, or Tracy Stevens (Sarah Jones), Gordo's wife, who also is an astronaut. Or, the name may be for their son, Danny Stevens (Casey W. Johnson), who is a new character for this season.

Other emblems display surnames with possible links to real life. "Young," which appears on a patch for Jamestown Expedition "81," could be a tribute to the late John Young, who in real life walked on the moon and commanded the space shuttle, the latter for the first time in 1981. Similarly, "Ockels" might be a nod to the late European Space Agency (ESA) astronaut Wubbo Ockels, who was the first Dutch astronaut to fly in space in 1984.

One other name could be described as a cameo, of sorts. A patch for a (fictional) 1983 space shuttle Columbia mission lists one of the two crew members as "Reisman." In reality, Garrett Reisman is a former NASA astronaut who flew on the shuttle and International Space Station, logging more than 100 days in Earth orbit.

Reisman also serves as a technical advisor for "For All Mankind."

The first season of "For All Mankind" is available to stream on Apple TV+.

Icon Heroes' new "For All Mankind" Season 2 patch limited edition set includes 19 embroidered emblems from the next ten episodes of the Apple TV+ alternate space history series. (Icon Heroes)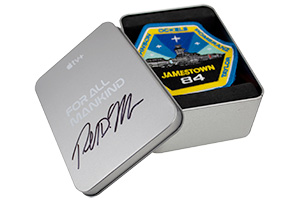 Icon Heroes' "For All Mankind" Season 2 patches come packaged in a tin authentically autographed by the Apple TV+ series' creator and writer Ronald D. Moore. (Icon Heroes)