December 1, 2016
– Astronaut Buzz Aldrin was medically evacuated from the South Pole on Thursday (Dec. 1).

Aldrin, 86, was taking part as a member of a tourist group visiting the Pole when his condition deteriorated and out of precaution and the advice of doctors on site, he was flown to Christchurch, New Zealand to receive medical care.

"He currently has fluid in his lungs but is responding well to antibiotics," said officials with White Desert, the Antarctica tourism operator who organized Aldrin's trip. "His condition is stable and his manager, who is with him, described him being in good spirits."

Photos posted to Aldrin's social media accounts showed the Apollo 11 moonwalker giving a thumbs up while on a stretcher and smiling from his hospital bed.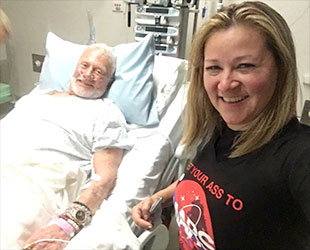 Buzz Aldrin, with manager Christina Korp, smiles from a hospital bed in Christchurch, New Zealand on Dec. 1, 2016.
(Buzz Aldrin)
"After a grueling 24 hours, we are safe in New Zealand," Christina Korp, Aldrin's manager, wrote on Twitter.

Aldrin, who with Neil Armstrong became the first humans to land on the moon in July 1969, has traveled the Earth extensively since returning from the lunar surface.

"Although I have had some unique experiences in space, I still have an adventurous spirit here on Earth," Aldrin wrote in his book, "No Dream Is Too High: Life Lessons From a Man Who Walked on the Moon," published earlier this year by National Geographic.

In addition to diving in a submersible to view the sunken remains of the Titanic and touring countless countries to share his experiences and passion for space exploration, Aldrin joined the crew of a Russian icebreaker to visit the North Pole in 1998.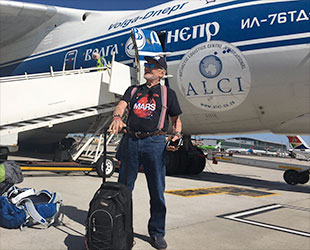 Buzz Aldrin strikes a pose before departing for the South Pole on Nov. 29, 2016 with the tour operator White Desert.
(Buzz Aldrin)
"We shuttled across the frozen expanse by helicopter to a location where we were served a meal on the ice," wrote Aldrin. "Then some of the passengers set up a makeshift baseball diamond on the ice and we played softball at the North Pole. What an experience!"

Aldrin's trip to the South Pole came two weeks after he celebrated the 50th anniversary of his first trip into space, NASA's 1966 Gemini XII mission on which he took the first "selfie" in space while out on a spacewalk.

"South Pole here I come!" exclaimed Aldrin on Twitter on Tuesday (Nov. 29), captioning a photo of him standing on the tarmac, striking a pose next to an airplane. He added the hashtag "#GYATAntaractica," adapting the slogan from his popular line of "Get Your Ass to Mars" t-shirts.

Aldrin's trip to the South Pole was partially motivated by his interest in the Red Planet and sending humans to live there. The extreme conditions in Antarctica has led NASA and others to look at the seventh continent as an analog testing ground for supporting life on Mars.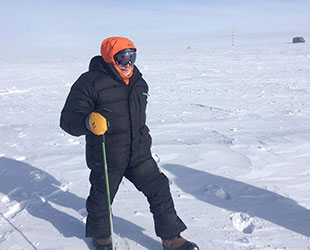 Apollo 11 astronaut Buzz Aldrin at the South Pole.
(Buzz Aldrin)
Those conditions, however, appeared to have gotten the better of Aldrin and his evacuation from the southernmost point on Earth came on the first available flight to McMurdo Station, the U.S. Antarctic research center on the south tip of Ross Island.

"We would like to offer our sincere thanks to the team at the National Science Foundation for accommodating Buzz and his team member on one of their flights from South Pole to New Zealand via McMurdo," said the tour operator. "We wish Buzz a speedy recovery."

According to Aldrin's website, he had been scheduled to be on the South Pole trip from Nov. 25 through Dec. 12.