advertisements

Astronaut Aldrin files lawsuit over medal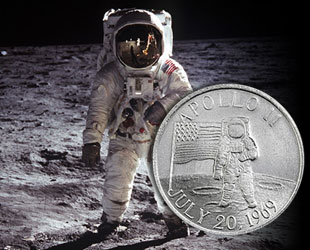 November 29, 1999
— Claiming fraud and a breach of contract, Apollo 11 moonwalker Buzz Aldrin has filed a lawsuit against the three manufacturers of a medal that commemorates the anniversary of his flight.

The lawsuit, filed in Los Angeles Superior Court, accuses Excelsior Productions, United Precious Materials and World Network of unfair business practices, fraud, breach of contract and invasion of Aldrin's rights of privacy and publicity.

The case revolves around the alleged unauthorized use of a photo of Aldrin that depicts him standing on the Moon's surface, his left arm bent across his chest and crewmate Neil Armstrong mirrored in his gold-plated helmet visor. In the suit, Aldrin states he has licensed the same image for previous commercial products, including commemorative medallions and legal tender coins.

NASA classifies most of the imagery from its missions as public domain and therefore available for use without the need for licensing. However, in its guidelines for the reproduction of photographs, the agency states that if it "includes an identifiable person, using the image for commercial purposes may infringe that person's right of privacy or publicity." In such cases, the policy instructs that "permission should be obtained from the person" who is pictured.

Although a visor blocks the view of his face, a name tag on the front of the spacesuit identifies the astronaut in the aforementioned photo as "E. Aldrin".

In papers submitted to the court, Aldrin claims that an agreement existed with Excelsior and World Network for him to endorse a line of commemorative medallions and plaques relating to the 30th anniversary of the flight of Apollo 11. However, Aldrin contends he withdrew from the arrangement after a required upfront payment of $10,000 was never made.

Despite Aldrin's withdrawl, Excelsior supplied medallions to United Precious Materials, which also operates as the American Historic Society.

"Due to Dr. Aldrin's unique background and special skills, his name, likeness, image and identity have become valuable assets, symbolizing Dr. Aldrin and his good will," the lawsuit states. "Dr. Aldrin's interest in his good will represents a valuable commercial asset, an asset that he alone has the right to license and exploit."

Neither Aldrin nor the companies identified in the lawsuit could be reached for comment.

© 2023 collectSPACE.com All rights reserved.