November 25, 2009
— They may not have the traditional fixings for a Thanksgiving dinner, but the seven astronauts returning to Earth onboard space shuttle Atlantis are set to show their thanks with a memento-stuffed locker for those who made their mission a success.
The
STS-129
crew hit the road for the holiday Wednesday, departing from the International Space Station (ISS) after six days delivering spare parts to extend the outpost's on-orbit lifespan. They will spend today and Thanksgiving day circling the planet as they prepare their ship for a return to Earth on Friday, weather permitting.
This isn't the first shuttle crew to spend Thanksgiving in space: Seven missions dating back to 1985 have spent "turkey day" in orbit, many
complete with the turkey
. The
NASA food lab
has, at the commander's request, prepared special meals with thermostabilized smoked turkey, freeze dried cornbread stuffing and spicy green beans, as well as condiment-size packs of cranberry sauce.
Atlantis' commander, Charles "Scorch" Hobaugh, however, decided he and his crew would forego the festive foods for whatever was on the regular menu.
"Whatever is in flight day [11] 'Meal B' that our wonderful food people packed for us, that's what we're eating. And actually, I guess it's 'Meal C,'" explained Hobaugh during a news conference held from space on Tuesday.
"Thanksgiving isn't all about what you eat, it's the people you spend it with. This has become my second family and of course, my main family is back home," he added.
There is a third "family" that Hobaugh and his crewmates have included as part of their mission, at least vicariously: the organizations, educational institutions and community societies that supported each of them individually and together as a crew. For them, the astronauts have packed small souvenirs in the mission's
Official Flight Kit
(OFK).
"Trying to find things you can pay back organizations and outfits that either have special meaning to me or just do something special for the community or the U.S. people in general can be hard," said Hobaugh in a preflight interview with collectSPACE.
Every shuttle mission carries the duffle-bag-size OFK, in which crew members can carry 20 small items alongside mementos packed by NASA. The package of space-flown souvenirs is not Thanksgiving-specific, but it does share the theme of the holiday: giving thanks.
For family, friends and fraternities
Hobaugh, a Marine Corps colonel, looked to his history in the military to chose some of the items he flew. In addition to carrying a banner for the U.S. Naval Academy, he also has an item with relevance to a fellow student.
"My roommate from the Academy of four years, a great friend of mine that I hardly get to see but when I do it is like long-lost brothers, he's the commanding officer of the USS Bonhomme Richard, so I am flying up a ship patch for them," said the shuttle commander.
Atlantis' pilot, Barry "Butch" Wilmore was similarly inspired to take mementos from his alma mater. Completing both his undergraduate and Master's degrees from Tennessee Technical University in Cookeville, Wilmore made sure the school was well represented in the STS-129 OFK.
In addition to a gold medallion for the school's College of Education and a purple-and-gold placard for the Electrical Engineering college, Wilmore packed a thumb flash drive and a plush eagle mascot for the university.
Wilmore's eagle is joined in the OFK by a stuffed-toy blue spider from University of Richmond alumnus and mission specialist Leland Melvin.
Melvin also stowed several pins and the front page of local newspapers for the Commonwealth of Virginia capital city. An amateur songwriter in his own right, Melvin also flew a family ancestry chart for musician Quincy Jones, a friend who provided a "wake-up call" song during Melvin's earlier shuttle flight.
Bobby Satcher, one of this mission's three spacewalkers, also became the first orthopedic surgeon in space. Though he left the tools of the trade at home -- "We're not taking any joint replacement equipment," he told collectSPACE -- he did represent his profession on Atlantis. In addition to "tweeting" from orbit with the screen name "Astro_Bones," he said he had a banner from the American Academy of Orthopedic Surgeons, "so they are definitely represented."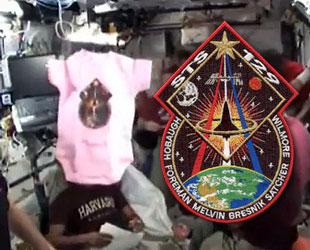 Randy Bresnik's pink baby onesie and the STS-129 mission patch that he helped design. (NASA TV/collectSPACE)
For fellow spacewalker Randy Bresnik, packing items was a family affair. His grandfather, Albert Bresnik, had been Amelia Earhart's personal photographer and so he flew a
scarf that had belonged to the famed aviator
, as well as a photograph taken of her by his grandfather.
Bresnik also recognized the next generation of his family, his daughter Abigail Mae who was born during the mission hours after he made his first spacewalk. The next day, he
showed off a pink onesie
decorated with the mission logo, a design he had a hand in creating.
"If you think about it, you are designing something that is part of a legacy," Bresnik said, referring to the long history of space shuttle mission patches. "I think we ended up with a pretty unique patch that people really appreciate for its originality."
More than 600 of the STS-129 patches were stowed in the flight kit for later presentation to NASA employees and the contractors who worked on the mission.
A sporting tradition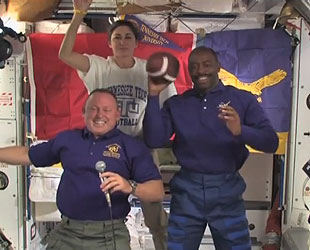 Butch Wilmore, Nicole Stott and Leland Melvin take part in an educational event with Tennessee Tech. (NASA TV)
It wouldn't be a proper Thanksgiving without the toss of a pigskin, and thanks to Wilmore, a former college football outside linebacker, there's one aboard Atlantis, too.
"There's a Tennessee Tech football that I put forward to fly up," the shuttle pilot told collectSPACE.
Wilmore also took a football jersey from his high school in Mt. Juliet, Tennessee. "They sent me my old number '54', that was very nice of them," he said.
Melvin, who was drafted in 1986 by the NFL's Detroit Lions before becoming an astronaut, also packed a jersey from his high school's football team in Lynchburg, Virginia.
Not that football is the only sport represented in the OFK.
Satcher, a long-time fan of the NBA, took along both an All-Star basketball jersey and one for the Boston Celtics.
Mike Foreman, the mission's lead spacewalker, stowed a baseball jersey, continuing a trend he started on his first spaceflight in 2008.
"I have the Houston Astros' Roy O's jersey this time," said Foreman, who
on STS-123 flew a shirt
for Astros' first baseman Lance Berkman. "When I went to the Astros' game to present the [flown] jersey to Lance, they allowed us to watch batting practice and Roy Oswalt was [there] and we started talking."
"I told him if I got to go into space again, I would take his jersey next time," Foreman told collectSPACE.
Rounding out the sporting goods onboard Atlantis, there's also a cycling jersey from Lance Armstrong's LiveStrong Foundation. While flying on the shuttle, it has traveled the same distance every seven minutes that Armstrong and the other cyclists took three weeks to ride during the Tour de France.
---
The STS-129 Official Flight Kit Manifest
The following is the STS-129 Official Flight Kit manifest, as provided by NASA. Inventory numbers that are missing indicate items that were removed prior to launch.
No.
Description
Sponsor/Purpose
1.

625 STS-129 crew patches
75 Expedition 22 patches

Agency Presentation
2.
800 Small United States Flags
Agency Presentation
3.
5 Sets U.S. States & Territories Flags
Agency Presentation
4.
5 Sets United Nations Members Flags
Agency Presentation
5.

20 Small Texas Flags
5 Small NASA Flags
5 NASA Patches
6 JSC Medallions
1 Bronze NASA Seal Medallion
1 Silver Shuttle Pendant

Agency Presentation
6.
10 Small Flags of the Following States:

Ohio
California
Tennessee
South Carolina
Virginia
Massachusetts
Illinois

Agency Presentation
7.
3 Small Flags of the Following Countries:

Ukraine
Scotland
Slovenia
Qatar

Agency Presentation
8.
10 Each Small Military Flags:

U.S. Air Force
U.S. Army
U.S. Coast Guard
U.S. Marine Corps
U.S. Navy

Agency Presentation
9.

10 Small United States Flags
10 Small Alabama State Flags

Marshall Space Flight Center Presentation
10.

10 Small Louisiana State Flags
10 Small Mississippi State Flags
5 Small NASA Flags
5 Small United States Flags

Stennis Space Center Presentation
11.

5 Small United States Flags
5 Small Florida State Flags

Kennedy Space Center Presentation
12.
120 Silver Snoopy Pins
Space Flight Awareness Presentation
13.
25 EVA Patches
Agency Presentation
14.

10 STS-129 Crew Patches
10 Small U.S. flags
10 DoD Space Test Program Patches
10 Space Development & Test Wing Coins
10 Crystal Park, CO, VFD Shoulder Patches

DoD Presentation
15.

32 Miscellaneous Program/Project/Directorate Patches
25 ALTAIR Patches

Constellation Program Office Presentation
16.
25 COD Patches
Center Operations Directorate Presentation
17.
25 Mission Operations Patches
Mission Operation Directorate Presentation
18.
1 Small Computer Disc
Agency Presentation
19.
100 Small Metal Shuttle Tokens
Agency Presentation
Items 20 through 84 are manifested at the request of the STS-129 crewmembers.
20.
Copper Medal on Lanyard
Arnold Fitness Expo, Columbus, OH
21.
Black and Gold Jersey
LiveStrong Foundation, Austin, TX
22.
Yellow T-Shirt
Houston Lynx, Houston, TX
23.
Black T-Shirt
Victory Lakes Intermediate School, League City, TX
24.
Green School Banner
Baylor University, Waco, TX
25.
Grey "CC" Letter
Clear Creek High School, League City, TX
26.
Blue and Yellow Patch
Clear Lake Shores Police Department, TX
27.
Blue, Gold and White Patch
USS Bonhomme Richard (LHD 6), FPO AP 96617-1656
28.
Logo Patch on Black Fabric
British Petroleum, Houston, TX
29.
Silver Plaque
Sullivan Measurement & Technologies, Houston, TX
30.
Company Personnel Photograph
Ambassador Advertising Company, Irvine, CA
31.
Thumb Drive
Tennessee Technical University, Cookeville, TN
32.
Purple and Gold Placard
Tennessee Technical University College of Electrical Engineering, Cookeville, TN
33.
Eagle Stuffed Toy
Tennessee Technical University Athletic Dept., Cookeville, TN
34.
Gold Medallion
Tennessee Technical University College of Education, Cookeville, TN
35.
Rustic Gold-Plated Cross
Providence Baptist Church, Deer Park, TX
36.
Red, Gold and Blue Patch
Liberty University, Lynchburg, VA
37.
Page of Signatures
2009 Virginia House of Delegates, Richmond, VA
38.
Swim Cap
Premier Management Group, Cary, NC
39.
Blue and Gold Medallion
Office of the Governor of California, Sacramento, CA
40.
Football Jersey
Heritage High School, Lynchburg, VA
41.
Black and Gold Pennant
Centre College, Danville, KY
42.
White T-Shirt
Billionaire Boys Club, New York, NY
43.
Gold and Black Pin
City of Richmond, Richmond, VA
44.
Gold Pin
Richmond Chamber of Commerce, Richmond, VA
45.
Newspaper Front Page
Richmond Free Press, Richmond, VA
46.
Newspaper Front Page
Richmond Times Dispatch, Richmond, VA
47.
Family Ancestry Chart
Quincy Jones Productions, Los Angeles, CA
48.
Blue Spider Stuffed Toy
University of Richmond Chemistry Dept., Richmond, VA
49.
Book Cover
Virginia State Library, Richmond, VA
50.
Maroon and White Banner
Harvard-MIT Health, Sciences & Technology, Cambridge, MA
51.
Red Flag
The Citadel, Charleston, SC
52.
Quilted Banner
Jerusalem International YMCA, Jerusalem, Israel
53.
Small White Flag
U.S. Naval Test Pilot School, Patuxent River, MD
54.
Black and Yellow Patch
Society of Experimental Test Pilots, Lancaster, CA
55.
Commemorative Medallion
Marine Corps Heritage Society, Dumfries, VA
56.
White, Green and Red Scarf
99s Museum of Women Pilots, Oklahoma City, OK
57.
Black and White Photo
Amelia Earhart Birthplace Museum, Atchison, KS
58.
Historical Sands in Plastic Bottle
Headquarters Marine Corps, Arlington, VA
59.
Medal on Lanyard
Santa Monica High School, Santa Monica, CA
60.
Black and Red Patch
Rittman Police Department, Rittman, OH
61.
Blue and Yellow Patch
Wadsworth Police Department, Wadsworth, OH
62.
Red and Yellow Patch
Wadsworth Fire Department, Wadsworth, OH
63.
Blue and White Pennant
Detroit Yacht Club, Detroit, MI
64.
Black and Gold Medallion
New Bern High School, New Bern, SC
65.
Red, White and Blue Texas Pin
Houston Expo 2020 Committee, Houston, TX
66.
Maroon T-Shirt
Blattman Elementary, San Antonio, TX
67.
Small Black Banner
The Fitness Center, League City, TX
68.
Yellow Banner
U.S. Naval Academy Alumni Assoc., Annapolis, MD
69.
Blue and White Banner
University of Connecticut, Farmington, CT
70.
White Basketball Jersey
Boston Celtics, Boston, MA
71.
Tan T-Shirt
Minority Medical Faculty Development Program, Boston, MA
72.
Photograph
City of New Orleans, New Orleans, LA
73.
Book Cover
MD Anderson, Houston, TX
74.
Copy of Charter
MIT, Cambridge, MA
75.
Purple and White Pennant
Northwestern University, Evanston, IL
76.
Blue and Yellow School Flag
Harvard Medical School, Boston, MA
77.
White, Gray and Yellow School Banner
University of Maryland, College Park, MD
78.
White State of Illinois Flag
Office of the Governor of Illinois, Chicago, IL
79.
Black and White Flag
City of Chicago, IL
80.
Military Wings
Agency Presentation
81.
Gold Astronaut Pin
Agency Presentation
82.
Military Wings
Agency Presentation
83.
Gold Astronaut Pin
Agency Presentation
84.
Gold Astronaut Pin
Agency Presentation
Items 85 through 106 are manifested at the request of the Space Shuttle Program Office and Payload Customers.
85.
300 Sheets of Bookmarks
Space Shuttle Program (SSP) Presentation
86.
150 ULF3 Mission Patches
International Space Station (ISS) Presentation
87.
10 ULF3 Mission Pins
ISS Presentation
88.
100 ESA AIS Patches
ISS Presentation
89.
40 ESA AIS Decals
ISS Presentation
90.
30 ESA AIS Decals
ISS Presentation
91.
3 Amateur Radio Society Buttons
ISS Presentation
92.
100 MISSE Decals
ISS Presentation
93.
20 NASA/Lada-VPU Patches
ISS Presentation
94.
9 NASA Patches
ISS Presentation
95.
36 NASA Decals
ISS Presentation
96.
50 Small (4"x6") United States Flags
ISS Presentation
97.
2 CSA/APEX-Cambium Looping Tool Devices
ISS Presentation
98.
4 UNB Patches
ISS Presentation
99.
4 Small Packages of Seeds
ISS Presentation
100.
50 Each CSA/APEX Decals/Patches/Pins
ISS Presentation
101.
50 CUCU Decals
ISS Presentation
102.
40 Vehicle Patches
ISS Presentation
103.
50 ISS S&MA Patches
ISS Presentation
104.
50 COTS Decals
ISS Presentation
105.
7 Shuttle (Stacked) Pins
SSP Presentation
106.

3 Small (4"x6") CSA Flags
21 University of Waterloo Patches
10 CSA Patches
25 CSA Decals
1 CSA Pin

SSP Presentation
107.
Small Medallion and Shoulder Patch
Agency Presentation
108.
Scroll
Agency Presentation