November 22, 2016
— A computer scientist who created the on-board flight software for NASA's Apollo spacecraft and an actor who famously portrayed an astronaut whose life relied on that programming were among the recipients of the Presidential Medal of Freedom presented Tuesday (Nov. 22) at the White House.

President Barack Obama bestowed the Medal of Freedom, the nation's highest civilian honor, to Margaret H. Hamilton and Tom Hanks, along with a prestigious group of 19 other recipients, including basketball players Michael Jordan and Kareem Abdul-Jabbar, actors Robert De Niro and Robert Redford, comedian Ellen DeGeneres, and singers Diana Ross and Bruce Springsteen.

"Today, we celebrate extraordinary Americans who've lifted our spirits, strengthened our union and pushed us towards progress," said Obama. "I always love doing this event, but this is a particularly impressive class."

"We pay tribute to those distinguished individuals with our nation's highest civilian honor," the President said.


Margaret Hamilton led the software engineering division at MIT's Instrumentation Laboratory (now Draper Laboratory) when it was contracted by NASA to develop the guidance systems for the Apollo command module and lunar module in 1961.

"She symbolizes that generation of unsung women who helped send humankind into space," Obama stated. "Her example speaks of the American spirit of discovery that exists in every little girl and boy who knows that somehow to look to the heavens is to look deep within ourselves and figure out just what is possible."

An example of the importance of Hamilton's software work came during Apollo 11, the first mission to land humans on the moon.

Approximately three minutes before the lunar lander Eagle touched down at Tranquility Base, the on-board software overrode a command to alter the flight computer's priority processing to a radar system, which had been incorrectly switched on. The software averted an abort, allowing Neil Armstrong and Buzz Aldrin to make history.

"From my own perspective, the software experience itself ... was at least as exciting as the events surrounding the mission," Hamilton told MIT News in 2009. "There was no second chance. We knew that."

Tom Hanks' portrayal of Jim Lovell in the 1995 feature film "Apollo 13" emphasized that danger the astronauts faced when things went wrong.

"He has introduced us to America's unassuming heroes," said Obama. "Tom says he just saw ordinary guys who did the right thing at the right time. Well, it takes one to know one."

"He's championed veterans, supported space exploration, and the truth is Tom has always saved his best roles for real life. He is a good man, which is the best title you can have," said the President.

Hanks went on to produce "From the Earth to the Moon," the Emmy Award-winning HBO miniseries that brought to television the larger history of the entire Apollo program.

"I followed the space program heavily when I was a kid," Hanks told Entertainment Weekly in 1995. "Apollo 11, of course, that was the one the whole world stood still for. But I sort of stood still for each one of those Apollo missions."

Hanks' and Hamilton's fellow 2016 Presidential Medal of Freedom honorees also include the late Grace Hopper, the "first lady of software," who led programming development from the 1940s through the 1980s, and Richard Garwin, a polymath physicist who is known as the author of the first hydrogen bomb design, but also penned a 1958 paper that established the basic principles for solar sailing.

With Tuesday's presentation, Obama set a new record for awarding the most Presidential Medals of Freedom by any president to date. Among the more than 114 honorees who were selected by Obama were astronauts John Glenn and Sally Ride and "human computer" Katherine G. Johnson.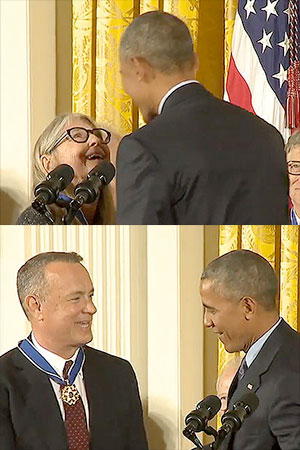 President Barack Obama presents Apollo code developer Margaret Hamilton and "Apollo 13" actor Tom Hanks with the Presidential Medal of Freedom at a ceremony on Nov. 22, 2016. (White House)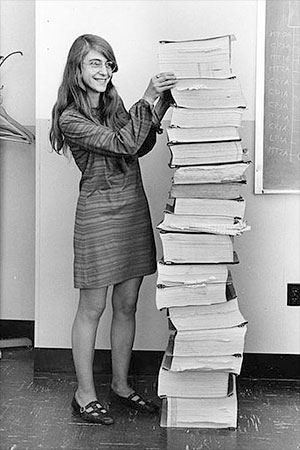 Computer scientist Margaret Hamilton poses for a series of photos with the Apollo guidance software she and her team developed at the MIT Instrumentation Laboratory. (MIT Museum)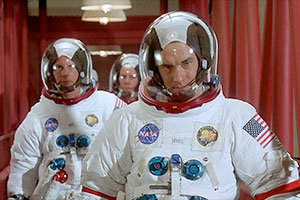 Tom Hanks, at right, portrayed astronaut James Lovell in the 1995 feature film "Apollo 13." (Universal Studios)