November 21, 2003
-- The Space Shuttle Enterprise was moved yesterday from the hangar where it had resided in storage for the past 18 years to its new home, the James S. McDonnell Space Hangar at the Smithsonian's Steven F. Udvar-Hazy Center.
The move was in preparation for the December 15th public opening of the Center, which is located adjacent to the Washington Dulles International Airport in Virginia.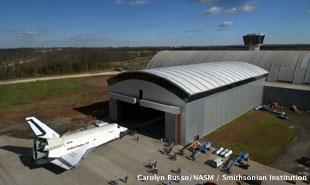 The first Space Shuttle, Enterprise was a test vehicle designed to operate only in the atmosphere; it was not equipped for spaceflight. In 1977, the vehicle was flown atop the Boeing 747 Shuttle carrier aircraft and was also released for piloted free-flights and landings. This test program was a necessary prelude to the first orbital flight by the Space Shuttle Columbia in 1981.
Upon completion of the approach and landing tests, Enterprise was used for vibration tests at Marshall Space Flight Center and for launch complex fit checks at Kennedy Space Center and Vandenberg Air Force Base.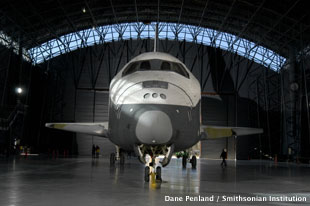 In 1983, it appeared in the Paris Air Show and other sites in Europe, and was a featured attraction at the 1984 World's Fair in New Orleans.
In 1985, NASA transferred Enterprise to the Smithsonian Institution's National Air and Space Museum. Inside the McDonnell Space Hanger, Enterprise is the centerpiece to 35 other space artifacts from the Mercury, Gemini and Apollo programs.
The following photographs were taken by David Palermo of WorldVR (www.worldvr.com). They appear here with permission and may not be reprinted or copied.