November 17, 2016
– Football fans attending Super Bowl LI (51) in Houston next year will have a chance to rocket to Mars and free fall like an astronaut, thanks to a partnership between the Host Committee and NASA.

The "Future Flight" experience, unveiled Wednesday (Nov. 16) at the 2016 Space Commerce Conference and Expo (SpaceCom) in Houston, will combine a virtual reality (VR) simulation with a drop tower ride that has been decorated to resemble (at least in color) NASA's new Space Launch System (SLS) heavy-lift rocket.

"The Host Committee has declared Super Bowl LI as the Super Bowl of the future in the 'City of the Future,'" stated Sallie Sargent, the president and CEO of the Houston Host Committee. "Nothing says 'future' like space exploration."

"The question was how to feature space exploration to the public in a new, innovative way," Sargent said.


The answer, as it were, was to drop visitors from 90 feet (27 meters) high, one-third the planned height of the SLS, so they could experience weightlessness, albeit briefly.

"Astronauts are in free fall continuously," said Ellen Ochoa, a space shuttle-era astronaut and the director of NASA's Johnson Space Center. "You can get a few seconds of it at this VR experience at Super Bowl LIVE."

The Super Bowl LIVE fan festival, which will run from Jan. 28 through game day, Sunday, Feb. 5, at Discovery Green in Houston, will feature the space-themed Future Flight as its signature experience.

"Future Flight is a destination, [it] is an experience and [it] is a ride," explained Duncan Kennedy, the vice president of experience design at IDEAS, the company that developed the attraction.

"Only Houston can bring together the celebration of the courage, genius, adventure and heroism of human space flight," he said. "We're creating a one-of-its-kind immersive experience and destination, where we will showcase both the real technologies and the imaginations of our visitors in taking this journey to Mars."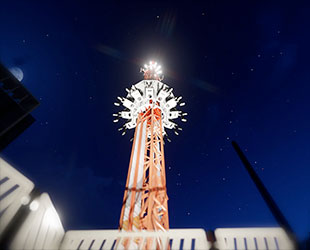 Future Flight's key component is a VR ride that takes guests on a journey to Mars and back.
(Houston Super Bowl Host Committee)
As a destination, Future Flight will offer visitors the chance to see some of the latest space exploration hardware now being built by a number of aerospace companies, including Aerojet Rocketdyne, Boeing, Lockheed Martin, Northrop Grumman, Orbital ATK and Raytheon. The experience will include a variety of activities targeted at engaging kids in science, technology, engineering and math (STEM).

As for the ride, Future Flight will deliver the "WOW Factor" of Super Bowl LIVE.

"This is the first time that we're aware of that virtual reality display technology has been merged and married with the ride technology of a drop tower into an experience on this scale," Kennedy said. "As visitors begin to ascend, they'll begin their virtual journey."

Wearing VR goggles, guests will embark on a journey to the Red Planet, lifting off into Earth orbit and then soaring through cislunar space, past the moon and onto Mars.

"When they get to Mars [virtually] and reach the top of the drop tower, now we transition from the CGI of virtual reality into the very real. We have a 360-degree panoramic image of Mars taken by the rovers that are on the Red Planet," Kennedy described.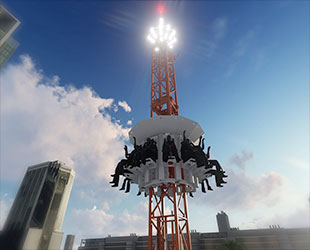 "Future Flight" concludes with a 90-foot drop that transports riders from Mars to Earth.
(Houston Super Bowl Host Committee)
The Future Flight ride concludes with an accelerating drop that will transport guests from Mars back to Earth.

"That's when we do a time warp race back to Earth, where we are going to race through the atmosphere, into the Gulf of Mexico, over the City of Houston and through the open roof of NRG Stadium to get to the 50 yard line of the Super Bowl just in time for the big game," he said.

For guests who prefer not to experience the 90-foot drop, there will be a presentation area outside of the attraction to experience the virtual reality portion of Future Flight.

"This wow factor allows the public to experience a journey through space that is normally only experienced by select individuals," said Ochoa. "We're excited to work alongside the Houston Super Bowl Host Committee and our industry partners to showcase some of the best that Houston has to offer."