Nov. 17, 2014
— The first space probe to land on a comet has earned a stamp of approval in the United Kingdom.

Since Friday (Nov. 14), letters delivered by the Royal Mail in England, Scotland, Wales, and Northern Ireland have been stamped with a special ink postmark celebrating the Rosetta mission's Philae probe's historic landing on Comet 67P/Churyumov-Gerasimenko. The ESA (European Space Agency) lander bounced to a touchdown on the icy-rocky body Wednesday and conducted science until its batteries depleted on Friday evening.

"We're thrilled to be marking the European Space Agency's fantastic achievement with one of our special postmarks," Andrew Hammond with the Royal Mail said.

The postmark reads, "Celebrating the first ever landing on a comet. Congratulations to the European Space Agency."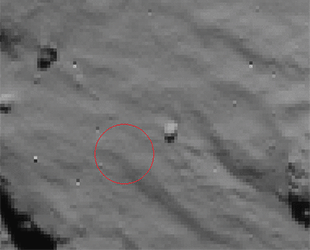 The Philae probe is seen mid-bounce near its first touchdown site as captured by the Rosetta orbiter on Nov. 12, 2014.
(ESA)
The Royal Mail announced on Friday that the cancellation was being added to the millions of pieces of mail delivered on Friday and Saturday, but over the weekend, it extended it another day.

"Great news!" the UK postal service wrote on Twitter. "Our #Cometlanding postmark will also feature on mail delivered on Monday, too!"

The United Kingdom is one of the 20 states that comprise the European Space Agency, which launched the Rosetta mission 10 years ago in 2004. After a decade-long journey, ESA's Rosetta probe became the first craft to rendezvous and orbit a comet earlier this year.

The three-legged Philae, named after an obelisk that with the Rosetta Stone helped translate Egyptian hieroglyphics, separated from Rosetta to descend for seven hours to the comet's surface. It made its first landing on target but then rebounded twice due to its thruster and harpoons failing to fire.

The oven-sized Philae probe ultimately settled on its third touchdown, though in the shadow of a cliff that limited the ability of its solar panels to recharge its batteries. Despite the off-nominal landing, Philae was still able to complete a first run of all ten of its science instruments and it relayed the data to Rosetta for transmission back to Earth.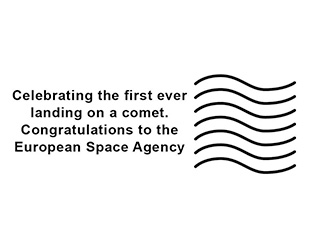 The Royal Mail's Rosetta postmark was applied to mail delivered on Friday, Saturday and Monday, Nov. 14, 15 and 17.
(Royal Mail)
On Friday, with its power drained, Philae entered an "idle" mode with most of its systems and all its instruments shut down. It will remain asleep until sufficient sunlight falls on its solar panels to recharge, perhaps as the comet moves closer to the sun.

The events leading up to and through the landing attracted worldwide attention, with hundreds of thousands following Philae on Twitter and more watching ESA's live webcasts of the mission's milestones.

"The Philae mission has captured the public's imagination and excitement about space exploration," said Hammond, "and we're pleased to be recognizing this historic moment in this unique way."