November 15, 2011
– NASA on Tuesday (Nov. 15) began recruiting for its 21st astronaut class. The first group to be sought in the post-space shuttle era, those chosen will be called on to "support the International Space Station (ISS) program and future deep space exploration activities."

"The fact that interest in becoming an astronaut remains extremely high makes it clear, human space flight is alive and well at NASA," said NASA Administrator and former astronaut Charles Bolden at a briefing held Tuesday (Nov. 15) at the agency's headquarters in Washington. "We are extremely proud of the trailblazing accomplishments of our shuttle astronauts over the past 30 years, but with the end of the shuttle program, we're now setting our sights on even more distant horizons."

"We are once again ready to go where no man or woman has gone before," Bolden said. "Some of the astronauts we're recruiting today will be pioneers in our missions to make the first footprints on the surface of Mars."

Joining Bolden for the announcement were members of NASA's 20th astronaut class, nicknamed the "Chumps," who were selected in 2009. After their two years of basic training, they graduated during a Nov. 4 ceremony held in Houston.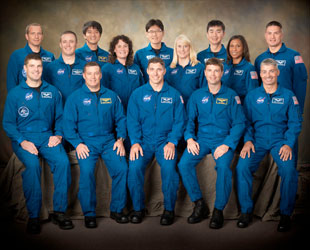 Portrait of NASA's 2009 astronaut class, the "Chumps," with the Canadian and Japanese trainees chosen the same year.
(NASA)
"We're very excited to be here for the announcement of a new NASA class," said astronaut Serena Aunon, who was joined by four out of her eight classmates. "We're excited about the future. Things are going to get very, very busy."

"We have International Space Station operations occurring 24/7, around the clock, six people up there. We've got commercial vehicles, which will be coming online really, really soon. We've got MPCV — the Orion [multi-purpose crew vehicle] — and its test flights are going to be coming up more quickly than anybody can possibly imagine," she said.

"So there is work to be done. I can speak for my class — I know we are ready to serve," Aunon said.

The right stuff

Tailored to fit NASA's needs for the post-shuttle era, the application process builds upon a history that began in 1959 with the selection of the original Mercury astronauts.

"It is a process that we try to do about every two to four years, so this is not a new process, it is just a continuing process," Janet Kavandi, NASA's flight crew operations director and a veteran of three shuttle missions, said. "We select astronauts in order to preserve the pool that we need to assign people who are qualified to fly in space and to operate the International Space Station."

To qualify for that pool, candidates must be U.S. citizens, stand between 5'1" and 6'2" tall and have 20/20 eyesight (at the least corrected, including laser eye surgery). They must have a bachelor's degree in engineering, science or math and three years of relevant professional experience.

Those selected for recent astronaut classes, including the 2009 group, had significant qualifications in engineering or science, or extensive experience flying high-performance jet aircraft.

"We are looking for the most qualified people we can get to be part of this elite corps. It is not an easy process to be selected," Kavandi said.

In addition to scientists, engineers and pilots, NASA again is opening its ranks to teachers.

"We are actively encouraging K through 12 teachers to apply," Bolden said. "We know that the experience will not only expand your knowledge of the cosmos, it will be something you can bring to the classroom to educate and excite your students."

To date, 330 astronauts from a variety of backgrounds and fields have been selected. Four have been educators.

Apply online

NASA will accept applications through Jan. 27, 2012.

To apply, eligible candidates need to submit their resume, transcripts and references through the federal government USAJobs.gov website. According to Bolden, this was the first time that NASA has collaborated with the Office of Personnel Management to recruit astronauts.

Once the application period expires, candidates will be evaluated and placed into "qualified" and "highly-qualified" categories. Highly-qualified applicants will be evaluated by an astronaut selection board, who will identify candidates to be interviewed.

NASA expects to announce its final selections, between nine and 15 astronaut candidates, or "ascans," in March 2013. Training will begin that June.

"The training process is even more rigorous," Kavandi said. "Not everyone will make it through."

If they do pass their basic training, including successful mastery of space station systems, spacewalking, robotics operations, Russian language fluency, and aircraft flight readiness, then the candidates will be welcomed into the NASA astronaut corps.

Astronaut salaries are based on experience, but currently range from approximately $65,000 to more than $140,000 per year. The ultimate payoff though, the chance to fly in space, may be priceless.

"If you're selected and you make it through that process, the experience is well worth the wait," Kavandi said. "Anyone who has been to space can say it was definitely worth all the hard work to get there."

Other opportunities to fly

For the candidates who are not selected, there still may be chances for them to fly to space and even work aboard the International Space Station.

In light of the shuttle program coming to an end, NASA has looked to commercial companies to take astronauts to Earth orbit. Four U.S. corporations — Boeing, SpaceX, Sierra Nevada and Blue Origin — have been selected to compete for NASA's crewed launch needs.

"As we enter this new era of commercial spaceflight, there will be even more opportunities for those of you who want to fly because everybody is not going to want to be with NASA," Bolden said. "Several of our commercial partners are doing their own astronaut recruitment. Some of our veterans of human spaceflight have taken key roles at our commercial partners and their expertise will be invaluable as we fly the next generation on these new and innovative systems."