November 10, 2013
— Three crew members, a Russian, an American and a European, returned to Earth from the International Space Station (ISS) Sunday night (Nov. 10), accompanied by a toy dinosaur created in space and the Olympic torch that will begin the 2014 Winter Games.

Roscosmos cosmonaut Fyodor Yurchikhin, Karen Nyberg of NASA and the European Space Agency's (ESA) Luca Parmitano landed aboard the Soyuz TMA-09M spacecraft in the steppe of Kazakhstan, southeast of Dzhezkazgan, at 8:49 p.m. CST (1449 GMT or 8:49 a.m. local time, Nov. 11).

The parachute- and retro-thruster-assisted "soft landing," which ended with the capsule lying on its side, was met by Russian recovery forces and NASA teams to attend to the crew.

Yurchikhin, Nyberg and Parmitano departed their home of five and a half months in space at 5:26 p.m. CST (2326 GMT), leaving six crew members to continue staffing the space station. Their Soyuz undocking from the aft end of the Zvezda service module marked an official end of the station's Expedition 37 and beginning of Expedition 38.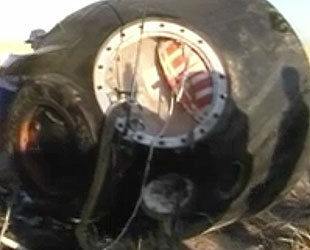 The Soyuz TMA-09M spacecraft is seen on its side after landing in the steppe of Kazakhstan on Nov. 10, 2013.
(NASA TV)
The Soyuz TMA-09M crew spent 166 days in orbit, having launched from the Baikonur Cosmodrome in Kazakhstan on May 28. The trio first served as flight engineers on the Expedition 36 crew before transitioning to Expedition 37 in September with Yurchikhin in command.

Returning with them from space was the torch that will be used to light the Olympic flame at the opening ceremonies of the 2014 Winter Olympic Games in Sochi, Russia.

The icon of the international sports competition arrived at the orbital complex four days earlier with the Soyuz TMA-11M crew. Their docking on Thursday (Nov. 7) marked the first time since October 2009 that nine people had served aboard the space station without the presence of a space shuttle.

Cosmonaut Oleg Kotov, who now commands the station's Expedition 38 crew, together with flight engineer Sergey Ryazanskiy carried the unlit torch out on a spacewalk on Saturday (Nov. 9), extending into orbit the traditional torch relay, which is now underway in Russia.

In addition to the Olympic torch and former space station residents, the Soyuz TMA-09M "passenger list" included a small green dinosaur born in space.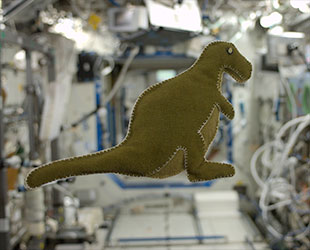 NASA astronaut Karen Nyberg's stuffed toy dinosaur floats on the International Space Station. She made the doll for her son using materials she found on the orbiting outpost. (NASA)
Nyberg, a self-described crafter, fabricated the stuffed toy dino for her 3-year-old son Jack using a velcro-like fabric that she scavenged from Russian space food containers. Although dolls have been sent into orbit before, the hand-sewn dinosaur is believed to be the first stuffed toy made in space.

Nyberg also stitched a small Texas flag for her astronaut-husband Doug Hurley and sewed a star-theme quilt block, which she said she was bringing back to Earth to combine with other quilters' starry squares to celebrate her flight.

This was Nyberg's second trip into space. She now has a career total 180 days off the planet.

Parmitano completed his first mission. An astronaut with the European Space Agency, he flew to the space station under an agreement between NASA and the Italian Space Agency (ASI). During his stay on orbit, Parmitano became the first Italian to walk in space.

Yurchikhin is now a veteran of four spaceflights, bringing his total time to 537 days. He now ranks 12th in the world for the most time in orbit.

Flying together, the TMA-09M crewmates traveled a total of 70.3 million miles circling the Earth 2,656 times.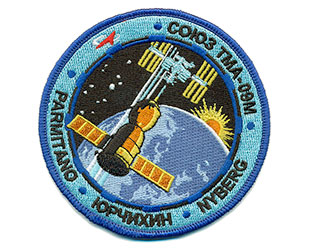 Soyuz TMA-09M crew mission patch. (Spacefacts.de/Roscosmos)
The trio spent hundreds of hours conducting fundamental research in areas such as biology, life sciences, physical sciences, Earth sciences, astrophysics and technological research.

The studied how plants grow in space, which may lead to more efficient crops on Earth and improve understanding of how future crews could grow their own food in space. They tested a new portable gas monitor designed to help analyze the environment inside the station and continued fuel and combustion experiments initiated by past crews.

They also collected data and samples that will be used to help scientists understand ocular health issues of station residents and understand changes to body measurements during spaceflight.

With their shared mission over, Nyberg and Parmitano will be flown to the NASA Johnson Space Center in Houston, while Yurchikhin returns to Star City, outside of Moscow, for rehabilitation.