November 9, 2021
— NASA's first Artemis spacecraft to launch to the moon no longer lacks a crew, although the newly-selected "astronauts" won't be taking up much space on the mission.

LEGO Education has revealed that four minifigures will be aboard the Artemis I Orion spacecraft when it lifts off in 2022. The toys' flight is part of a collaboration with NASA on "Build to Launch: A STEAM Exploration Series," bringing the digital learning series to life in an effort to further engage students' interest in science, technology, engineering, the arts and mathematics.

Riding on the Artemis I mission will be command pilot Kate and mission specialist Kyle, members of the LEGO Space Team who are featured in the weekly Build to Launch digital series and are part of the SPIKE Prime classroom building sets.

"Sending Kate and Kyle to space is an exciting culmination of the Build to Launch learning series and truly is a once in a lifetime real-world application for students," said Esben Stærk, president of LEGO Education. "Kate and Kyle are not only familiar to those using SPIKE Prime, but as minifigures they are recognizable and relatable for many students around the world."

"Our hope is that including Kate and Kyle in this space mission will excite students about the possibilities of STEAM careers and engage them in their own learning journey," said Stærk.

Joining Kate and Kyle will be Julia and Sebastian, minifigures from the LEGO City line of toys.

All four minifigures, which are unique to the mission and not produced for sale, will be part of the Artemis I official flight kit, packed alongside other NASA mementos to be used for educational outreach and post-flight presentation.


During the Artemis I mission, the Orion will spend about three weeks making one loop around the moon at a distance farther into space than any previous crew-rated spacecraft has traveled before. The flight will mark the first integrated test of the capsule and the Space Launch System (SLS) rocket ahead of crewed flights to the moon.

Under the Artemis program, NASA aims to land the first woman and first person of color on the lunar surface and establish a sustainable presence on the moon.

The LEGO Education Build to Launch series, which was designed in collaboration with NASA, offers free, interactive lessons that enable students to explore different concepts and careers inspired by the Artemis missions. Throughout the ten weeks of online programming, students learn about the components that go into a launch while building skills like collaboration and critical thinking.

In the digital series, each Space Team minifigure represents a real-life counterpart, such as a command pilot (Kate) and mission specialist (Kyle), to help students better understand the diverse roles, backgrounds and skillsets within the Artemis I team. Complete with individual bios, fun facts and job descriptions, each minifigure hosts video episodes featuring their NASA counterpart, as well as interacts with students and teachers who submit questions and share their learning experiences on social media.

Though a first for LEGO Education, the Artemis I mission continues a history of NASA taking LEGO minifigures on its journeys into space. In 2004, printed images of astronaut minifigures landed on Mars as part of NASA's twin exploration rovers "Spirit" and "Opportunity." Seven years later, three metal minifigures representing Jupiter, Juno, and Galileo launched to Jupiter aboard NASA's Juno probe.

In 2015, Danish astronaut Andreas Mogensen also flew 20 of the 2-inch-tall (5 cm) toys, each bearing the logo of his European Space Agency (ESA) "iriss" mission to the International Space Station.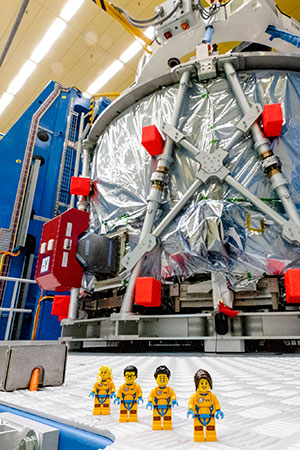 LEGO minifigures (from right) Kate, Kyle, Sebastian and Julia, who will fly on board NASA's Artemis I mission. (NASA/Radislav Sinyak)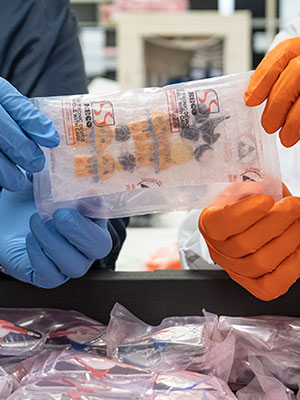 NASA personnel holding LEGO minifigures while performing a fit check for the items to fly in the Artemis I official flight kit. (NASA)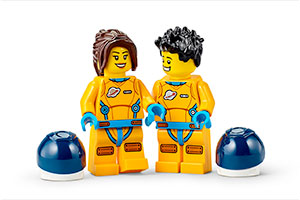 Command pilot Kate and mission specialist Kyle minifigures will fly on NASA's Artemis I mission to the moon. (LEGO Education)