November 4, 2022
— NASA's new moon-bound rocket is back on the launchpad for another attempt at beginning the Artemis I mission.

The agency's Space Launch System (SLS) booster and Orion spacecraft rolled out overnight, riding atop a mobile launcher and an upgraded Apollo-era crawler-transporter from the Vehicle Assembly Building (VAB) to Launch Complex 39B at the Kennedy Space Center in Florida. The rocket's 4.2-mile (6.8-km) trip began Thursday (Nov. 3) at 11:17 p.m. EDT and was completed 9 hours later at about 8:30 a.m. EDT on Friday (0317 to 1230 GMT).

The rollout was a sign that NASA is again ready to try launching its first spacecraft designed to carry astronauts to the moon in more than 50 years. After two earlier scrubbed attempts, the Artemis I uncrewed test flight is now scheduled to lift off on Nov. 14 at 12:07 a.m. EST (0507 GMT).

The 25-day mission will send the Orion into a distant retrograde orbit around the moon, reaching a distance farther away from Earth than any human-rated vehicle has flown before.

"This is a challenging mission," said Jim Free, NASA's associate administrator for exploration systems development, in a call with reporters on Thursday (Nov. 3). "We have seen challenges just getting all our systems to work together. And that's why we do a flight test. It's about going after the things that can't be modeled."

"We are learning by taking more risks on this mission before we put crew on there. Those challenges come with this complex of a vehicle and where we're flying and how we're getting there," he said.

The NASA team working the mission is certain they are now ready to proceed.

"We're confident moving forward," said Free. "If we weren't confident, we wouldn't roll out. If we weren't confident, we wouldn't start the countdown when we do so."

Friday's rollout marked the third time that the Artemis I SLS has stood on 39B. Its first two trips in March and June were for fueling tests. Then in August, the rocket arrived poised for launch.

The countdown, though, was halted and the liftoff was scrubbed on both Aug. 29 and Sept. 3, the result of separate liquid hydrogen leaks. NASA stood down to troubleshoot and fix the issue and then performed another tanking test to ensure the problem was resolved.

By that point, Hurricane Ian was approaching Florida, leading mission managers to roll back the SLS to the VAB to take shelter. Ultimately unaffected by the storm, ground teams used the time inside the assembly building to inspect the vehicle, replace the batteries for the rocket's flight termination system and recharge the power stations for several of the Cubesats (or small satellites) that are hitching a ride with the Artemis I launch.

"The execution by the team has been excellent," said Cliff Lanham, senior vehicle operations manager for NASA's Exploration Ground Systems program at Kennedy. "Through the efforts of the team here we have been able to gain about a one-day margin to account for the weather. That really helps the probability of our hitting that Nov. 14 first launch attempt."

If NASA cannot launch on Nov. 14, the agency has two backup dates on Nov. 16 (at 1:04 a.m. EST or 0604 GMT) and Nov. 19 (at 1:45 a.m. EST or 0645 GMT). The launch window on Nov. 14 opens for 69 minutes. Both backup opportunities extend for two hours.

"[As a result of] the holiday aerospace release program that is run by the FAA, our next opportunity beyond the 16th and 19th that we have clear is the 25th. We would have to again work with our federal partners if if we needed to open up one of those days to have access to launch in," said Lanham.

With the SLS secure on the pad, engineers and technicians will begin configuring its systems for launch, including replacing biological samples that are part of a science payload aboard Orion. The countdown will pick up 46 hours before liftoff at 12:27 a.m. EST (0527 GMT) on Nov. 12.

Should Artemis I be a success, the Artemis II mission will launch four astronauts on a loop around the moon as soon as 2024. That flight will be followed by the first woman and the next American landing on the moon a year or so later.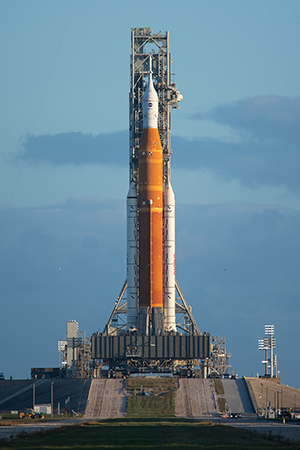 NASA's Space Launch System (SLS) rocket and Orion spacecraft arrive atop launchpad 39B after rolling out the 4.2 miles (6.8 km) from the Vehicle Assembly Building at the Kennedy Space Center in Florida on Friday, Nov. 4, 2022. (NASA/Joel Kowsky)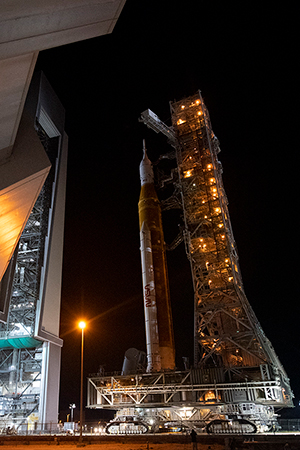 NASA's Space Launch System (SLS) rocket and Orion spacecraft exit Kennedy Space Center's Vehicle Assembly Building to roll out to Launch Complex 39B for the Artemis I mission on Thursday, Nov. 3, 2022 in Florida. (NASA/Joel Kowsky)