advertisements

A tradition of Discovery: NASA's most-flown space shuttle upholds legacy on final flight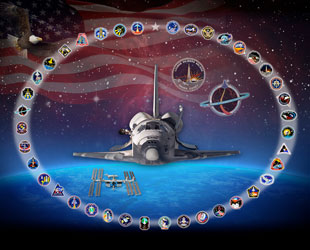 NASA's tribute art for space shuttle Discovery depicting OV-103 and its 39 mission patches.
(NASA)
November 1, 2010
— Space shuttle Discovery is ready to launch on its final flight this week, concluding a nearly 30 year legacy as arguably the most historic among NASA's fleet of orbiters.

The first of NASA's three remaining shuttles set to retire, Discovery was the third built and the one most frequently flown.

Its final mission, STS-133, is scheduled to lift off Nov. 3 at 3:52 p.m. EDT. The launch will mark Discovery's 13th flight to the International Space Station (ISS) and its 39th trip into space.

"This particular orbiter has served us extremely well," said launch director Mike Leinbach, comparing Discovery to its sister ships Atlantis and Endeavour. "It is the fleet leader. It is going to be hard to see her retire but we need to do what we need to do for the agency and so we'll get on with her final flight and it make it the best one ever."

Discovery will deliver to the station the Permanent Multi- Purpose Logistic Module (PMM), the last U.S. room to be added to the orbiting lab to serve as a storage closet for the station's supplies and spare equipment. Also onboard is Robonaut 2, the first humanoid robot designed to assist astronauts inside and eventually outside the outpost.

An historic "year" in space

Scheduled to last 11 days, Discovery's last flight will bring its total time in space to more than 360 days -- nearly an entire year orbiting the Earth.

"It will have flown about a year on orbit by the time we are done with it, which is pretty remarkable for a space shuttle," said STS-133 commander Steven Lindsey, who is making his third flight on the orbiter.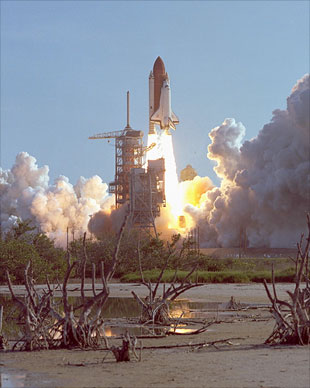 Discovery launches on its maiden mission, STS-41D.
(NASA)
Discovery was built between 1979 and 1983 and made its maiden flight on Aug. 30, 1984 from NASA's Kennedy Space Center in Florida. Before it could depart on the six day STS-41D mission however, Discovery experienced the shuttle program's first pad abort.

A first launch attempt held two months earlier, ended just four seconds before liftoff. Discovery's three main engines shut down, which was then followed by a hydrogen fire on the pad.

"Gee, I thought we'd be a lot higher at MECO!" radioed mission specialist Steve Hawley from onboard the shuttle at the time, referencing the term for main engine cutoff.

Discovery successfully flew five more missions -- mostly to deploy satellites -- before standing down in the wake of the shuttle Challenger accident in January 1986.

Two years later, Discovery was the first orbiter to return to flight. Returning NASA's shuttle fleet to flight after a major tragedy is a role Discovery served again 17 years later, in 2005, following the 2003 loss of the orbiter Columbia.

"It was the pathfinder as we put new systems in place, new safety features," said Mike Moses, NASA's launch integration manager.

A legacy of space firsts

Between its STS-26 mission in 1988 and STS-114 return to flight in 2005, Discovery logged 23 more trips to space, making history along the way.

"Quite a remarkable history for Discovery, it's had a whole bunch of firsts," Moses said.

Among those firsts was the first Russian cosmonaut to fly aboard a U.S. mission, the first rendezvous with Russia's space station Mir, the first female pilot and the first crew rotation for the International Space Station.

Discovery also set the record for flying the oldest crew member in history -- 77-year-old Mercury astronaut-turned- U.S. senator John Glenn -- and flew to the highest altitude reached by any shuttle mission.

That latter record was set in 1997 on a mission to service the Hubble Space Telescope, a payload it first deployed into orbit seven years earlier.

Discovery, NASA's oldest shuttle still in service, was also instrumental to the assembly of the International Space Station, delivering the largest module -- Japan's Kibo lab -- and the final segment for the outpost's "backbone" truss, among other components.

By the numbers

Over the course of its 26 years in service, Discovery has racked up an impressive set of statistics unmatched by any other spacecraft in history.

As it stands today prior to flying on STS-133, Discovery has logged 142,917,535 miles circling the Earth a total of 5,628 times.

It has carried 183 astronauts and cosmonauts to and from space, filling 246 seats on 38 missions.

And Discovery docked with space stations 13 times: once with the Mir outpost and 12 times with the ISS.

All these numbers add up to a lasting historic legacy, said STS-133 mission specialist Nicole Stott.

"It is an historic thing I think, that we have such a special vehicle to fly. In addition to the hope we will have a successful mission, in conclusion we will be celebrating the real significance of the vehicle itself," she said.

"We have to look at this [mission] as a celebration of just how wonderful Discovery has performed and just how fantastic a team that has put it together and worked to make it happen."

© 2022 collectSPACE.com All rights reserved.


Feedback: Messages



Mission History
Space Shuttle Discovery

STS-41D
Aug. 30-Sep. 5, 1984
First Discovery mission; launched two communications satellites

STS-51A
Nov. 8-Dec. 16, 1984
Launched two and rescued two communications satellites

STS-51C
January 24-27, 1985
First classified mission dedicated to Department of Defense

STS-51D
April 12-19, 1985
Launched two communications satellites including LEASAT F3

STS-51G
June 17-24, 1985
Launched two satellites; first Saudi Arabian in space

STS-51I
Aug. 27-Sep. 3, 1985
Launched two satellites; Recovered, repaired, redeployed LEASAT F3

STS-26
Sep. 29-Oct. 3, 1988
Return to flight after loss of space shuttle Challenger; launched TDRS

STS-29
March 13-18, 1989
Launched TDRS

STS-33
November 23-28, 1989
Classified mission; dedicated to Department of Defense

STS-31
April 24-29, 1990
Launch of Hubble Space Telescope

STS-41
October 6-10, 1990
Launch of Ulysses

STS-39
Apr. 28-May 6, 1991
Classified mission; dedicated to Department of Defense

STS-48
September 12-18, 1991
Upper Atmosphere Research Satellite (UARS)

STS-42
January 22-30, 1992
International Microgravity Laboratory-1

STS-53
December 2-9, 1992
Classified mission; dedicated to Department of Defense

STS-56
April 8-17, 1993
Atmospheric Laboratory for Applications and Science-2

STS-51
September 12-22, 1993
Advanced Communications Technology Satellite (ACTS)

STS-60
February 3-11, 1994
Wake Shield Facility

STS-64
September 9-20, 1994
LIDAR In-Space Technology Experiment

STS-63
February 3-11, 1995
First rendezvous with Mir space station; first female pilot

STS-70
July 13-22, 1995
Tracking and Data Relay Satellite (TDRS)

STS-82
February, 11-21, 1997
Servicing Hubble Space Telescope

STS-85
August 7-19, 1997
CRISTA-SPAS-2

STS-91
June 2-12, 1998
Final Shuttle/Mir docking mission

STS-95
Oct. 29-Nov. 7, 1998
Spacehab; second flight of John Glenn; first Spaniard in space

STS-96
May 27-June 6, 1999
Resupply mission for the International Space Station

STS-103
December 19-27, 1999
Servicing Hubble Space Telescope

STS-92
October 11-24, 2000
ISS assembly mission; 100th shuttle mission

STS-102
March 8-21, 2001
First International Space Station crew rotation

STS-105
August 10-22, 2001
International Space Station crew and supplies delivery

STS-114
July 26-Aug. 9, 2005
Return to flight after loss of space shuttle Columbia; MPLM Raffaello

STS-121
July 4-July 17, 2006
Second return to flight after loss of space shuttle Columbia

STS-116
December 9-22, 2006
ISS assembly mission; last to launch from Pad 39B

STS-120
Oct. 23-Nov. 7, 2007
International Space Station assembly mission; Harmony Node 2

STS-124
May 31-June 14, 2008
International Space Station assembly mission; JAXA's Kibo lab

STS-119
March 15-28, 2009
ISS assembly mission; final truss segment

STS-128
Aug. 28-Sep. 11, 2009
International Space Station resupply mission; MPLM Leonardo

STS-131
April 5-20, 2010
International Space Station resupply mission; MPLM Leonardo

STS-133
November 3-14, 2010 (planned)
International Space Station assembly mission; PMM Leonardo

Total missions: 39