November 1, 2008
— Purdue University announced on Saturday that one of their alums will make a donation of his personal papers that will serve as a "launch pad" for their libraries' new comphensive flight-themed collection.

Consider it one giant gift by the 'first man,' one small step towards a greater understanding of aerospace history.

Gemini and Apollo astronaut Neil Armstrong, who in 1969 became the first person to walk on the Moon, will bestow his personal files, which date back to the beginning of his career, to the Lafayette, Ind. university. Purdue president France Córdova revealed the endowment by Armstrong, a 1955 Purdue graduate, during an event before the football game between Purdue and the University of Michigan.

"Watching a Purdue graduate take those first steps on the lunar surface influenced the course of my life. It inspired me to begin a career in science," Córdova said, referring to her own history as an astrophysicist and the first female chief scientist at NASA.

"Now, Neil Armstrong -- through the gift of his papers -- has made our university the focal point for scholars who wish to study the space program and his historic achievements. Future historians, researchers, students and explorers will benefit from the Purdue-Armstrong connection," she said.

Córdova also announced that authorized Armstrong biographer James R. Hansen will donate 55 hours of his one-on-one tape-recorded interviews with the astronaut. Hansen's 2005 book "First Man: The Life of Neil A. Armstrong" spent three weeks on The New York Times Best-Seller list.

Hansen, a former NASA historian who is a professor and dean of the Honors College at Auburn University, will also donate the interviews he conducted with other astronauts, test pilots and space program leaders while researching "First Man".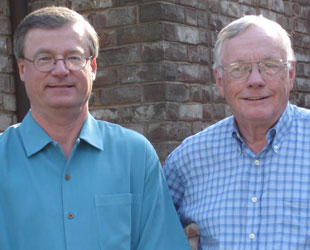 James Hansen and Neil Armstrong in 2005.
(collectSPACE)
The documents and records will be added to Purdue's existing archives of key moments and people in flight history. The university also plans to seek papers from other graduates who became astronauts. Harlan Crow, a friend of Armstrong's, made a financial donation to the school to be used for the collection.

James Mullins, dean of Purdue Libraries, said the papers will be housed with the George Palmer Putnam Collection of Amelia Earhart Papers, the world's largest compilation of papers and memorabilia related to the late aviator who disappeared July 2, 1937, over the Pacific Ocean as she attempted to fly around the world.

Purdue's Archives and Special Collections also house the papers of Ralph Johnson, a 1930 graduate in mechanical engineering and a flight pioneer who was the first person to document aircraft landing procedures that are still used today.

The head of the archives said Armstrong's papers will be invaluable.

"For the students, the papers will create a sense of Purdue history," said Sammie Morris, who also serves as an assistant professor of library science. "This collection could also inspire students to think, 'If he can go to the moon, what can I do?'"

"For researchers, it's going to be a boon. No one has been able to research these papers or study them. The Armstrong collection, supplemented by Dr. Hansen's research materials, will illuminate the life of this great American hero better than anything we've seen before," added Morris.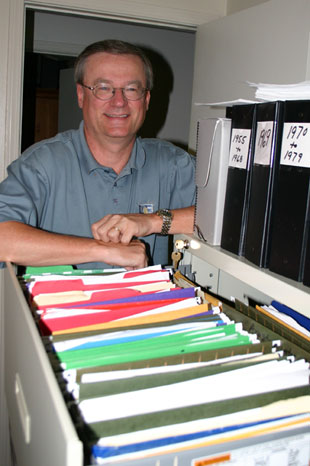 Author James Hansen with his research files for the authorized biography of Neil Armstrong, "First Man" in 2005.
(collectSPACE)
Armstrong, a native of Wapakoneta, Ohio, began his studies at Purdue in 1947. However, he left the university after a year and a half to serve as a U.S. Navy pilot in the Korean War. He flew 78 combat missions before returning to Purdue to finish his studies.

He later earned a master's degree at the University of Southern California and holds honorary doctorates from a number of universities.

Armstrong joined the National Advisory Committee for Aeronautics, NASA's predecessor, as a research pilot at the Lewis Laboratory in Cleveland. He later transferred to the committee's high-speed flight station at Edwards Air Force Base, Calif., and was a project pilot on pioneering high-speed aircraft, including the hypersonic X-15. He has flown over 200 different aircraft, including jets, rockets, helicopters and gliders.

After being named an astronaut in 1962, Armstrong flew as commander of the Gemini 8 mission four years later. During that flight, he and David Scott made the first ever docking of two vehicles in space, before a stuck thruster almost cost their lives. Regaining control of the tumbling spacecraft, Armstrong and Scott returned to Earth safely.

Armstrong's second, last and most well known mission began on July 16, 1969, as he and his fellow astronauts Buzz Aldrin and Michael Collins launched from Kennedy Space Center on Apollo 11. Orbiting the Moon, Armstrong and Aldrin boarded Eagle, their lunar module, as Collins remained in command module Columbia.

As Armstrong landed the craft on the surface, he radioed, "Houston, Tranquility Base here. The Eagle has landed."

Armstrong and Aldrin explored the surface for two and a half hours, collecting samples and taking photos. They planted an American flag and left behind a plaque on one of Eagle's legs that read, "Here men from the planet Earth first set foot upon the moon. July 1969 A.D. We came in peace for all mankind."

Purdue is planning to eventually move the Armstrong documents, as well as their other flight papers, into a new state-of-the-art facility, the Virginia Kelly Karnes Archives and Special Collections Research Center when it opens in the spring of 2009.

The acquisition of Armstrong's personal files comes just over a year after the university's October 2007 dedication of the Neil Armstrong Hall of Engineering. A plaque there reproduces Armstrong's words as he first stepped foot on the Moon: "That's one small step for man, one giant leap for mankind."