October 23, 2007
– "And lift-off of Discovery hoisting Harmony to the heavens and opening new gateways for international science!" announced launch commentator Mike Curie as space shuttle Discovery cleared Pad 39A at Kennedy Space Center, Florida.

Discovery leaped spaceward on NASA's first attempt to launch the STS-120 mission. Lift-off came at 10:38 a.m. CDT on Tuesday.


Discovery blazes a path to space as it soars above Kennedy Space Center, which also serves as a national wildlife refuge.
(cS)
"We're ready to take Harmony to her new home," radioed STS-120 commander Pam Melroy, referring to her flight's primary payload. The Italian-built, U.S. multi-port module will be installed by the STS-120 crew on the International Space Station, where its multiple docking adapters will allow the addition of European and Japanese laboratories to the ISS during shuttle missions scheduled for later this year and early 2008.

Set to arrive at the station on Thursday, six of the seven STS-120 crew members will spend 14 days in space. The seventh, Daniel Tani, will transfer to the outpost's crew to replace astronaut Clay Anderson, who has been on-board the ISS since June. Anderson will return to Earth with the STS-120 crew on Discovery.

While at the ISS, two members of the shuttle's crew and three ISS crewmates will conduct five spacewalks, tying a record for the most EVAs during a shuttle mission. In addition to assisting with the installation of Harmony, the spacewalkers will work to relocate a segment of the ISS's backbone and a pair of its power-generating solar arrays. During the fourth excursion, space shuttle heatshield tile repair techniques will be tested; the fifth and final EVA of the mission, conducted by the station's crew, will prepare the ISS for future expansion.

The STS-120 crew will also deploy a stowed radiator and transfer supplies for the station.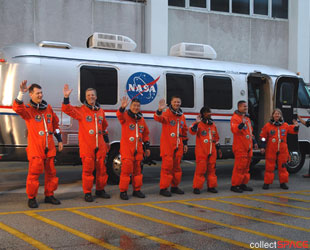 The crew of STS-120 — Paolo Nespoli, Scott Parazynski, Daniel Tani, Doug Wheelock, Stephanie Wilson, George Zamka, and Pamela Melroy - pauses before boarding the AstroVan and riding to launch pad 39A. Click to enlarge.
(cS)
As commander, Melroy is only the second woman to lead a U.S. spaceflight. By a coincidence of timing, a woman, Peggy Whitson, is commanding the space station, setting a spaceflight first.

Sitting to the right of Melroy as Discovery launched was George Zamka, pilot. Mission specialists Doug Wheelock and Scott Parazynski will spacewalk as Stepanie Wilson and ESA astronaut Paolo Nespoli will control Discovery's and the station's robotic arms.

Tani will join the Expedition 16 crew living and working on the ISS until the next space shuttle is launched, currently scheduled for early December.

Today's launch was the 34th for orbiter Discovery and the 120th in shuttle program history.