October 18, 2016
— Russia is set to launch the second in its new line of Soyuz crewed spacecraft to the International Space Station and, at the same time, mark the first flight of its next-generation space vehicle — albeit in miniature.

Soyuz MS-02 is scheduled to launch Wednesday (Oct. 19) at 4:05 a.m. EDT (0805 GMT or 2:05 p.m. local time) from Russia's Baikonur Cosmodrome in Kazakhstan. Flying on board the vehicle for their two-day trip to the space station will be Russian cosmonauts Sergey Ryzhikov and Andrei Borisenko and NASA astronaut Shane Kimbrough.

Hanging over their heads, suspended by a red, white and blue ribbon, will be a small model of Russia's new piloted transport spaceship, which Roscosmos, the nation's space agency, plans as a replacement for the Soyuz.

"Our zero-g indicator will be a toy of the new generation spacecraft," said Ryzhikov, Soyuz MS-02's commander, in an interview with collectSPACE, "because the [Soyuz] MS includes equipment that will be used in the new craft."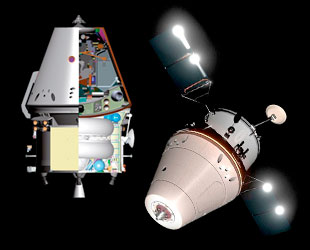 Artist renderings of Russia's Federatsiya spaceship.
(RSC Energia)
The ship, which is similar in purpose to NASA's Orion crew exploration vehicle, was named by a public vote and then jury selection the "Federatsiya," or Federation.

"Federation is a perfect name for a series of new Russian spacecraft," officials with RSC Energia, the contractor that is building the vehicle for Roscosmos, said in a statement. "Russia is a federation of 85 constituent entities and each of them will be able to give its name for one of the ships."

Energia also builds the Soyuz, including the Soyuz MS-02 that will lift off with Ryzhikov, Borisenko and Kimbrough on Wednesday morning.

The crew's toy version of the Federatsiya reproduces the shape of the spacecraft's descent and propulsion modules, including the ship's two solar array wings.

Flying a zero-g indicator — basically, a small toy hung on a string that starts floating when the Soyuz reaches orbit — is a tradition that dates back to the first human spaceflight by Soviet-era cosmonaut Yuri Gagarin in April 1961. More recent Russian spacecraft commanders have chosen their children's favorite dolls to be their indicator, including plush versions of Disney's Olaf snowman from the film "Frozen," R2-D2 from "Star Wars" and a red bird from "Angry Birds."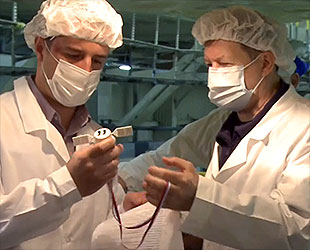 Technicians prepare the Soyuz MS-02 zero-g indicator, a toy model of the Federatsiya transport spaceship, for launch.
(Roscosmos)
The zero-g indicators, or talismen, have also been used to commemorate key spaceflight anniversaries, including the 55 years since Gagarin's Vostok 1 mission by the crew of Soyuz TMA-19M in 2015, which used a medallion and toy rocket.

The Soyuz MS-02 crew, and their toy Federatsiya zero-g indicator, will stay at the space station for a little more than four months before returning to Earth in late February.

Like NASA's Orion, the real Federatsiya is being designed to go beyond low Earth orbit, to "deliver people and cargo to the moon," according to Energia. The new spacecraft is planned to be partially reusable, fly autonomously for 30 days and be able to stay docked to a space station for up to one year.

Developed to launch atop Russia's future Angara heavy-lift rocket, the first spaceflight of the Federatsiya, the full-size version, is targeted for 2023.