advertisements

Chinese stamps mark manned flight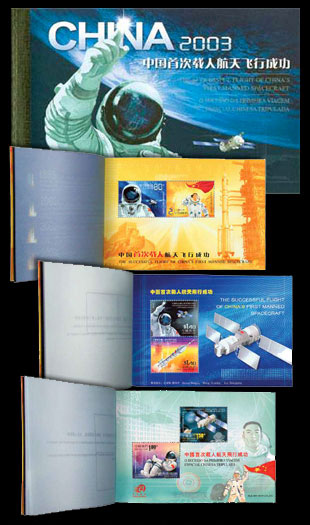 China's three postal services have issued two stamps each to mark China's first manned flight, Shenzhou 5.
(Hongkong Post)
October 16, 2003
— The successful flight of China's first manned spacecraft has inspired the nation's three postal services — Hongkong Post, China Post and Macau Post — to jointly issue stamps commemorating Shenzhou 5 and its occupant Yang Liwei.

The six new stamps, which went on sale today in China, are available in pairs from their respective post offices, or bound together as a souvenir sheet booklet.

According to the Xinhua News Agency, each of the pairs depict a different aspect of the Shenzhou 5 mission:
Macao Post: "Ready to launch" and "Monitoring"

Hongkong Post: "Launching" and "Orbiting"

China Post: "Heroic Carriage" and "Return in triumph"
Designed by Wang Huming and Liu Xiangping, the stamps feature a flourescent ink that will glow red when exposed to ultraviolet light.

© 2023 collectSPACE.com All rights reserved.