Oct. 15, 2015
— George Mueller, who led NASA's human spaceflight efforts through the first moon landing and was credited as the "father of the space shuttle," died Monday (Oct. 12) after a brief illness. He was 97.

NASA and sources close to Mueller's family confirmed his passing on Thursday (Oct. 15).

Mueller, as associate administrator, headed the Office of Manned Space Flight at NASA's Washington headquarters from 1963 through 1969. During that time, Mueller brought together NASA's three human spaceflight centers under a common management system, introduced an approach to testing that made landing a man on the moon by the end of the decade possible, played a key part in the design of the United States' first space station and advocated for a reusable space transportation system that became known as the space shuttle.

"The management challenges were certainly as great as the technical challenges," Mueller said of the Apollo moon landings in a 2011 interview with Air & Space magazine.

Mueller's legacy encompassed both.

GEM boxes and all-up testing

First approached to lead the Manned Spacecraft Center (now Johnson Space Center) in Houston, Mueller insisted that to achieve the Apollo program's goals he would need to be able to lead the activities at Cape Canaveral, Florida and the Marshall Space Flight Center in Alabama, as well as in Texas. In doing so, he redefined how space projects were managed at NASA, setting up the program offices for Gemini, Apollo and advanced programs.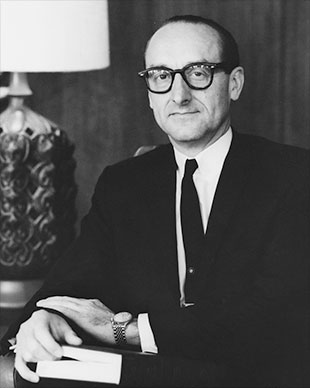 George Mueller, NASA associate administrator for manned space flight from 1963 to 1969.
(NASA)
"For Apollo, because it involved all [three] centers in great depth, I set up an organization that started with a program office in Washington and then program offices in each of the three centers, with their own program managers, who reported directly back to the director in Washington," said Mueller in a 1998 NASA interview.

"Then each of these program offices, in turn, had these five disciplines which also reported, or just communicated directly with their counterparts in Washington," he added. "So you had five boxes with the three centers, five boxes in Washington, [each] communicating independently of the program office, but part of the program office, but had their own disciplines that they kept track of throughout."

These five disciplines — which included flight operations, testing, systems engineering, program control and quality assurance — came to be known as GEM boxes, based on Mueller's initials.

And it was his work within one of these boxes — testing — wherein Mueller made one of his greatest contributions to ensuring Apollo achieved its goal before President John F. Kennedy's deadline of the end of the decade.

Looking at the 1963 test schedule for the Saturn V launch vehicle, Mueller came to realize that there was no way that the program could land a man on the moon by 1969.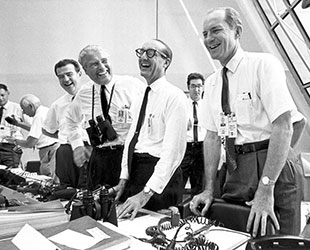 George Mueller, second from right, with Wernher von Braun, third from right, Charles Matthews and Samuel Phillips at the launch of Apollo 11 on the first moon landing mission in July 1969.
(NASA)
"I don't think that anyone really who had been involved in the program disagreed with that," he said. "I don't know [if at] that time they were all that convinced that we they were going to be able to land on the moon in the decade."

Mueller's answer was to push for an "all-up" test approach, that would fly full vehicles instead of certifying each stage of the rocket separately, as was called for by Wernher von Braun at Marshall.

"We were bringing everything together as rapidly as we could and in a sequence that would get them all together at the same time. So it didn't make much sense to fly the first stage and then fly it with the second stage, or fly the second stage separately, which was also proposed," said Mueller in a 1998 NASA interview. "If you lost a vehicle, you were likely to lose it at any stage so you might as well go as far as you can and find out where the problems are."

Skylab and the space shuttle

All-up testing, which von Braun came to acknowledge as risky but the way to go, and Mueller's management of the program played a significant role in Apollo 11 making the first lunar landing in July 1969. Thirty years later however, Mueller explained it was not "getting to the moon on time" that was his greatest success, but what came next.

"Actually, probably even a greater thing was putting in place a follow-on program that would begin to exploit what we'd accomplished in Apollo," he told NASA during a 1999 oral history. "The real problem with Apollo was that it was a one-time event, essentially, and it was not built to carry on a lunar exploration program, for example."

"But we did put in place the program that exploited what was left of the Apollo thing, Skylab," Mueller said.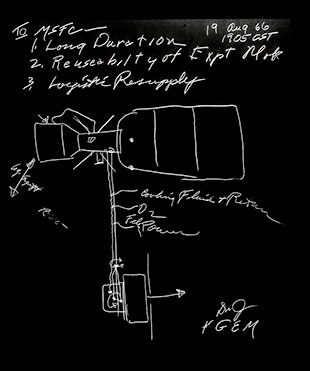 This sketch of the Skylab orbital workshop was drawn by George Mueller, NASA associate administrator, in August 1966.
(NASA)
Four years before Neil Armstrong and Buzz Aldrin would leave the first boot prints on the moon, Mueller sketched out his idea for an orbital workshop based on components from the Apollo hardware. That drawing, created during a meeting in August 1966, served as the basis for Skylab, America's first space station.

"We set up Skylab really to test long-duration exposure of man to space," Mueller recalled, "and that was about the same time we started the studies on the space shuttle, because in order to get to Mars we needed to have some ways of getting into space more cheaply than we were doing, and with a lot more energy than we had at the time. So we started the two programs almost together in their studies phases."

Often credited as the "father of the space shuttle," Mueller advocated for a reusable transportation system that could service space stations and reduce the cost of getting into space.

"One of the things that we did was to look at what we needed to do in order to get into space really, and that's what led to the space shuttle," he said. "It became clear that if you're going to really exploit the space environment, you had to have a cheap means, an inexpensive means, of getting into space and out of space."

Before and after NASA

Mueller didn't stay at NASA though, to see the shuttle be approved in 1972 or see Skylab launch in 1973. Rather, he resigned from the space agency in 1969, four months after the first moon landing.

"[It] was a good time then to leave [and] let someone else take over for the next phase," he said. "From a practical point of view I needed to go make some money so I could keep my family going."

George Edwin Mueller was born in St. Louis, Missouri on July 16, 1918, 51 years to the day prior to the launch of the Saturn V that carried the Apollo 11 crew to the moon.

He earned his bachelor of science in electrical engineering from the Missouri School of Mines in 1939 and a masters of science from Purdue in Indiana in 1940. Eleven years later, Mueller received his doctorate in physics from Ohio State University, working on the staff at Bell Laboratories in the interim.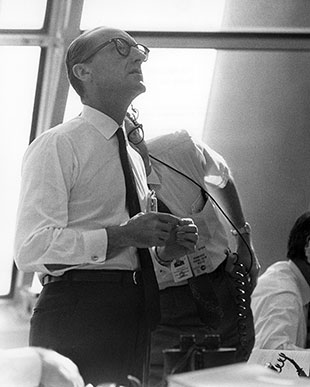 George Mueller, as seen in the launch control center after the lift off of Apollo 11 on July 16, 1969, his 51st birthday.
(NASA)
Before joining NASA, Mueller first experienced managing aerospace programs at Ramo Wooldridge Corp. (later part of TRW), where he led the design review for the guidance systems on the Atlas and Titan ballistic missiles. He was also program manager for Pioneer 1, the first spacecraft to be launched by the then-newly founded NASA on Oct. 11, 1958.

"That was the lunar probe. It didn't quite make it, but it did get far enough to get into the record book," Mueller stated. "We built the first digital telemetry systems for it, because we couldn't figure out how to make an analog system work all the way out to the moon and back."

After his six years as NASA's associate administrator for manned space flight, Mueller served as General Dynamics senior vice president and as chairman and chief executive officer for System Development Corp. (SDC).

Return to reusability

Mueller ultimately returned to his desire to develop a low-cost method of accessing space, helming the commercial spaceflight company Kistler Aerospace (later Rocketplane Kistler) from 1995 to 2004.

"I'm doing what I set out to do with the space shuttle, and that's building a fully reusable launch vehicle," he stated in 1999.

(Kistler filed for bankruptcy in 2010, four years after being selected by NASA to provide commercial cargo services for the International Space Station, having never flown its proposed K-1 launch system.)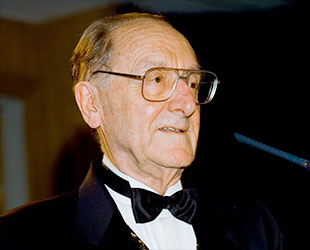 The Rotary National Award for Space Achievement presented the National Space Trophy to George Mueller in 2002.
(RNASA)
In addition to his professional positions, Mueller served as the president of the American Institute of Aeronautics and Astronautics (AIAA) from 1969 to 1982 and the president of the International Academy of Astronautics from 1982 to 1997.

Recognized by numerous awards, Mueller was presented the National Medal of Science by President Richard Nixon in 1970, received six honorary degrees and was bestowed the NASA Distinguished Service Medal. He received the National Space Trophy in 2002 and was honored with the National Air and Space Museum Trophy in 2011.

Mueller is survived by his second wife Darla Jean, who he married in 1978, and was the father of four children.