Oct. 4, 2004
— The "best pilot you ever saw" is no longer to be seen.

Gordon "Gordo" Cooper, 77, the last American to launch alone to orbit the Earth, died on Monday morning (Oct. 4) at his home in Ventura, California, from cardiac arrest.

Cooper was selected by NASA in 1959 to be one of the original seven Mercury astronauts. On May 15-16, 1963, he piloted his Faith 7 capsule on the sixth and final flight of Project Mercury. Cooper tested the one-seater craft to its limits on a 22-orbit, 34-hour flight. Electrical problems near the end of the mission meant he had to manually fire his retrorockets and steer the capsule through re-entry.

Problems also beset Cooper on his next flight, a record-setting eight-day trip aboard Gemini 5, flying with Charles "Pete" Conrad, in August 1965. There was trouble with the fuel supplies, power systems and a computer-generated command that caused Gemini 5 to land 103 miles short of its target. Yet Cooper and Conrad showed that astronauts could resolve issues and they stayed aloft the full duration.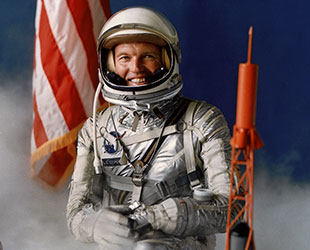 Publicity photo of Mercury astronaut Gordon Cooper.
(NASA)
"Gordo was one of the most straightforward people I have ever known. What you saw was what you got," said fellow Mercury astronaut and former U.S. Senator John Glenn in a release issued by the Astronaut Scholarship Foundation Monday (Oct. 4). "Pride in doing a great job, whatever his assignment, was his hallmark. You could always depend on Gordo. It's hard to believe that he will no longer be with us in person. I know he'll be with us in spirit."

"We seven were bonded like brothers, maybe even closer if that is possible," said Wally Schirra, a fellow member of the original seven astronauts.

"Gordon backed me on my Mercury flight, which went very well. In turn, I backed him on his flight, which went equally as well. He has now joined his Gemini crewmate, the late Pete Conrad, in orbit," said Schirra.

"This is truly the passing of a beloved member of a unique fraternity," said Mercury astronaut Scott Carpenter. "We'll all miss him."

"He truly portrayed the right stuff, and he helped gain the backing and enthusiasm of the American public, so critical for the spirit of exploration," said NASA Administrator Sean O'Keefe in a statement. "My thoughts and prayers are with Gordon's family during this difficult time."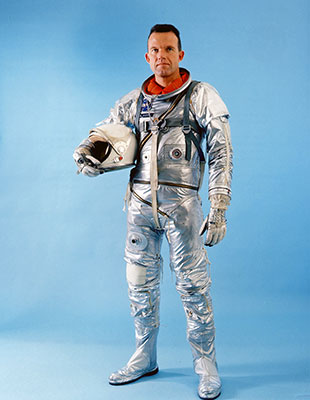 Leroy Gordon Cooper, Jr., Mercury astronaut.
(NASA)
Leroy Gordon Cooper, Jr. (Colonel, USAF, Ret.), was born March 6, 1927, in Shawnee, Oklahoma, to parents Leroy Gordon Cooper, Sr. (Colonel, USAF, Ret.) and Hattie Lee (Herd) Cooper. He attended primary and secondary school in Shawnee, and Murray, Kentucky, where he graduated from high school in 1945.

The U.S. Army and Navy flight schools were not accepting candidates the year he graduated from high school, so he decided to enlist in the Marine Corps. World War II ended, however, before he could get into combat.

Cooper was assigned to guard duty in Washington, D.C., serving with the Presidential Honor Guard when he was released from duty along with other Marine reservists.

After his discharge, Cooper went to Hawaii to live with his parents. He started attending the University of Hawaii, and met his first wife, Trudy Olson of Seattle, Washington. She was quite active in flying, the only Mercury wife to have a pilot's license. They married on Aug. 29, 1947 in Honolulu and lived there for two more years while he continued his studies.

While at the university he received a commission in the U.S. Army Reserve Officers' Training Corps (ROTC). He transferred to the U.S. Air Force and was called to active duty for flight training in 1949. He underwent pilot's training at Perrin Air Force Base in Texas and Williams Air Force Base in Arizona. In 1950, after he received his wings, he reported to the 86th Fighter Bomber Group at Landstuhl in West Germany, where he flew F-84 and F-8 jets for four years. Cooper later became flight commander of the 525th Fighter Bomber Squadron.

When he returned to the U.S. in 1954, he attended the Air Force Institute of Technology at Wright-Patterson Air Force Base in Dayton, Ohio, for two years. He graduated with a bachelor's degree in aeronautical engineering in 1956, and reported to Edwards Air Force Base, California, where he attended the Experimental Flight Test School until 1957. He was then assigned to the fighter section of the flight test engineering division at Edwards as a project engineer and test pilot at the Air Force Flight Test Center. There he worked on the F-102A and the F-106B test programs.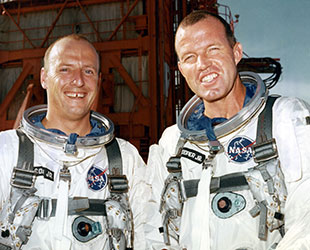 Gordon Cooper, with his Gemini 5 crewmate Pete Conrad.
(NASA)
While still at Edwards, Cooper learned that the McDonnell Aircraft Corporation in St. Louis was awarded a contract to build a space capsule. A few days after he read the news of Project Mercury, he was called to Washington, D.C. for a briefing where he learned what was needed to become an astronaut.

During his two missions, Cooper logged 225 hours, 15 minutes and 3 seconds in space. He served as the backup commander for Gemini 12, and as the backup commander for Apollo 10. In July 1969, he was in line to be named the commander of Apollo 13, but in a reshuffling of crews, he was replaced by Alan Shepard, who had just returned to flight status after a hiatus due to an inner ear condition.

Cooper resigned from NASA and the Air Force, at the rank of Colonel, on July 31, 1970, to form Gordon Cooper and Associates, an aviation and aerospace consultancy based in Hialeah, Florida.

Cooper was a director of a number of other organizations, most specializing in energy, advanced electronics, efficient homes, boats and marine systems and equipment.

In 1975, Cooper was appointed vice president for research and development at Walter E. Disney Enterprises Inc., the research and development arm of Disney Productions.

In 1983, Cooper was portrayed by actor Dennis Quaid in the film adaptation of Tom Wolfe's novel, "The Right Stuff." In the movie, he was attributed to telling the joke, "Who's the best pilot you ever saw? You're looking at him," which Cooper later adopted as his own.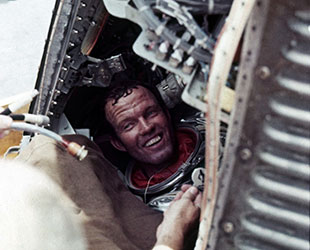 Gordon Cooper, as seen on May 16, 1963, after splashing down on his Faith 7 Mercury spacecraft.
(NASA)
In 1984, along with his fellow Mercury astronauts, Cooper co-founded the Mercury 7 Foundation (now, the Astronaut Scholarship Foundation) to award scholarships to college students pursuing engineering and science degrees.

In 2000, Cooper published his memoirs, "Leap of Faith: An Astronaut's Journey into the Unknown," which he penned with Bruce Henderson.

Throughout his life, Cooper pursued a range of activities, both professionally and as hobbies. His NASA biography listed his hobbies as treasure hunting, archaeology, racing, flying, skiing, boating, hunting and fishing. Among honors and awards bestowed to him were the Air Force Legion of Merit, the Distinguished Flying Cross with cluster, NASA's Exceptional Service Medal, the Collier Trophy and Harmon Trophy.

Cooper is survived by his wife, Suzan and four daughters Camala, Janita (from his first marriage to Olson), Elizabeth and Colleen.