September 29, 2022
— The Hubble Space Telescope may someday get a boost by a privately-funded SpaceX mission, pending the findings of a new study being undertaken by the spaceflight company, its private mission partner and NASA.

The space agency and SpaceX entered into an unfunded Space Act Agreement on Sept. 22 to examine the merits of a SpaceX and Polaris Program idea to raise the orbit of the astronomical observatory using the company's Dragon spacecraft, at no cost to the U.S. government.

"I want to be absolutely clear, we are not making an announcement today that we're definitely going forward with a plan like this," Thomas Zurbuchen, NASA's outgoing associate administrator for science, said in a call with reporters on Thursday (Sept. 29). "We want to have a study to see really what will be feasible."

"The data gathered from this study is another tool in humanity's toolbox that we can use to support future science missions and keep the Hubble at the forefront of scientific discovery," said Zurbuchen.

Originally deployed into a 380-mile-high (600-km) orbit in 1990 and boosted five times over the course of 19 years by visiting space shuttles, the Hubble Space Telescope now circles Earth at about 335 miles high (540 km). If nothing is done, NASA will need to look at safely deorbiting the spacecraft before its projected re-entry in 2037.

"After more than 32 years, the Hubble remains incredibly productive scientifically, with unique capabilities for exploring the universe," Patrick Crouse, Hubble's project manager at NASA's Goddard Space Flight Center in Maryland, said. "We won't last forever, but we are trying to last as long as it can."

"If we were to get back to 600 kilometers ... you'd add easily 15 to 20 years of orbit life to the mission," he said.

The six-month study, which will also look at the possibilities for servicing or upgrading Hubble as part of the potential mission, was borne out the work SpaceX is doing with the Polaris Program, a series of technology demonstration missions being funded by billionaire and commercial astronaut Jared Isaacman. The first Polaris mission, called "Polaris Dawn," is targeted to launch by the end of the first quarter of next year and include the first spacewalk conducted on a private mission, as well as reach a record altitude for a crewed spacecraft in Earth orbit.

"When we were giving consideration to what we could accomplish on the first Polaris mission and what that could lead us to for a second mission, the idea of a Hubble servicing machine was was one of the ideas," Issacman said in reply to a question from collectSPACE. "Considering what we're aiming to accomplish with Polaris Dawn, it does seem like there are things that we can build upon from that mission that would be applicable to what the study might ultimately determine is appropriate."

Among the questions the study is expected to address include whether a crew is needed to fly a reboost mission and if SpaceX's Dragon is the most appropriate spacecraft for the task. Portions of the mission concept could be applicable to other vehicles, including other commercial crew spacecraft and robotic servicing satellites, as well as other targets, such as NASA's soon to be launched Nancy Grace Roman Space Telescope, which is also designed to be serviced.

"Part of it is going to be figuring out the cost and figuring out a little bit of a schedule — you know, what is it going to take to actually make this happen and make it happen safely, because we don't want to do something that's going to put Hubble at risk at all," said Jessica Jensen, vice president of customer operations and integration at SpaceX.

"Missions like this, where companies are learning to adapt and figure out ways to dock to older vehicles and to basically make two vehicles in space compatible with each other that weren't initially designed to be that way, I think that's an amazing capability and that's how the industry needs to move forward," she said.

The last time that Hubble was serviced, the crew of space shuttle Atlantis installed a device on the telescope that could enable a Dragon docking, but that also needs to be studied.

"Inclusion of the soft capture mechanism by [the last] serving mission certainly makes a mission like this much more feasible to talk about," said Crouse. "Part of the feasibility study is to see how that adapter is usable and what kind of accommodations may have to be made, since even that design now is a little bit out of date for what the agency is using for docking mechanisms."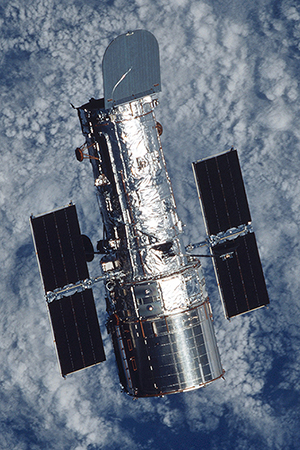 The Hubble Space Telescope as last seen in Earth orbit by its fifth space shuttle servicing mission, STS-109, in 2009. (NASA)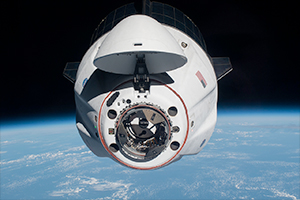 SpaceX's Crew Dragon "Endeavour" on approach to a docking with the International Space Station in April 2021. (NASA)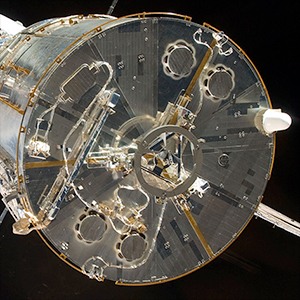 A soft capture mechanism was added to the base of the Hubble Space Telescope to possibly enable a future mission. (NASA)