advertisements

SpaceX launch of upgraded Falcon rocket sets several firsts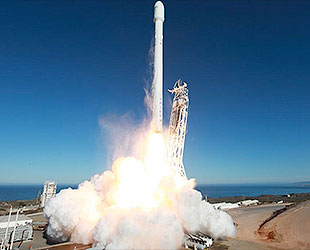 SpaceX's first upgraded Falcon 9 rocket lifts off from Vandenberg Air Force Base's Space Launch Complex 4E.
(SpaceX)
This article has been updated to include Elon Musk's post-flight remarks.
September 29, 2013
– Space Exploration Technologies (or SpaceX) launched a Canadian space weather satellite on Sunday (Sept. 29), and in doing so set a number of firsts — including a first try at recovering its rocket's first stage.


SpaceX's upgraded, 22-story-tall Falcon 9 rocket lifted off on its first demo flight at 9:00 a.m. PDT (1600 GMT) from the company's new pad, Space Launch Complex 4E (SLC-
4E) at Vandenberg Air Force Base, California.

Fourteen minutes later, the rocket deployed the mission's primary payload — MacDonald, Dettwiler and Associates' (MDA) Cascade Smallsat and Ionospheric Polar Explorer (CASSIOPE) satellite.

CASSIOPE was launched to conduct space environment research and demonstrate telecommunication technology. Its scientific payload — Canada's first space environment sensor suite — will observe space storms in Earth's upper atmosphere to study their potential impacts. The satellite's technology demonstrator will provide a "proof-of-concept" for storing and transmitting very large digital data files.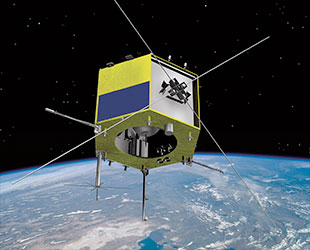 Artist's concept of the Cascade Smallsat and Ionospheric Polar Explorer (CASSIOPE) satellite.
(MacDonald, Dettwiler and Assoc.)
In addition to CASSIOPE, the Falcon 9 also carried three secondary payloads, including a privately funded cubesat mission to measure the effects of solar flares and coronal mass ejections on the density of the upper atmosphere, a student-built spherical craft to improve the understanding of the satellite drag environment in the thermosphere and a technology demonstration of a relative global positioning system.

The flight marked SpaceX's sixth Falcon 9 launch since 2010, including three flights for NASA to the International Space Station. The rocket's recent upgrades are intended to further support launching space station cargo resupply flights and satellites, as well as meet the space agency's requirements for flying astronauts.

"We are a company that doesn't think small," said Garrett Reisman, manager of SpaceX's commercial crew program and a former NASA astronaut, at a talk in Houston earlier this month. "It is basically a brand new rocket — Falcon 9 [version] 1.1 — which is the upgraded rocket that meets all the human-rating standards you need to fly people."

"It's also our first flight from the launch pad at Vandenberg and it's the first flight that [has] a fairing, which is a tricky thing to get to deploy when you launch satellites," added Reisman. "We're doing it all at once on the very first try."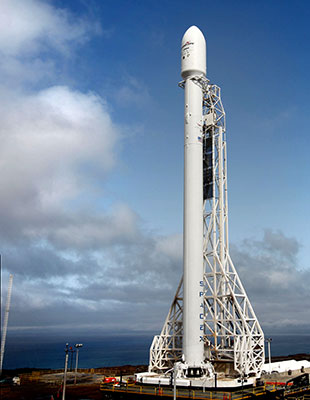 SpaceX's first Falcon 9 1.1. stands poised for its launch at Space Launch Complex 4E at Vandenberg Air Force Base.
(SpaceX)
SpaceX's previous Falcon 9 launches all originated from its pad at the Cape Canaveral Air Force Station in Florida. Sunday's launch was the company's inaugural flight from Vandenberg's SLC-4E, a refurbished pad that earlier was used to launch Atlas-Agena, Titan III and Titan IV rockets between 1964 and 2005. SpaceX began preparing the pad for its use in 2011.

The Falcon 9's new fairing, which is large enough to carry a city bus, stands 17 feet in diameter and 43 feet tall (5.2 by 13.1 meters).

The launch also introduced the first use of the company's improved Merlin 1D engines, which when coupled with the upgraded rocket's stretched propellant tanks, provide a 60 percent thrust increase. The nine first-stage engines were rearranged from the prior rockets' three-by-three pattern to what SpaceX refers to as an "octaweb," with eight engines surrounding a center engine.

In addition to their use during the launch, SpaceX tried to employ the Merlin engines to also slow the descent of the Falcon 9's spent first stage, in an experimental attempt to recover it for possible reuse.

Elon Musk, SpaceX's founder and CEO, had said prior to the flight that he felt the chances of success in recovering the first stage were low, perhaps as little as 10 percent.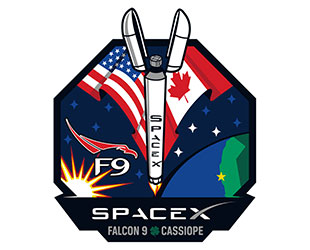 SpaceX's flight insignia for the launch of its first upgraded Falcon 9 rocket from Vandenberg Air Force Base, California.
(SpaceX)
As it turned out, a first burn to set up the stage's re-entry went well, but the second engine restart put the stage into a spin, causing an early engine cutoff. The stage then fell into the ocean, though some of its parts were components to be retrieved.

"I heard that they were able to recover the interstage and a number of components from the engine bay and some of the composite overwrapped pressure vessels," Musk told reporters in a telecon following the flight. "That's all I know at this point, there may be more."

The attempt at a "soft water landing" was intended to be a precursor to the company's plans for a reusable Falcon 9 first stage capable of a vertical touchdown. SpaceX has been testing for such a system with a vertical takeoff and landing vehicle, dubbed the "Grasshopper."

Other than not being able to recover the first stage intact, Musk also said that a planned test of the Falcon's second stage ability to restart in orbit was aborted after a problem was detected with the engine. He said SpaceX's engineers believe they understand the problem and it could be fixed.

© 2022 collectSPACE.com All rights reserved.


Feedback: Messages





Next Gen Falcon 9 Demo Flight
Video credit: SpaceX