September 25, 2019
— The United Arab Emirates (UAE) has now become the 40th country in history to see one of its citizens fly into space with the launch of a crew bound for the International Space Station.

Hazzaa AlMansoori, a spaceflight participant flying under a contract between Russia's space agency and the UAE's Mohammed bin Rashid Space Centre (MBRSC), lifted off with cosmonaut Oleg Skripochka of Roscosmos and astronaut Jessica Meir of NASA on Wednesday (Sept. 25). The three launched on board Russia's Soyuz MS-15 spacecraft at 9:57 a.m. EDT (1457 GMT or 6:57 p.m. local time) atop a Soyuz FG rocket from the Baikonur Cosmodrome in Kazakhstan.

The flight marked the final scheduled use of Gagarin's Start, the launch pad where cosmonaut Yuri Gagarin lifted off on April 12, 1961 to become the first human to fly into space. Roscosmos officials have said that the historic pad, also known as Site 1, will be upgraded to support a more modern version of the Soyuz rocket, but when that work will be completed is presently unknown.

Nine minutes after leaving Gagarin's Start, Skripochka, Meir and AlMansoori entered Earth orbit to begin their journey to the International Space Station (ISS). Following a four-orbit rendezvous, the Soyuz is scheduled to dock to the station's Zvezda service module at 3:45 p.m. EDT (2045 GMT). Update: Docking occurred at 3:42 p.m. EDT (1942 GMT) while the two vehicles were 264 miles (425 km) over southern Pacific Ocean, off the west coast of Chile.

"It is a unique responsibility and a unique opportunity to bring aboard the station the first astronaut from the United Arab Emirates. Not that we're flying him; he's going to work as a full-fledged crew member of our crew," said Skripochka at a press conference on Tuesday. "But it does bring a certain level of attention to our crew. It is a historic event to say the least."

"It has been a very interesting dynamic, especially being part of this very historic mission with a first time for a country," said Meir. "It doesn't happen as often as it should these days, so it is really amazing and makes the experience even more interesting."

The three Soyuz MS-15 crewmates will join the six astronauts and cosmonauts already on the space station, including Expedition 60 commander Aleksey Ovchinin of Roscosmos, NASA astronauts Christina Koch, Nick Hague and Drew Morgan, Italian astronaut Luca Parmitano with the European Space Agency (ESA) and Roscosmos cosmonaut Alexander Skvortsov.

For Skripochka and Meir, their arrival will mark the start of a six-month mission, during which they will serve on the space station's Expedition 61 and 62 crews.

AlMansoori will spend only 8 days at the orbiting laboratory before he returns to Earth on board Soyuz MS-12 with Ovchinin and Hague. The three are scheduled to touch down on the steppe of Kazakhstan on Oct. 3.

Ovchinin and Hague's departure, after more than 200 days on the space station, will mark an official end to Expedition 60 and the beginning of Expedition 61 under Parmitano's command.

As members of the station's resident crew, Skripochka and Meir will help conduct hundreds of experiments, perform maintenance to keep the complex operational and oversee the arrival and departure of visiting vehicles, including Japan's eighth H-II Transfer Vehicle (HTV-8), which launched on Tuesday and is set to arrive with supplies for the space station on Saturday (Sept. 28).

Skripochka and Meir may also be present for the arrival of Boeing's first CST-100 Starliner spacecraft on an uncrewed flight test, currently targeted for this fall.

AlMansoori will spend his week on the station also performing experiments, some for the UAE and some in conjunction with Roscosmos or ESA, as well as relating his experiences to his country during four live broadcasts. He also brought with him a number of cultural items and foods to share with his crewmates, including a UAE flag and Emirati lamb stew.

A 35-year-old former military pilot, AlMansoori was selected for the UAE astronaut program from a pool of more than 4,000 applicants. In addition to representing his country, he is also only the third Arab to fly in space after Prince Sultan bin Salman al-Saud of Saudi Arabia and Muhammed Faris from Syria, who flew more than 30 years ago.

"I am proud to be the first astronaut in orbit on the ISS from the United Arab Emirates and from an Arab country," AlMansoori told reporters before his launch. "It is really an honor and I am looking forward to making this mission successful and to come back with a lot of knowledge and a lot of experience that I'll share with everyone."

Meir, 42, is also making her first spaceflight. A member of NASA's 21st group of astronauts selected in 2013, she is a marine biologist who studied the behavior of emperor penguins in Antarctica and the physiology of bar-headed geese. Meir, who is a dual citizen of the U.S. and Sweden, previously served as an aquanaut aboard the Aquarius underwater lab as part of NASA's NEEMO-4 crew in 2002.

Skripochka, 49, has already logged 331 days in space during two prior stays on the station, Expedition 25/26 in 2011 and Expedition 47/48 in 2016. A mechanical engineer who worked for the aerospace company RSC Energia, Skripochka also accumulated more than 16 hours in the vacuum of space on three extravehicular activities (EVAs or spacewalks) during his previous missions.

Soyuz MS-15 is Russia's 61st Soyuz spacecraft to launch toward the International Space Station since 2000 and 144th to fly since the first Soyuz mission in 1967.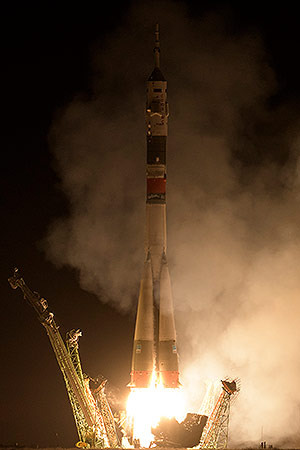 Soyuz MS-15 launches for the International Space Station from the Baikonur Cosmodrome, Sept. 25, 2019. (NASA/Bill Ingalls)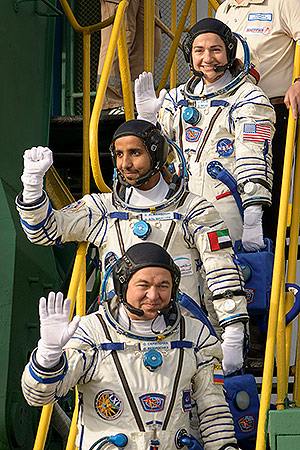 Soyuz MS-15 crew members Oleg Skripochka, Hazzaa AlMansoori and Jessica Meir wave from the base of their Soyuz-FG rocket prior to boarding the vehicle on Sept. 25, 2019. (NASA/Bill Ingalls)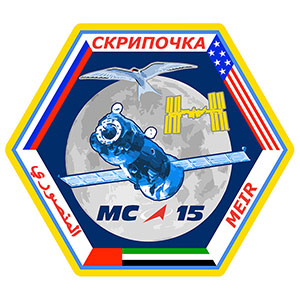 Soyuz MS-15 crew mission patch. (Roscosmos/spacepatches.nl)