Sept. 24, 2014
— For the second time in as many days, a robotic spacecraft successfully entered orbit around Mars. This time however, the historic achievement was as much about where the probe came from as it was about it having arrived at the Red Planet.

"India has become the first [country] to have made history by reaching Mars on its maiden attempt," Narendra Modi, India's prime minister, said, referencing the success of the Mars Orbiter Mission (MOM). "I congratulate the people of this country."

On Tuesday evening (Sept. 23), ten months after it left the Earth, the Indian Space Research Organization's (ISRO) Mangalyaan (Hindi for "Mars Craft") fired its main engine to enter Mars' orbit. The critical maneuver led to the probe becoming only the 13th craft in history to begin circling the Red Planet.

"History has been created today," said the prime minister. "We have dared to reach out into the unknown and have achieved the near impossible."

"I congratulate all ISRO scientists, as well as all my fellow Indians on this historic occasion," he said.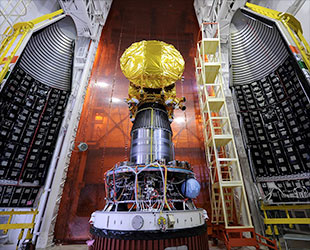 India's Mars Orbiter Mission (MOM) spacecraft being prepared for launch from Satish Dhawan Space Center in 2013.
(ISRO)
MOM was not just India's first Mars orbiter. It was also the country's first interplanetary mission.

"With today's success, ISRO has joined only three other countries worldwide to have reached Mars," Modi stated. "The odds were stacked against us."

Preceding India into Martian orbit were spacecraft from the United States, Russia, and the European Space Agency. MOM's arrival at the Red Planet came just two days after MAVEN (Mars Atmosphere and Volatile Evolution) made history as NASA's seventh probe to circle Mars.

ISRO's Mangalyaan started its 24-minute orbital insertion burn at 9:47 p.m. EDT (0147 GMT Sept. 24) to slow its approach and be drawn in by Mars' gravity. Confirmation that it had entered orbit came some 45 minutes later, after having to wait for the probe to emerge from behind Mars to reestablish communications with Earth.

Launched on Nov. 5, 2013 from the Satish Dhawan Space Center in India, Mangalyaan followed a roundabout route to reach Mars. Initially inserted into a highly-elliptical orbit around Earth, the MOM probe spent one month increasing the distance separating it from Earth before beginning its voyage to the Red Planet.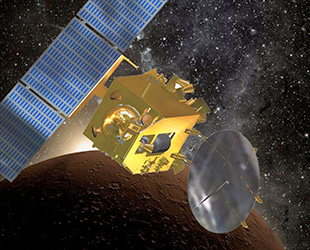 Artist's illustration of India's Mars Orbiter Mission probe.
(ISRO)
The $74 million (4.5 billion rupee) MOM mainly serves as a technology demonstration, designed to show India could get a spacecraft to Mars. But the probe is equipped with a camera and four scientific instruments, which Mangalyaan will use to study the planet's surface and atmosphere.

For example, the MOM orbiter will search for methane, a key target in the search for life on Mars. Living organisms produce more than 90 percent of the methane in Earth's atmosphere. And, as it is believed to disappear from Mars' atmosphere relatively quickly, any methane spotted would need to have been produced recently.

The mission plans call for a highly-elliptical, 77-hour orbit that will bring Mangalyaan as close as 227 miles (365 km) above Mars and take it as far as 49,710 miles (80,000 km) from the planet. MOM's science investigations should last between six and 10 months, ISRO officials have said.

"This historic achievement [has] demonstrated, yet again, India's space capabilities," said Pranab Mukherjee, India's president, in a message to K. Radhakrishnan, chairman of the ISRO. "I am sure that this breakthrough, which marks a significant landmark in our space program, will inspire our scientists to make even greater strides."

Michael Wall with Space.com contributed to this article.