advertisements

Restoration begins on Liberty Bell 7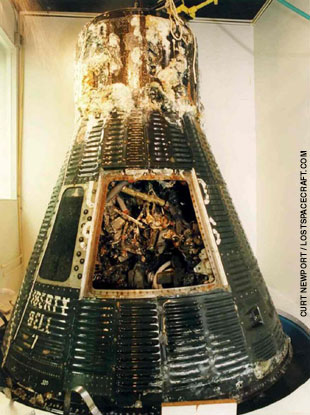 September 23, 1999
— After 38 years corroding on the ocean floor, restoration has begun on Liberty Bell 7 at the Kansas Cosmosphere and Space Center in Hutchinson.

The effort is one of the largest for the museum, which was earlier responsible for the restoration of the Apollo 13 command module Odyssey.

Like the Apollo capsule, the work on the Mercury craft is being completed in full view of the public. Visitors to the Cosmosphere can watch the complex project, as can the visitors to their website courtesy of a live video webcam.

Liberty Bell 7, which sank soon after Gus Grissom's 1961 sub-orbital flight, was recovered this past July by a team led by salvage expert Curt Newport and financed by the Discovery Channel. The capsule was then transported to the Cosmosphere where restoration efforts were to begin.

Continuously flushed with fresh water to clean away the salt and corrosive elements, the capsule was completely disassembled into its 25,000 parts and then pieced back together. However, the spacecraft is not being rebuilt; the goal, according to the Cosmosphere, is to preserve the vehicle by removing the elements that would quickly lead to the deterioration of the capsule.

When their restoration work is completed, Liberty Bell 7 is to go on permanent display at the Kansas Cosmosphere.

© 2023 collectSPACE.com All rights reserved.