Sept. 21, 2015
– It is not unusual, given NASA's presence in the community, to hear of people in Houston singing the virtues of space exploration.

Those voices though, do not often take the form of opera.

That will change this week, when a collaboration between the Houston Grand Opera and NASA debuts "O Columbia" at the Revention Music Center in downtown Houston. The chamber opera examines the past, present, and future of the spirit of exploration using the 2003 loss of the space shuttle Columbia as a touchstone.

"One of the things that opera does really, really well is get at big ideas in a way that is both moving and open ended [such] that it can be both specific and also atmospheric at the same time," stated composer Gregory Spears. "In that sense, it felt right when talking about NASA in general and in the middle part of the piece about Columbia."

"It was a good way in order to contextualize the tragedy in a much larger history," Spears said.

"O Columbia" opens not in outer space, but at sea, and in the past rather than the future. Over the course of the 70-minute performance, the English-language opera focuses on why the risks of exploration are worth the rewards, and how that has influenced our present and future paths into space.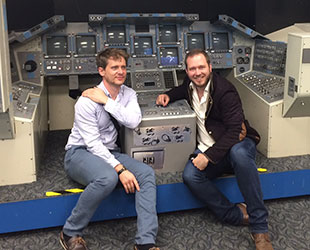 Composer Gregory Spears and librettist Royce Vavrek at NASA's Johnson Space Center during research for "O Columbia."
(HGO)
That opera's larger frame of reference grew out of Spears, librettist Royce Vavrek and the other members of the "O Columbia" production crew having the chance to consult with NASA astronauts, flight controllers, and others in the Houston-based Johnson Space Center community, whose involvement helped to shape the tone and direction of the final piece.

"We started with an idea in January 2014 and then that idea became more solid once we had the chance to go to NASA and talk to people, ask questions and listen," said Brittany Duncan, program director for HGOco, the Houston Grand Opera's community collaboration initiative. "It has evolved a lot over time."

Putting Columbia in context

David Rose's wife introduced to him to opera not long after he went to work at the Johnson Space Center, first as an astronaut instructor and then later as a project manager during the space shuttle program. As a family, the Roses have Houston Grand Opera season subscribers for almost 20 years.

So it wasn't too much of a surprise when Rose embraced the chance to combine his work experience at NASA with his interest in opera.

"I wanted to see this particular art form begin to embrace topics associated with human exploration of space," Rose told collectSPACE. "Once I saw that the opportunity was there to participate, I jumped at it."

Through those he met over the years at the opera, Rose learned of "O Columbia" and in addition to sharing his own thoughts on its development, he introduced the HGO team to the NASA community.

"Initially, when I was presented with the proposal for the opera, the way it was conceived was as a reflection on the actual day of the Columbia tragedy — viewing the tragedy from the standpoint of several principals who might have been involved, people working at mission control, people in the Houston community, even, maybe, the crew," Rose recalled. "And reading through it, I, and then several other people who've worked in some way in human spaceflight who I consulted with, all had a pretty sharp reaction to it."

"Even years removed from the Columbia accident, it still seemed like a story that was going to touch on some raw nerves depending on how it was crafted," Rose recounted.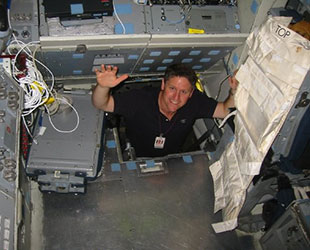 Former astronaut instructor David Rose "floating up" to the flight deck of the Johnson Space Center shuttle simulator.
(David Rose)
Rose and his colleagues came to realize that their view of the accident differed from those who were involved in the opera. Spears and Vavrek were younger and had grown up knowing only the space shuttle.

"We thought that we had a different historical perspective that put the Columbia tragedy into a different context than maybe someone coming at it who did not share a similar timeline or experience," Rose explained. "When we began interviews with the opera's production team, I and a few of the others focused on what Columbia meant in the broader context of the entire timeline of spaceflight and even more broadly, human exploration."

As a result of those meetings, "O Columbia" moved away from using the tragedy as its central theme.

"The Columbia disaster now sits in the middle of the piece and I feel like it's a piece of the piece, and so I hope that people come away from it with a feeling of exhilaration and awe that comes along when we really contemplate what it means to want to go further and discover things as people sail across the ocean and go up into space or travel to Mars," Spears told collectSPACE. "Yet doing that is very difficult. There are incredible challenges and tragedies that go along with that."

"I think what we impressed on the production team was that since Columbia, which is a whole decade in the past, still being in Earth orbit in regards to our current missions and with a really protracted timeline for when we will next go further, is very unsettling, if not deflating," Rose stated. "There is a pain not only in the circumstances that led to the Columbia accident but to everything that has unfolded in the human exploration program since then."

Hope and despair

"O Columbia" ultimately looks beyond the space shuttle's loss and even our current struggles to push outward from Earth to encompass why exploration continues even in the face of adversity.

"Operas in general play hope and despair off one another," Rose said. "That is achieved with the story, but it is even more achieved with the music the story is built around. I'd say ['O Columbia'] succeeds in that sense, playing hope versus despair with hope prevailing in the end."

For Spears, that sense of hope was something imparted by those he interacted with at NASA and that he hoped he had captured in the score.

"To feel that emotion firsthand coming from people who had experienced Columbia, just the feeling of that, sitting in the room ... to actually just feel that energy is wonderful material when you are trying to evoke emotion in music," Spears said.


Houston Grand Opera "O Columbia" poster art.
(HGO)
Astronauts and other members of community from NASA Johnson Space Center are expected to be in the audience when "O Columbia" has its world premiere on Wednesday (Sept. 23), with an encore performance the following night. For Duncan, she hopes the performance offers a chance for closure, while also introducing the space community to what may be a new art form for many of them.

"I feel comforted by the fact we have had people from the NASA community with us for every step of the process so that we have been able to experiment with this material, get their reaction, refine it, and present again and get their feedback at that point," Duncan described. "That makes me feel a lot more confident about what we're going to put on the stage."

"I hope experiencing ['O Columbia'] will be a sort of healing moment for people from the space community who come to see the show," she added. "I think there is something about experiencing a human voice and live music in this context of opera that sort of transcends anything that you can say with words."

"I think it has the potential to be incredibly moving, and I hope it will be for as many people as possible," she said.

For more details or to buy tickets to attend "O Columbia," see the Houston Grand Opera website.