September 19, 2014
– The first-ever item to be 3D printed in space is being kept a well-guarded secret.

The first 3D printer designed to operate in zero gravity is set to launch to the International Space Station Sunday morning (Sept. 21) on board a NASA-contracted SpaceX Dragon cargo spacecraft. Once installed, the machine will be put through tests to learn if additive manufacturing — better known as 3D printing — is viable in space.

"Being able to make what you need on orbit when you need it is a real game changer," Niki Werkheiser, NASA's manager for 3D Printing in Zero-G, a joint project with the company Made In Space, Inc. said. "The first printer we're flying is a technology demonstration, and it's that because the station is the only platform in the universe where we can print an entire part in microgravity."

But what part to print first?

"We wanted to print something that was significant, but also not just a toy," Mike Snyder, the lead engineer and research and development director for Made In Space told collectSPACE. "It has got to be something functional."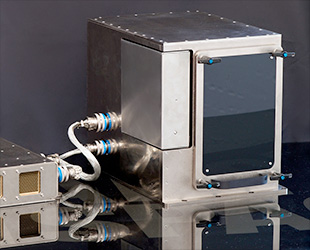 A "machine shop for space," the Made In Space 3D printer will mark the first time that a multi-purpose manufacturing device will be utilized off-world to create parts and tools.
(Made In Space)
With it set to "begin the era of off-world manufacturing," as Made In Space writes on its website, that first printed part — whatever it is — could someday be considered historic.

"There's historical significance here and hopefully one day the fruits of our labor can be shown [in a museum]," said Snyder.

Test coupons, tools and containers

"The first print right now is the only one that is incredibly secret in terms of telling anybody," Snyder explained.

The printer, which is about the size of a small microwave, can create items that measure up to 2 by 4 by 2 inches (5 by 10 by 5 centimeters). The printed parts are made out of ABS plastic, the same material used to make LEGO toy bricks.

"You could probably print a few hundred standard four by two LEGO bricks," Snyder said, describing how much of the plastic used to print will be onboard the space station.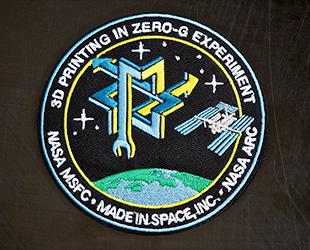 3D Printing in Zero-G Experiment mission patch.
(Made In Space)
At first, the goal is simple: see if the 3D printing process works in space and if the material changes as a result of being shaped and set in microgravity.

Made In Space performed numerous tests of the printer on parabolic plane flights, but were limited to the 20 to 30 seconds of weightlessness that each parabola offers. The space station offers the time needed, as much as 15 to 20 minutes, for complete parts to be printed.

"The printer will be producing a bunch of coupons, some functional in nature and some test in nature," Snyder told collectSPACE. "We are going to be getting a good idea of what characteristics this plastic has in microgravity and then compare that to ground samples. So, a good portion of the things we are producing will be to meet that goal of that mission.

After that however, the possibilities open to printing items that could be of real use to the space station's crew.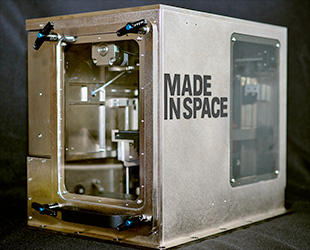 Made In Space's 3D printer will be the first manufacturing device ever used off Earth. It will be installed in the International Space Station to print a series of test items.
(Made In Space)
"The first set of parts are predefined," Snyder said about the parts core to the mission. "And then the other things are going to be functional, such as small tools, containers, things of that nature, just to show that you could actually use this stuff for a purpose up there."

"We have prints lined up that are things we want to print and things NASA wants to print — especially the [crew] tools folks who have gotten in on the action, suggesting what they want to print," he added. "If the astronauts call down and identify something they want to print, we'll try to facilitate that as best as possible."

Significant first step

The printer has been designed to be operated mostly from the ground. The astronauts only real tasks are to remove finished prints and reset the printer for the next item.

"We will be able to uplink the files from the ground directly to the printer," Werkheiser described. "Made In Space has a laptop that they can use to command from their offices in California, as well as we can command from the control center in Huntsville, Alabama, directly to the printer. So you can imagine how cool it'll be when we're able to uplink or e-mail a part to space instead of launching it."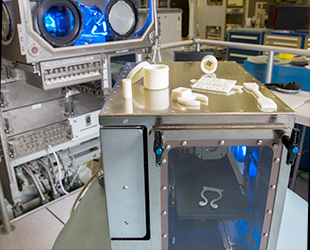 The Made In Space zero-gravity 3D printer is seen with the space station microgravity glovebox that will contain it.
(Made In Space)
Even cooler, said Werkheiser, may be designing tools that gravity prohibits from being made on Earth, or surviving the trip to space.

"Now, when you design a part to printed in microgravity, you do not have to worry about things like launch loads anymore," she said. "I think it is really going to open up that design space and the possibilities, and I think when we get the first call for that part that none of us really even thought of, out of all the brainstorming that we have done, I think that will be a very exciting day."

Those unknown ideas may be what ultimately lead to the future of space exploration.

"Personally, I think this is a significant first step towards our future in space, when eventually we are going to need to build almost everything up there if we want to further explore and colonize," Snyder stated. "Just knowing that this is the first time that someone has made something functional in space... it's really just a significant first step."