advertisements

MSE astronaut among 9/11 hijacked victims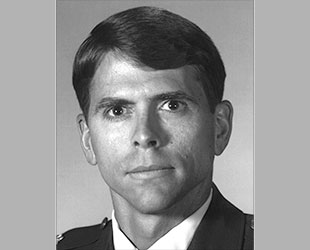 Lt. Colonel Charles E. "Chuck" Jones
(U.S. Air Force/Spacefacts.de)
September 15, 2001
— Charles Edward "Chuck" Jones, a retired U.S. Air Force officer who trained as an astronaut, was among the victims aboard American Airlines Flight 11 when it was piloted by hijackers into the north tower of the World Trade Center on Tuesday, Sept. 11.

Jones, who was chosen in 1982 among the second group of trainees for the military's Manned Spaceflight Engineers (MSE) program, was assigned to fly STS-71L, scheduled for August 1987, to assist with the deployment of a pair of Department of Defense payloads. His flight however, was canceled after the Challenger accident in January 1986.

After leaving the MSE program in January 1987, Jones was stationed at Bolling Air Force Base in Washington D.C. and then transferred to Hanscom Air Force Base in Bedford, Massachusetts as Systems Program Director for Intelligence and Information Systems.

Jones was flying Sept. 11 on "a routine business trip to Los Angeles on behalf of the Nashua, N.H.-based defense contractor BAE SYSTEMS," the Boston Herald reported.

Born on Nov. 8, 1952, in Clinton, Ind., Jones is survived by his wife Jeanette.

© 2023 collectSPACE.com All rights reserved.