NASA unveils its 50th anniversary logo

September 13, 2007 — NASA today unveiled the logo it will use to celebrate 50 years since it was founded as the United States' aeronautics and space administration.

NASA's Deputy Administrator Shana Dale revealed the logo during WIRED Magazine's NextFest technology fair held at the Los Angeles Convention Center in California.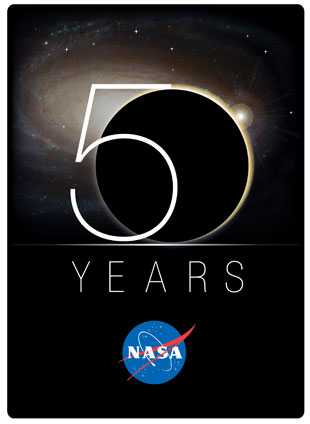 Created by Crabtree + Company, Inc., a Virginia-based marketing communications firm, and chosen by NASA from 120 logos solicited by the space agency through a competition, the 50th anniversary logo was designed to instill a sense of "wonder."

"We wanted to create an image that depicted NASA's future — our future — as one filled with promise," said Crabtree + Co. president, Lucinda Crabtree. "These first 50 years clearly deserve to be celebrated, but they are only the beginning."

The design features the phrase "50 Years" set above the red, white and blue NASA insignia. The numbers, which overlap each other, are set against the photo of a galaxy with the zero stylized such that it appears to be eclipsing a star, much like when the Moon blocks out the Sun.

Founded in response to the Soviet Union's Oct. 4, 1957 launch of the world's first satellite, Sputnik, NASA was created in July 1958 when Congress passed the National Aeronautics and Space Act. The civilian space agency began operation on Oct. 1, 1958, absorbing the National Advisory Committee for Aeronautics, in addition to other government agencies.




The 50 year logo is not the first time NASA has had a design created to represent its anniversary. Emblems were introduced for the 25th and 40th milestones, among others over the years.

In addition to the logo, NASA recently announced the first of its 50th anniversary celebration partners, Discovery Communications, which will air programming in 2008 that highlights the space program's half-century of exploration.

© 2017 collectSPACE.com All rights reserved.
Questions? E-mail contact@collectspace.com